Europa League video highlights
Some poor defending from Spurs allows Benfica to take the lead.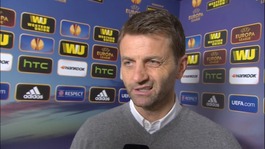 We spoke to beleaguered Spurs boss Tim Sherwood after another morale-sapping defeat, this time to Benfica in the Europa League
Read the full story
Advertisement
Video: Benfica boss Jorge Jesus goads Tim Sherwood at White Hart Lane
He's a world-class wind-up merchant, that Jorge.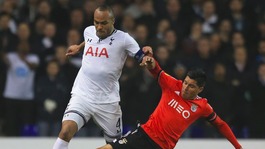 Tottenham defender Younes Kaboul is not throwing in the towel despite his side's 3-1 Europa League defeat to Benfica
Read the full story
Video: Spurs boss Tim Sherwood and Benfica counterpart Jorge Jesus ignore each other at full-time
Is it getting chilly in here? Yes, it appears so.
Video: Luisao hammers home Benfica's third at White Hart Lane
Emphatic.
Advertisement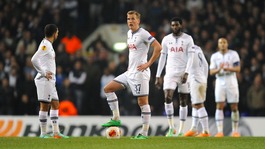 Benfica outclassed Spurs at White Hart Lane on an evening when Tim Sherwood's credentials as a manager will once again be examined
Read the full story
Video: Christian Eriksen gives Spurs hope against Benfica with superb free-kick
Great Dane Christian Eriksen bends it like Beckham to keep Spurs in the tie.
Video: Luisao doubles Benfica's lead at Spurs
Luis-ow.
Load more updates