Europa League video highlights
Benitez: Reina still one of the best
Napoli manager Rafa Benitez hailed goalkeeper Pepe Reina after their win over Swansea.
Swansea head coach Garry Monk told Jon Champion he was proud of his side after their defeat to Italian giants Napoli in the Europa League.
Advertisement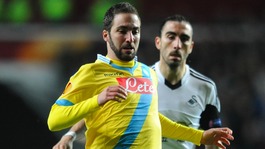 Swansea's Europa League adventure came to an end in Italy as they lost 3-1 to Napoli on Thursday
Read the full story
Replay: Inler ends the tie
Gokhan Inler finishes off the tie with a breakaway goal.
Replay: Higuain with a neat finish
Gonzalo Higuain gets a bit of luck, but finishes smartly.
After a long spell on dominance, Jonathan De Guzman equalised for Swansea.
Advertisement
Replay: Insigne gives Napoli the lead
Lorenzo Insigne broke free of the Swansea, before dinking the ball over Michel Vorm.
Jonathan Soriano scores from the halfway line against Ajax
Goal of the night in the Europa League went to Salzburg's Jonathan Soriano, who produced a Beckhamesque long-range effort from the halfway line.
The stunning goal wrapped up the 3-0 win at Ajax inside the opening 35 minutes.
Video: Williams backing Swansea to attack Napoli in return leg
Video: Villas-Boas praises Spurs players for professionalism against Anzhi
Spurs manager Villas-Boas praised his players for their winning performance against Anzhi.
"The professionalism of the players to play the game was excellent and we were able to give a good standard to our play," AVB said.
"We created lots of attacking chances and it was pleasing on the eye."
Load more updates