FA Cup live updates
FA Cup First Round highlights: Macclesfield v Swindon
FA Cup First Round highlights: MK Dons v Halifax Town
Advertisement
FA Cup First Round highlights: Salisbury City v Dartford
FA Cup First Round highlights: Torquay v Rochdale
Stringer: We've had a fantastic journey
Boothroyd: We're close to being a decent team
Northampton boss Aidy Boothroyd told ITV's Ned Boulting that he was impressed by his side's performance at Bishop's Stortford.
Advertisement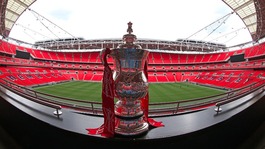 The full draw for the FA Cup second round, with ties to be played on the weekend of the 7th and 8th of December 2013
Read the full story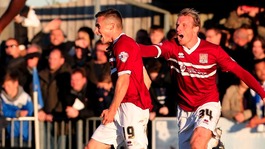 Northampton survived a scare as goals from Danny Emerton and Luke Norris secured a 2-1 win at Non-League Bishop's Stortford
Read the full story
REPLAY: Prestedge pulls one back
Bishop's Stortford make it tense thanks to a Prestedge strike.
REPLAY: Norris in the right place
Luke Norris is the first man to a rebound, allowing him to slot home.
Load more updates