Videos
Baines: "There were no complaints at the time"
Leighton Baines suggests the lack of appeals from his team-mates about Arsenal's penalty decision was telling.
The Ox: "You go down in those situations"
Arsenal and England midfielder Alex Oxlade-Chamberlain felt he had no choice but to go down under Gareth Barry's second-half challenge.
Advertisement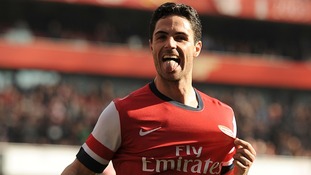 Olivier Giroud came off the bench to score twice as Arsenal beat Everton 4-1 to book their place in the FA Cup semi-finals at Wembley
Read the full story
Replay: Giroud finishes off classic Arsenal counter-attack
Textbook Arsenal. Game over.
Replay: Olivier Giroud comes off bench to give Arsenal breathing space
A poacher's finish to give Arsenal a 3-1 lead.
Replay: Arteta gives penalty masterclass
Having to retake a penalty is never easy but tell that to Mikel Arteta…
Advertisement
Replay: Lukaku capitalises on storming Barkley run
Romelu Lukaku equalises for Everton with the easiest tap-in you'll ever see.
Back to top