Videos
Boothroyd: We're close to being a decent team
Northampton boss Aidy Boothroyd told ITV's Ned Boulting that he was impressed by his side's performance at Bishop's Stortford.
Advertisement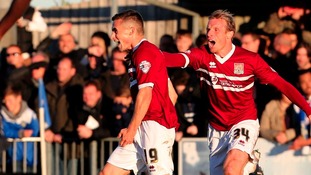 Northampton survived a scare as goals from Danny Emerton and Luke Norris secured a 2-1 win at Non-League Bishop's Stortford
Read the full story
REPLAY: Prestedge pulls one back
Bishop's Stortford make it tense thanks to a Prestedge strike.
REPLAY: Norris in the right place
Luke Norris is the first man to a rebound, allowing him to slot home.
REPLAY: Emerton smashes one in
Daniel Emerton hits a fearful shot to give Northampton the lead.
Advertisement
Back to top