Live updates
Devonshire: there's always next year
Braintree manager Alan Devonshire was philosophical about his side's plucky FA Cup exit.
Ronnie Moore satisfied with Rovers 'grit'
Tranmere Rovers boss Ronnie Moore was happy to have sidestepped a banana skin in the form of Alan Devonshire's Braintree.
Advertisement
Watch the best action from Tranmere's 3-0 win at Braintree.
REPLAY - Max Power seals Tranmere's victory
Max Power scores his first senior goal for Tranmere to seal a 3-0 win against Braintree in the FA Cup First Round.
Stat attack: Rovers too strong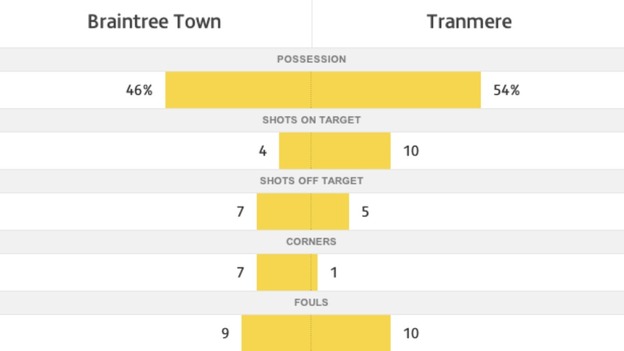 FT - Braintree 0-3 Tranmere
That's your lot. Braintree gave a very good account of themselves, but couldn't match Rovers in the end. Tranmere progress to the Second Round, where they will face Chesterfield at home.
Advertisement
GOAL - Tranmere (Power)
Max Power benefits from good work by man-of-the-match Cole Stockton and finds the far corner from 12 yards out. That's the 19-year-old's first senior goal for Rovers, a club he's played for since he was eight.
Tranmere heading into the Second Round tonight. They're dealing well with Braintree's attacks. The home side have huffed and puffed and played some neat football, but Rovers have had more pace, power and class in their ranks.
SUB - Tranmere (Wallace off, Power on)
Tranmere skipper James Wallace trots off – he's had a decent game – and on comes the improbably named Max Power.
SHOT - Harrison
Danny Harrison's well-struck shot from 25 yards out stings Naisbitt's palms. Still 2-0 to Tranmere.
Load more updates
Back to top