Videos
Rename them MK Donkeys, says Wimbledon fan
Fans of AFC Wimbledon attending Sunday's FA Cup Second Round tie at MK Dons gave their verdict on the rancour surrounding the match, with one fan suggesting a new name for the Milton Keynes club.
FA Cup Second Round highlights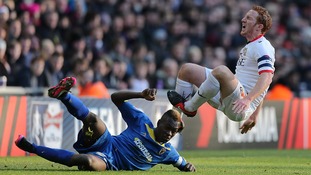 Jon Otsemobor scored a last-gasp winner to send MK Dons into the FA Cup third round at the expense of bitter rivals AFC Wimbledon
Read the full story
Advertisement
Robinson: That's the beauty of the Cup
MK Dons manager Karl Robinson was jubilant after a hard-fought win over AFC Wimbledon at stadium:mk.
REPLAY - Otsembor wins it for MK Dons
A lovely flick from MK Dons' Jon Otsembor makes it 2-1 to the home team, crushing AFC players and fans alike.
What might have been – Martin saves MK Dons
A fine fingertip save keeps MK Dons level.
REPLAY - Midson makes it 1-1 with superb header
AFC's Jack Midson equalises with a terrific header. Game on!
Advertisement
REPLAY – Gleeson thunderbolt gives MK the lead
What a strike from the MK Dons No.7. A special goal to brighten up a relatively drab 45 minutes.
Feature: Wimbledon's controversial relocation
ITV Sport's Ned Boulting tells the story of Wimbledon FC's move to Milton Keynes.
Fash will have to give you 'a knock'
Don't take things too far with John Fashanu, or he'll feel obliged to give you a knock – whatever that might be.
Alan Cork introduces… Wimbledon's Crazy Gang
Wimbledon legend Alan Cork introduces you to his Crazy Gang team-mates…
Load more updates
Back to top