FA Cup video highlights
Replay: Per Mertesacker makes it 1-1 with close-range header
A tale of two Pers.
Replay: Jordi Gomez makes it 1-0 from the spot
A lovely penalty from Wigan's Jordi Gomez, and after a long wait too.
Advertisement
Pre-match interview: Wenger picked Sanogo over Giroud on form
Our reporter Gabriel Clarke spoke to Arsenal manager Arsene Wenger in the tunnel at Wembley before the FA Cup semi-final kick-off. Wenger confirmed that he'd selected Yaya Sonogo over club top scorer Olivier Giroud based on the former's "good form".
Rosler explains his biggest strength as a manager
Ahead of his team's FA Cup semi-final clash against Arsenal on Saturday, Wigan boss Uwe Rosler tells Gabriel Clarke about his biggest strength as a manager, and how overcoming cancer has changed his outlook on life.
Arsenal's road to Wembley
Here's a look how Arsene Wenger's men have made it to the FA Cup semi-final
Wigan band Chonkinfeckle have tried to give a boost to the Latics with this catchy FA Cup themed song ahead of their semi-final with Arsenal.
Advertisement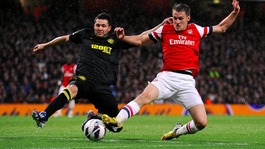 The FA Cup semi-final between Wigan Athletic and Arsenal will be shown live on ITV and ITV.com on Saturday 12th April, with a 5pm kick-off
Read the full story
Gomez: We won't give up cup without a fight
Pellegrini refuses to blame players
Poyet: No excuses, we weren't good enough
Load more updates