Premier League video highlights
Meulensteen hoping to sign "a few more players"
Reports - Fulham in talks with Olympiacos over Mitroglou
Mitroglou made our top five Champions League solo goals (above) in October 2013
Fulham are hoping to boost their Premier League survival hopes with the £11m signing of Olympiacos striker Konstantinos Mitroglou.
Several reports today suggest Rene Meulensteen's side are in talks with the Greek champions over their star striker.
**
Advertisement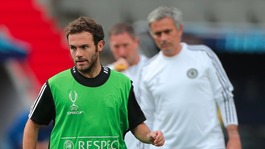 Chelsea manager Jose Mourinho says he wasn't pleased to see Juan Mata leave the club for Manchester United
Read the full story
The biggest Yaya v Kolo chant ever for Man City v Liverpool Boxing Day fixture?
One Liverpool fan is trying to recreate the biggest Yaya v Kolo chant when the Reds travel to Man City on Boxing Day.
Cardiff fans stay at Anfield to sing their hearts out for manager Malky Mackay
With his harsh dismissal seemingly imminent, Cardiff fans stayed behind at Liverpool on Saturday to show their support for manager Malky Mackay.
The Welsh faithful sang: "Don't sack Mackay, Malky Mackay, I Just don't think you understand, if you sack Mackay, Malky Mackay, you'll have a riot on your hands."
Video: Jones says centre-back position is his preferred role
Advertisement
Nani and Young fire shots at Fellaini
Three players with something to prove at Man United this season warmed up for Everton's visit by using each other as target practise. Manager David Moyes will be pleased that no professional footballers were harmed in the making of this video.
The ending sees Ashley Young and Nani aiming shots at Marouane Fellaini's voluminous, £27.5m 'fro, which is marginally smaller in width than a Premier League sized goal.
Aside from allowing us to chuckle at Fellaini in cricket gear, Bwin are also providing United supporters with some respite from his slow start to life at Old Trafford.
They'll give you a full refund on bets if he manages to score a goal on Wednesday.
How do you think Fellaini will get on against Everton? Get in touch @ITVFootball
Scholes still has magic in the boots
Paul Scholes lit up a five-a-side match between Chadderton Park veterans and Chadderton Park legends this weekend by chipping the goalkeeper from his own half.
Short film explains why football is too expensive
Hats off to @MissKrisHofmann for this short film, which explains why there is no need for Premier League ticket prices to be so high.
Win free tickets to the Champions League and Europa League finals
Video: Andre Villas-Boas stands by Lloris head injury decision
Andre Villas-Boas hits back at the critics who questioned Spurs' decision not to replace Hugo Lloris after the keeper's nasty head injury at Goodison (via ITV London).
Load more updates