Rep of Ireland live updates
King predicts bright future for Ireland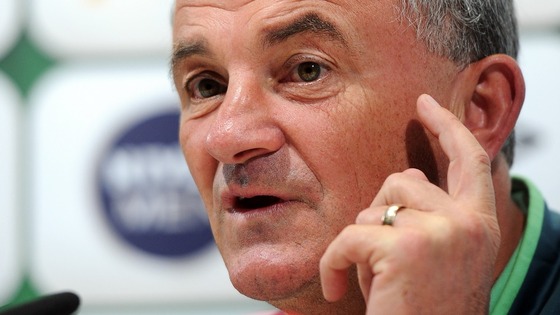 Noel King has told the Republic of Ireland's next manager he can look forward to a bright footballing future for the nation.
Under-21s coach King, who was asked to take charge of the senior team for the final two World Cup qualifiers against Germany and Kazakhstan following Giovanni Trapattoni's departure, is confident the current squad has what it will take to make a fist of the Euro 2016 campaign.
King, whose side lost 3-0 in Cologne on Friday evening, said: "If whoever comes in wants to play in a European way, they will have seen that in Cologne. They will have seen that, that's European football.
"Going forward on the counter was terrific; back to defending was terrific; working together and being compact as a unit was terrific.
"Did we have enough of the ball? Obviously not. Would you have it against Spain? Would you have it against Brazil? No.
Low says Germany are 'close to perfection'
Joachim low is confident there is more to come from his Germany team after seeing them march into the World Cup finals in Brazil.
A 3-0 victory over the Republic of Ireland in Cologne ensured that the Germans will finish top of Group C with a game to spare, and they head for Sweden on Tuesday already looking ahead to their adventure next summer.
I look at previous campaigns, especially during Euro 2012. The team is more solid, more stable and more compact in defence.

I used this campaign to make my team more stable. It hinges around the opponent you play, they will have a major role in making games attractive or nice to watch for the spectators.

Of course we do have some things to tackle. Defensively, there is room for improvement. But the matches against Austria and today really came close to perfection.
Advertisement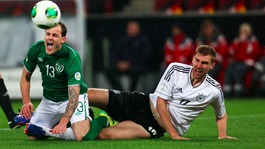 Mesut Ozil put the seal on Germany's passage to Brazil with victory over the Republic of Ireland
Read the full story
Skipper Keane sits out training
Republic of Ireland skipper Robbie Keane sat out training on Wednesday morning just two days before the World Cup qualifier in Germany.
The 33-year-old LA Galaxy frontman watched from the sidelines after taking a kick to the ankle.
However, goalkeeping coach Alan Kelly later insisted Keane was not a doubt for Friday night's Group C encounter in Cologne.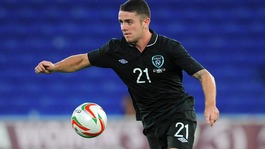 Hull winger Robbie Brady will undergo surgery on Tuesday after pulling out of the Republic of Ireland squad with a groin injury
Read the full story
Darron Gibson to end Irish exile after Trap exit
Darron Gibson is set to end his self-imposed Republic of Ireland exile following Giovanni Trapattoni's departure.
Asked about the timing of his decision, the Everton midfielder told the Irish Times: "Obviously because Trapattoni is gone."
I never really wanted to make a big deal of it to be honest with you. But after what happened at the Euros, I just felt I couldn't play under him anymore.

I was embarrassed when I came back from the Euros [after] not winning a game and not getting on the pitch.

I was playing every week at the time for Everton and we finished in the top six of the Premier League.

Like I said, I didn't want to make a big deal about not playing under him, so I kept myself quiet. But I am available to come back now.
– Gibson speaking to the Irish Times.
Advertisement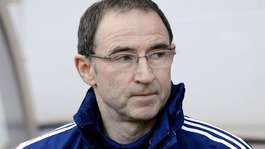 Martin O'Neill could be handed the opportunity to become the new Republic of Ireland manager within days
Read the full story
McDermott sticking with Leeds
Leeds manager Brian McDermott has ruled himself out of the running for the vacant Republic of Ireland manager's job.
McDermott, 52, was a leading contender to succeed Giovanni Trapattoni, who ended his five-year tenure by mutual consent on Wednesday.
My reaction is immense pride more than anything. I was sat with my very good friend last night in my flat and we were looking at the Sky Bet odds - Martin O'Neill was top and I was second.

If you consider I've been a manager now at this level for four years and to get to that, for me, there's nothing but pride.

So I'm probably doing something right, which is good, and everybody knows what I feel about Ireland, my family, my history and how important that is to me.

So those would be the words that I would use - incredible pride.
– Leeds manager Brian McDermott
Republic could turn to McCarthy
Mick McCarthy could be invited back for a second spell as Republic of Ireland manager after Giovanni Trapattoni's reign ended with World Cup disappointment.
In a radio interview, chief executive John Delaney pinpointed Ipswich manager McCarthy, former Republic midfielder Roy Keane and Northern Irishman Martin O'Neill as potential candidates, together with Leeds boss Brian McDermott and Norwich manager Chris Hughton.
"It will be interesting to see who puts their best foot forward. I think names like Mick (McCarthy), Brian McDermott, Chris Hughton, Roy Keane all come into the pot, Martin O'Neill of course.

Mick has done a very good job for Ireland and in England as well. We have to look at who can get the best out of the players available to us.
– Chief executive John Delaney.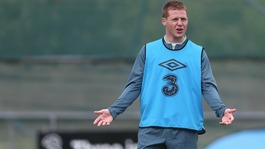 Republic of Ireland midfielder James McCarthy has spoken of his sadness and surprise at the departure of manager Giovanni Trapattoni
Read the full story
Load more updates