Scotland live updates
England v Scotland on ITV draws 9.2m peak audience
ITV's live coverage of England v Scotland at Wembley drew a peak audience of 9.2 million viewers, a 39 per cent viewing share.
Last night's match was watched by an average of 8.2 million viewers from kick-off to final whistle, a 36 per cent audience share.
Reaction: Gordon Strachan disappointed to concede two headed goals at Wembley
Scotland's boss spoke to ITV Sport after seeing his side lose to England.
Advertisement
Kenny Miller post-match reaction
We spoke to Scotland's veteran striker Kenny Miller after the game…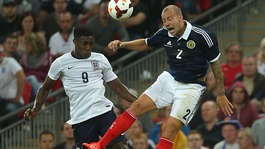 Check out the scores on the doors for both sets of players at Wembley, as auld enemies clashed in a five-goal thriller
Read the full story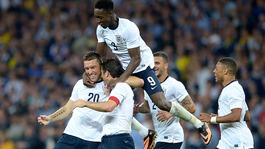 Rickie Lambert applied a Roy of the Rovers finish to a comic strip kind of game as England edged a five-goal thriller at Wembley
Read the full story
FT - England 3-2 Scotland
It's Rickie Lambert's night at Wembley. The Saints supersub scored the winner against Scotland with his very first touch in international football. That's quite a script, and with a very likeable hero too.
Advertisement
Replay: Kenny Miller gives Scotland the lead again
Excellent finish from the Scotland veteran striker.
Replay: James Morrison beats Hart to open scoring
Solid strike from James Morrison but Joe Hart should have done better.
High-risk manoeuvre at Wembley Park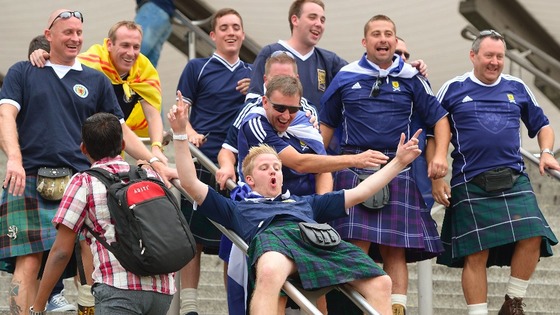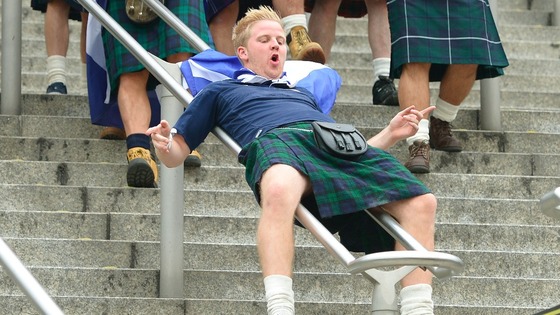 That is one brave fan.
Remember when… Scotland fans broke the Wembley crossbar
When Scotland beat England 2-1 at the old Wembley in 1977, the jubilant away fans celebrated with a mass pitch invasion that resulted in a broken crossbar. The symbolism was lost on no one.
Load more updates