Sweden live updates
Ibra's stunner at Euro 2012
He's done it before, you know. Take a look at Zlatan's wonder volley against France at Euro 2012.
Watch all of Ibrahimovic's fabulous four goals against England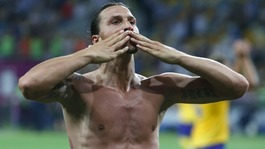 Everyone wants a piece of Zlatan after his four-goal display against England. But there's more than enough Ibra to go around
Read the full story
Advertisement
What Twitter says: Zlatan's four goals v England
Zlatan's Trevor Sinclair impression was alright, but the student can never become the teacher. #Ibrahimovic
Have been saying it for almost a decade. Zlatan Ibrahimovich is an amazing talent. Not always appreciated in this country. Until last night.
I loved Zlatan from the first album. I even put up with the self-indulgent nonsense on the follow-up record. And now, NOW, he's sold out.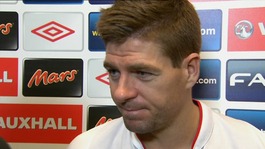 Steven Gerrard praised the superb four-goal performance of Zlatan Ibrahmovic, who outshone the England captain on his 100th appearance.
Read the full story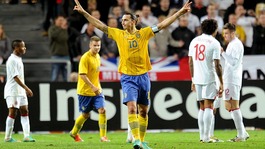 Watch all four of Zlatan Ibrahimovic's special goals, in his one-man show, which was enough to see off England
Read the full story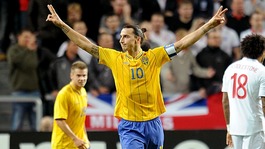 Sweden striker Zlatan Ibrahimovic scored four breathtaking goals to wreck Roy Hodgson's unbeaten start as England manager
Read the full story
Advertisement
REPLAY - Ibra does something special
An absolutely stunning overhead kick from Zlatan Ibrahimovic makes it four for the Swede on the night.
REPLAY - Zlatan slams it home
Zlatan Ibrahimovic smashes a powerful free-kick home from 40 yards.
REPLAY - Ibra shows his class
Zlatan Ibrahimovic controls the ball and finishes to equalise.
Great finish from Zlatan, outside of boot flick into far top corner.
Zlatan just delivers doesn't he?
Zlatan scores, but he hasn't kicked Joe Hart in the chest yet. That's as good as it being 1-1.
Load more updates