TV presenter Phil Spencer speaks to ITV News Anglia about 'Grandmas's Little Hut'
When you think of English seaside resorts what comes to mind? Fish and chips? Sandcastles? A dip in the sea?
Well, how about beach huts? Since the Victorian times the East Anglian coastline has been known for it's colourful wooden huts - somewhere to head for a cuppa on a nippy day, or a place to store the towels and crabbing buckets!
But one very special hut, owned by Joy Reeve has now been crowned 'Beach Hut of the Year'.
Joy uses her hut to raise money for charity by providing welcome hot drinks, especially to those brave enough to dip more than a toe in the water.
TV presenter Phil Spencer, presented Joy with her award, and told ITV News Anglia 'Grandma's Little Hut' is central to the community on the beach at Felixstowe.
A 46-year-old woman who died after being found on the floor at her home in Felixstowe has been named as Diana Last.
Police were called to Leeward Court following concerns for a woman who felt 'very unwell' and had been admitted to Ipswich hospital.
Officers began an investigation and arrested a 58-year-old man from Felixstowe. He's since been released under investigation while further enquiries are carried out.
Following a post mortem examination, her cause of death is undetermined and further tests will be carried out.
Anyone with information about what happened is asked to call the Major Investigation Team by dialling Suffolk Police on 101.
Advertisement
Rail services have been cancelled between Felixstowe and Ipswich after a person was hit by a train.
All lines between the stations are currently blocked. A limited replacement bus service is in place.
It is not yet known what time the line will reopen, but it disruptions are expected to continue until 10am.
Douglas Lamond, who was registered blind, received his weekly medicines in pill boxes assembled at his pharmacy.
Read the full story ›
A 33-year-old man remains in custody after reportedly firing a weapon around Stowmarket.
Read the full story ›
More than 1,000 homes in Suffolk are set to be evacuated as the county braces itself for the threat of severe flooding tomorrow.
Read the full story ›
Advertisement
Cricketers at Felixstowe in Suffolk have paid tribute to Tunisia terror victim Phil Heathcote at a memorial festival.
Steve Bloomfield is from the Felixstowe & Corinthians Cricket Club:
Phil was killed while on holiday near Sousse with his wife Alison in June last year. Alison was shot five times but has recovered from her injuries after spending five months in hospital.
They were long term members of Felixstowe and Corinthians Cricket Club. Yesterday (July 24) current and former players, including their son James, played a series of Twenty-20 games. They also unveiled a memorial bench, which was paid for by local fund raising events.
Police are appealing for help to find a 55-year-old man from Felixstowe in Suffolk.
Michael Flatman was reported as missing on Thursday evening.
It's thought he left his home in Felixstowe at some time soon after 2.30pm. There are concerns for his well-being as he has left personal items, including his phone, at his address.
Mr Flatman is described as white, 5ft 7ins tall, of medium build, with cropped grey hair that is thinning at the front.
Anyone who may have information on his whereabouts is asked to call Suffolk Police.
A man has been arrested following the suspicious death of a woman in Felixstowe last night.
Police were called to an address in Gosford Way at 10.30pm after receiving a call from a woman in distress.
A woman, believed to be in her 60s, was discovered at the scene with serious injuries. Paramedics attended the property but the woman was declared dead.
The death is being treated as suspicious and a man has been arrested on suspicion of murder. He will be questioned by detectives at Martlesham Police Investigation Centre.
A police cordon has been put in place at the property and a section of Gosford Way is currently closed while officers carry out an investigation.
Anyone who was in the area at the time or who has any information in relation to this incident is asked to contact Suffolk Police on 101 or Crimestoppers anonymously on 0800 555 111.
David Cameron is in the Suffolk port town of Felixstowe warning that Britain has "100 days to secure our future" as he ramps up his drive for a "remain" vote in the EU referendum.
Mr Cameron urged the public to "play your part" in the poll on June 23.
It's the Prime Minister's second visit to Suffolk within a fortnight on the referendum campaign trail. He was in Ipswich at the end of February
With 100 days to go, I'm in Felixstowe explaining why Britain is stronger and safer if we vote to "Remain" in the EU https://t.co/2PL1BpX0pC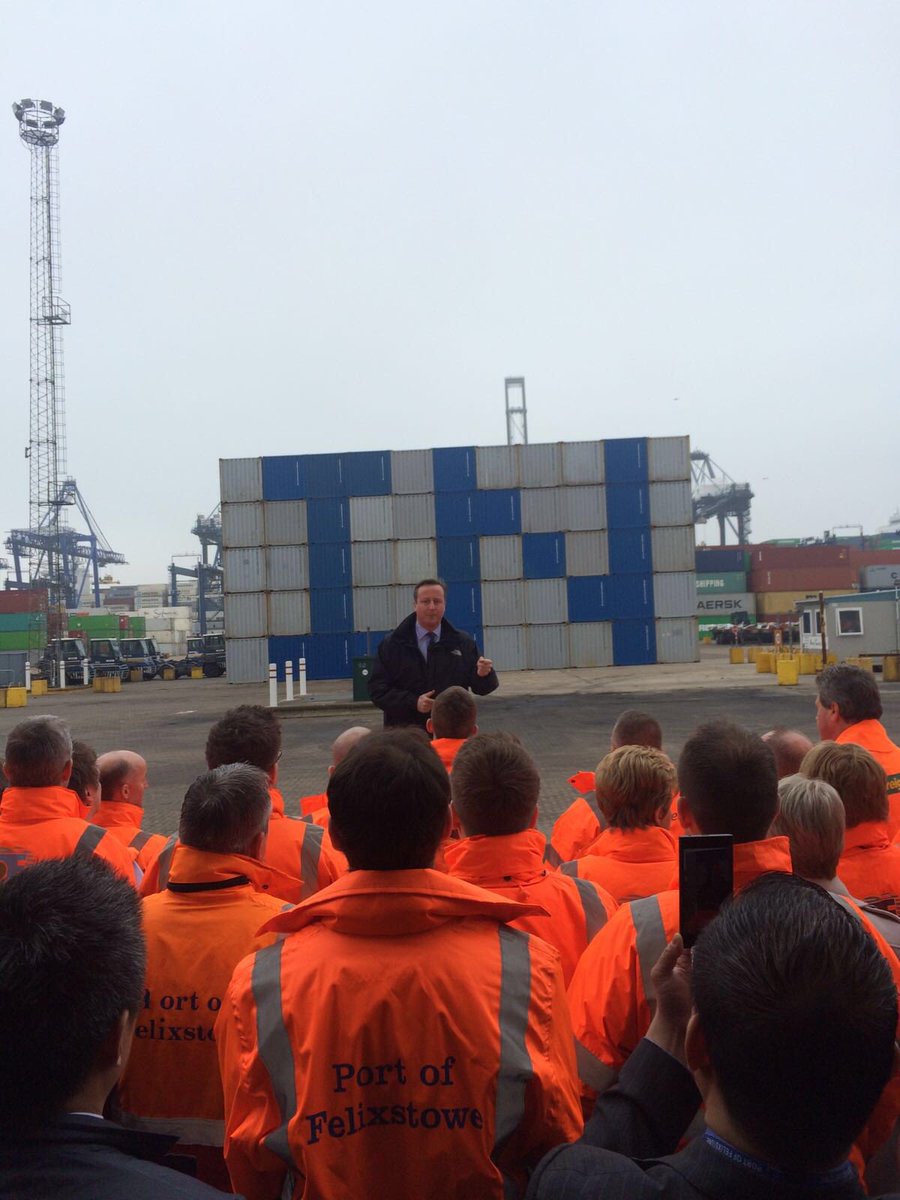 "In a hundred days you'll have your say - whether Britain remains in a reformed Europe enjoying all the benefits that brings, like lower prices in the shops, more jobs and safer streets or whether those benefits are put at risk by leaving.

"We have a hundred days left to secure our future. It is a decision that will affect your future, your family's future and the lives of everyone in our country."
– David Cameron
Load more updates