Cumbria Police are warning residents of Glenridding that the river has overtopped the flood defences in the village.
A multi-agency response including the police, military and fire service has commenced to keep the residents safe.
The force urges people to stay indoors and to keep safe and motorists are warned not to drive unless it is an absolute emergency.
They want to urge the public not to approach or go near any flood water as it is extremely fast flowing and can be a threat to people's lives.
Cumbria Fire/Rescue on scene in Glenridding. River burst its banks again. Locals say 'worse than the weekend' @gmb https://t.co/tn3xL4I2FM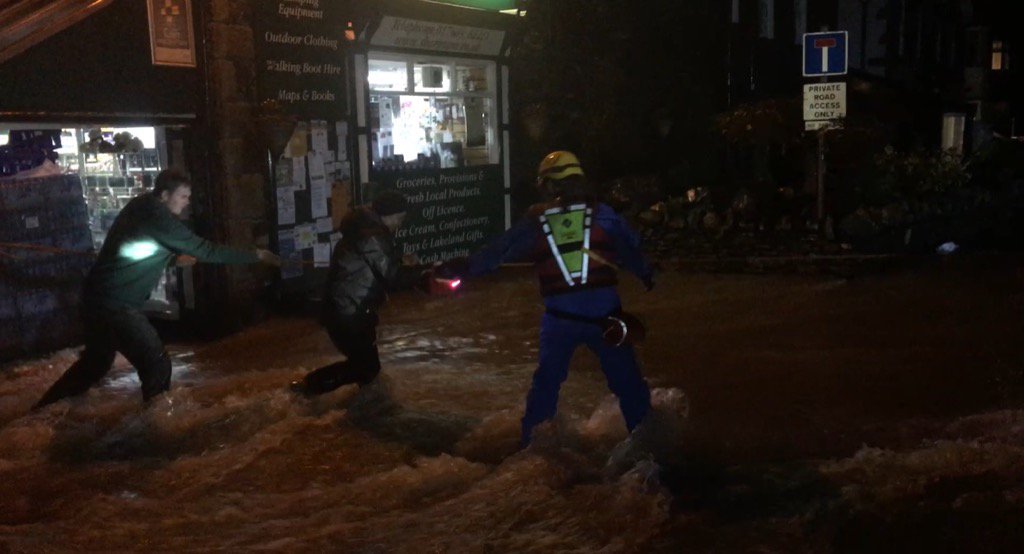 Advertisement
Two teenagers had to be brought to safety by mountain rescuers after apparently being chased by sheep in the Lake District.
The pair had set off for a walk from a Youth Hostel near Glenridding but got lost on the hills.
They reported being chased by wild animals but the Patterdale Mountain Rescue team believe it was a flock of Herdwick Sheep.
The two men were helped back to the hostel at Greenside Mines, and were unhurt.
It was a bit of bit of a baaaarmy night so the two men weren't in any danger of suffering from hypothermia - although they were clearly shaken and very grateful for the Team's assistance.

Whilst driving up the track from Glenridding to the Youth Hostel about 2300 we spotted a light from a mobile phone about thirty metres below us. It didn't take long for two team members to descend down and help the men back to the Landrover. We were obviously quite concerned when the fellas said they had been chased by wild animals, especially given all the recent reports of wild cats in Cumbria.

Once we arrived it quickly became apparent that men had been chased by a couple of Herdwicks. Clearly this isn't a common occurrence in the Lakes, and in fact, I don't think I've ever heard of this happening before.

The two men, from Bracknell in the South of England, probably didn't realise that there weren't street lights everywhere. It's wise, even if only walking a few hundred meters, to take a torch in the dark."
– Mike Blakey, Team Leader - Patterdale Mountain Rescue
Load more updates