The left winger became the fourth person to hold the post in the last three years after beating rival candidate Anas Sarwar.
Read the full story ›
Is it really a surprise that Labour's Scottish leader is standing down, asks our political editor
Read the full story ›
Advertisement
Jeremy Corbyn is on a national tour of marginal Conservative-held seats, visiting Copeland and Carlisle today. Here he is meeting people from Amy's Daycare in Keswick:
@fionamacmp Thank you. Not this time, I've decided that it's not the right time.
Labour's candidate for the Carlisle constituency in the 2015 General Election has revealed she will not stand this time around.
Lee Sheriff lost out to Conservative John Stevenson by 2,774 votes.
The MP for Copeland Jamie Reed has sent a stinging letter to the under pressure Labour leader Jeremy Corbyn calling for his resignation.
Mr. Reed published the following on his Twitter account last night (29th June)
He accused Corbyn of injecting an 'unprecedented poison' into the Labour party, going on to say that the 'Labour party stands for a moral purpose that you do not share.'
Jeremy Corbyn has lost a confidence vote among his MPs by 172 to 40 but is refusing to resign, insisting he still has a "people's mandate" to lead following his landslide victory in the Labour leadership elections last summer.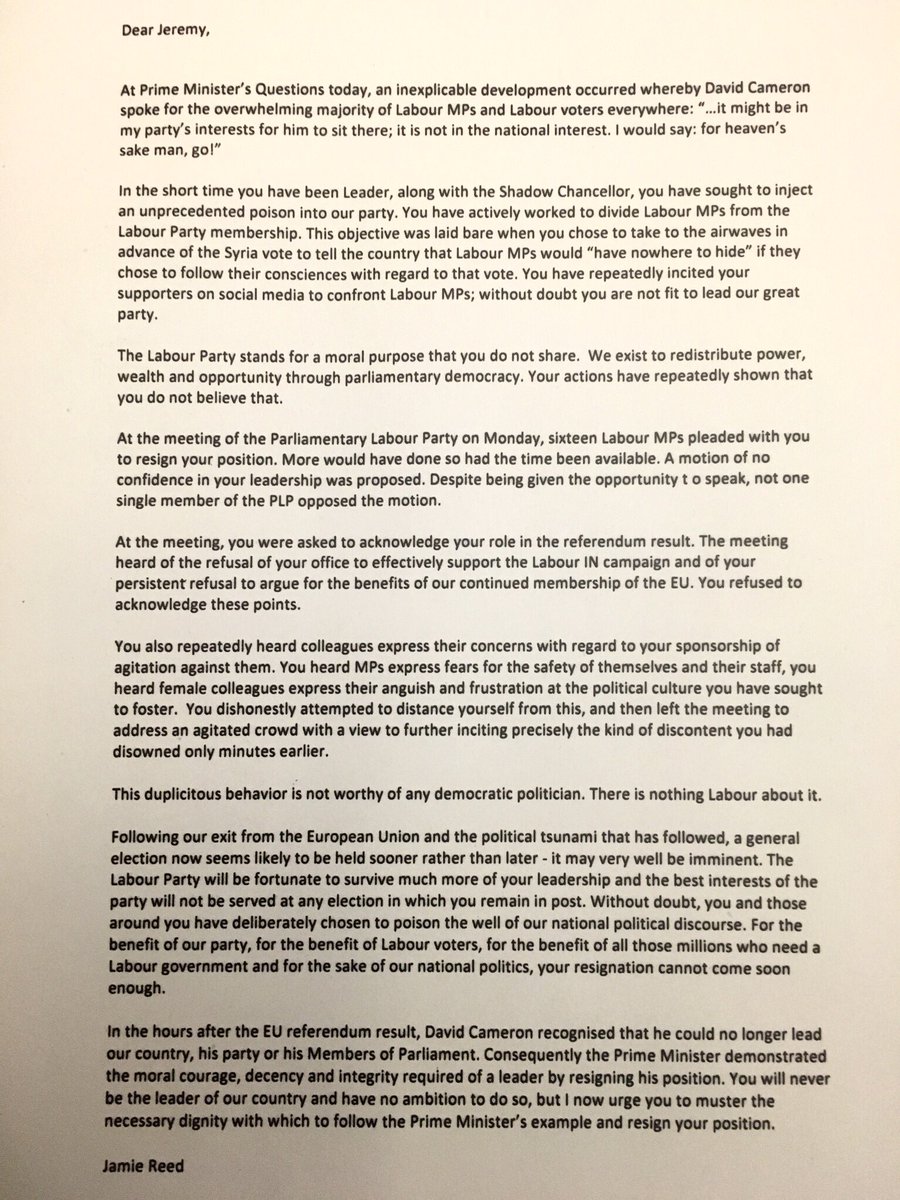 Copeland MP Jamie Reed has resigned from his position as Shadow Health Secretary after Jeremy Corbyn was elected as the new Labour Party leader.
Mr Reed, who announced his resignation moments after Corbyn was elected, explained his decision to our Political Correspondent Paul Brand.
Advertisement
The Labour leadership candidate Andy Burnham is appearing in Carlisle this evening. Mr Burnham will talk to supporters at the Old Fire Station at 6:30pm. He is one of four candidates vying for the leadership of the party. The others are Liz Kendall, Jeremy Corbyn and Yvette Cooper. More than 550,000 are eligible to vote in the contest which will be announced on Saturday, 12th September 2015.
Peter MacMahon takes a look at Labour's use of the Barnett Formula as a stick to hit the SNP.
Read the full story ›
The Labour Leader, Ed Miliband, has been in Cumbria today.
He held a special question and answer session with people in Carlisle.
The city is one of the party's top targets at the next election.
Hannah McNulty has this report:
Ed Miliband has started answering questions from the public.
The first three have been about the current retirement age, the spiralling cost of heating bills and the debate surrounding the bedroom tax.
Load more updates