This stunning photograph by Stephen Jolly shows lightning over Newton Stewart, in Dumfries and Galloway.
It was taken at midnight, from the A714.
Thousands of homes and businesses across Cumbria have been affected by power cuts, as heavy rain and storms hit the region.
Read the full story ›
Advertisement
Cumbria Fire and Rescue Service has been called to two house fires caused by lightning strikes.
One house caught fire in Penruddock during the morning's storms, and another in Dalston at around 8am.
The fire service say that the fires were put out quickly, but have damaged both buildings considerably.
This video, by Richard Oliver, shows the heavy rainfall in Hawick this morning.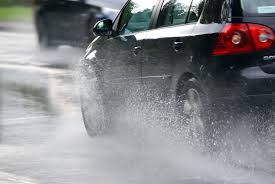 Police are warning drivers in Cumbria to take care, as heavy rain and thunder sweeps across the county.
These photos, taken by Cat Brown, show flashes of lightning over Dumfries.
Advertisement
Rail services between Carlisle and Lockerbie are delayed, because of a fault with the signalling system between Carstairs and Lockerbie.
The fault is thought to have been caused by the bad weather sweeping through the region.
Disruption is expected to continue until around 12pm.
#VTNEW Due to a fault with the signalling system between Carstairs and Lockerbie, trains have to run at reduced speed on all lines.
There is the possibility of surface water and river flooding across Dumfries and Galloway and the Scottish Borders.
Read the full story ›
Hundreds of properties in Cumbria are without power, as heavy rain and thunder storms sweep through the region.
In Penrith, 987 homes have lost power, with properties also affected in Little Salkeld.
The affected roads are listed as Brecken Ridge, South Esk and Meadow Court.
People in the Scottish Borders are being warned that a yellow weather warning for rain will remain in force in the region until 9pm.
Scottish Borders Council is urging people to take care.
Thunderstorms are forecast to move into the south western Borders from around 8am, bringing with them extremely heavy, isolated downpours of rain, with the potential for hail, significant lightning and strong gusts of wind.
These will move across the region to the north east, clearing the Scottish Borders by late afternoon. It is expected that the worst periods will be between 9am and 11am and 2pm and 3pm.
In some areas up to 50mm of rain could fall over the course of just a few hours, with between 20-30mm of rain falling per hour in the heaviest downpours.
There remains the potential for significant disruption due to the sudden downpours, and the Met Office has indicated that it may escalate the warning to Amber (Be Prepared) if required, and potentially at short notice.
Load more updates