The money spent by Scottish councils on roads has decreased by more than £40 million.
Read the full story ›
The M6 has reopened in both directions following recovery work after a three vehicle road traffic collision.
Police were called at 3.21pm following a report of a HGV colliding with the central reservation causing the vehicle to overturn on to the southbound carriageway. The HGV collided with two other vehicles and shed its load. This occurred on the M6 at the Low Hurst Railway Bridge.
The driver of the HGV suffered minor injuries and was taken to the Cumberland Infirmary.
Also involved in the collision was a Peugeot Boxer. Three occupants suffered minor injuries and were taken to the Cumberland Infirmary.
The third vehicle was a silver Nissan Almeria and the driver was taken to the Cumberland Infirmary with minor injuries.
Police would like to thank the public for their patience as agencies quickly managed to return one of the county's major routes back to normality.
Advertisement
A number of roadwork projects in Cumbria will be temporarily lifted over the Bank Holiday Weekend, to make travel easier.
Read the full story ›
It's been announced that the A591 is due to re-open on May 13th, which is eight days ahead of schedule.
Read the full story ›
The Government has announced that Cumbria is set to benefit from almost £1.5 million to help with pothole repairs.
The county has been hit particularly hard following the widespread flooding in December.
Councils across the north west have been allocated £6.4 million, with Cumbria receiving the largest share.
The money will be used to fix the estimated 27,000 potholes across the county.
It's been announced that the A591 will re-open on May 13th.
The Secretary of State for Transport, Patrick McLoughlin, made the announcement during a visit to the damaged road.
Huge parts of the road, which is main route linking the North and South Lakes, were washed away after Storm Desmond hit the region in December.
Advertisement
Work is underway to repair Eamont Bridge in Cumbria, which was damaged by December's flooding.
Cumbria County Council installed a temporary dam beneath the bridge last weekend, and are now getting on with the repairs.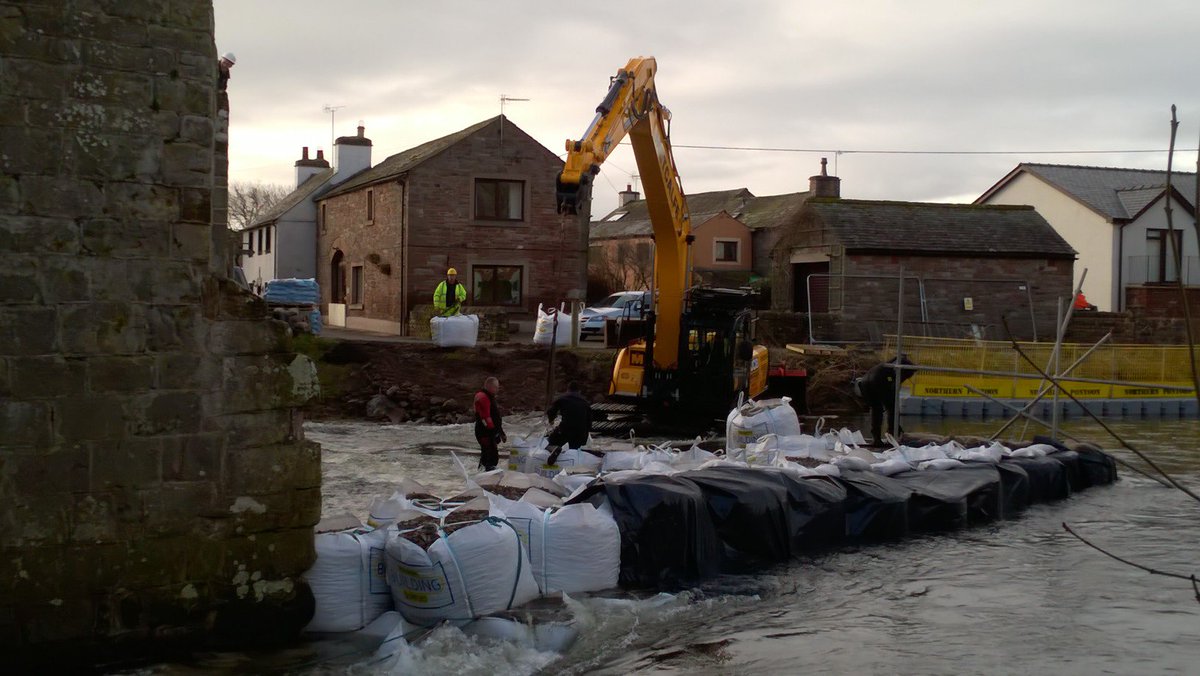 Work is continuing at the flood-hit Eamont Bridge near Penrith to assess damage to the structure.
Contractors have installed a dam to slow the flow of water around the bridge that will enable divers to check what repairs are needed.
Workers are digging a series of channels underneath the A592 near Ullswater.
The idea is that the next time there is heavy rain, it will wash down the fells and go under the road, rather than damaging the surface.
A 4.3km stretch of the A592 near Ullswater will be closed for the next four weeks, to allow contractors to repair flood damage.
Read the full story ›
Load more updates