The police are warning drivers of high-sided vehicles to take care on exposed roads, as a number of lorries have overturned in the region.
This photo shows a wagon blown over on the south-bound M6, near Tebay Services, this afternoon.
Police say some van and lorry drivers appear to be ignoring their advice not to use certain routes in high winds after three commercial vehicles overturned.
Two of them are within a quarter mile stretch of each other on the border between Cumbria and County Durham.
One lorry and a large white van have gone over on the A66 eastbound close to the Stainmore Cafe near Kirkby Stephen.
Advertisement
Severe gale force winds of up to 90mph are expected to strike exposed parts of the Scottish Borders today, the local council has warned.
Two severe weather warnings have been issued - an Amber Wind Warning (Low likelihood of High impacts) is in place valid from 3pm on Monday through to 9am on Tuesday.
Around this is a Yellow wind warning (Low of Medium impacts) from 9am Monday to 9am Tuesday.
The Amber warning covers the northern areas of the Borders where the Yellow warning covers the whole area.
Scottish Borders Council is urging people to take care in the blustery conditions:
We expect to see winds gradually becoming stronger during today with the strongest winds expected from later into the evening and into Tuesday.

We may expect to see gusts widely reaching 70 to 80mph and in the most exposed locations, gusts to 90 mph are possible during the evening and into Tuesday.

Our Emergency Bunker is opening at 3pm today and will remain open through the night until 9am tomorrow morning to co-ordinate the multi-agency response to any impact of the high winds.

Residents should expect travel disruption and difficult driving conditions, so please take extreme care when you are out and about."
– Jim Fraser, SBC's Emergency Planning Officer
Cumbria Police is warning drivers of vehicles that are vulnerable to strong winds to avoid the A66.
A Yellow wind warning is in force for the county.
Vehicles, such as empty lorries or caravans, can be vulnerable in excessive winds and should avoid using the road.
They're also advising motorists to drive according to the conditions, and slow down while driving in high winds.
A Yellow warning for wind is in force for Cumbria, as Storm Henry sweeps through the region.
The Met Office says gusts of up to 70mph are possible:
Southwesterly gales will continue to affect northern parts of the UK during Monday, strengthening further to bring locally severe gales by Monday night before easing on Tuesday morning. Gusts of 60 mph are likely quite widely, with up to 70 mph in more exposed spots."
– Met Office
The Met Office is advising people to be aware of the risk of disruption to transport and power supplies, with some structural damage also possible.
An Amber wind warning is in force for Dumfries and Galloway and the Scottish Borders, as Storm Henry sweeps through the region.
The Met Office says gusts of 70-80mph are expected, and there could be localised flooding:
Some very strong west to southwesterly winds are expected to develop on the southern and western flanks of this system, affecting much of Scotland.

Gusts of 70-80 mph are expected widely, whilst gusts of 90 mph are possible in the most exposed areas, especially across the Western Isles and along the west coast.

Added to this, some very large waves are expected, which may lead to localised flooding of coastal roads and causeways. Winds will ease during Tuesday morning, but will still be very strong in places for the morning rush hour."
– Met Office
The Met Office is advising people to be prepared for some potentially severe weather, causing transport disruption and difficult driving, some structural damage, dangerous coastal conditions and disruption to power supplies.
Advertisement
Cumbria County Council has been forced to respond to rumours that a proposed council tax rise is being levied to fund flood recovery.
We've ruled out any possible council tax increases for carrying out flood repairs. The funding that we're going to be asking for, and we'll be going down to the government in the next two weeks, for the Cumbrian ASK and the Flood ASK, is around £500 million we think."
– Cumbria County Council
Locals have described the collapse of a Grade II listed bridge as a 'tragedy'.
Bell Bridge at Welton near Carlisle had stood for nearly 200 years but yesterday it crumbled into the River Caldew after becoming damaged in the recent storms.
Our reporter, Matthew Taylor, met some of the locals as they shared their memories of the bridge with him:
A flood alert is in place across Dumfries and Galloway, meaning that flooding is possible and to be prepared.
There is also a Yellow Warning for rain in force from 3.00pm today until 6.00pm tomorrow.
Cumbria County Council has tweeted that people were seen crossing a Cumbrian bridge 20 minutes before it collapsed... despite warning signs being in place.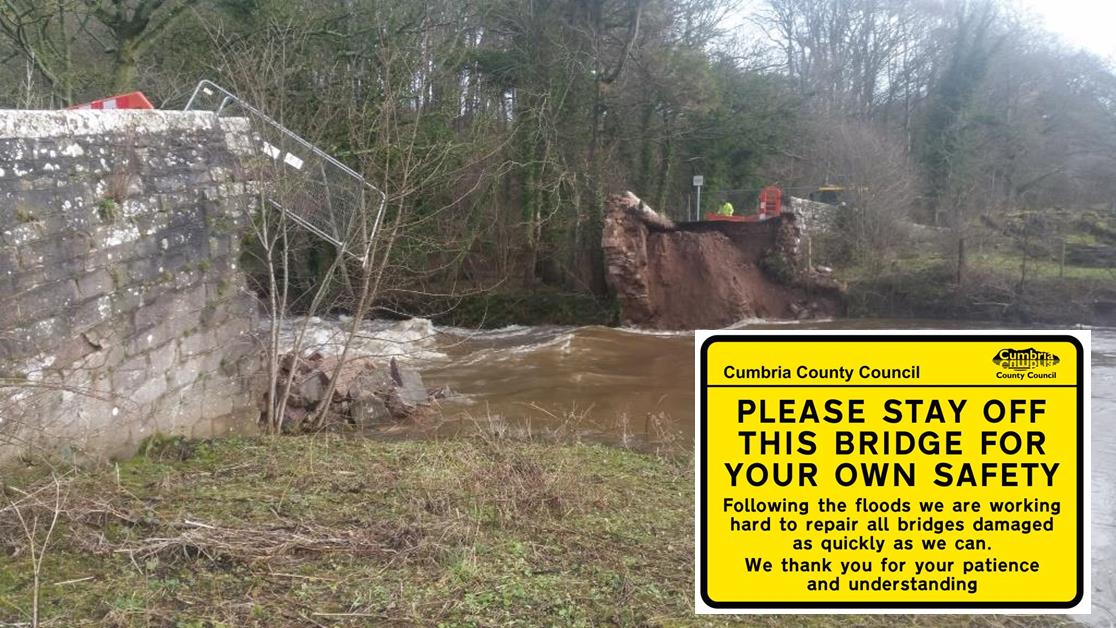 Bell Bridge had stood near the village of Welton for nearly 250 years, but was damaged in the December floods, and collapsed yesterday.
Load more updates