Turnout higher than expected in #Newark so declaration not expected now until after 2am
Party sources suggesting Cons 37%, Ukip 33%, Labour 18%, Lib Dems 2% in Newark.
Advertisement
Our Political Correspondent Paul Brand is in Newark reporting on the latest from the by-election count:
If Tories win this seat it'll be the first time in 25 years a sitting Tory govt has won a by-election #Newark
Despite that statistic the Tories have dominated in Newark in recent history, with Labour winning the seat for one term between 1997 and 2001.
Before Fiona Jones' victory that year the seat had been held since 1979 by Conservative MP Richard Alexander.
Labour held won the seat in 1950 with George Deer and Edward Stanley Bishop took over in 1964 to continue the party's longest post-war run in the constituency.
The Conservative Party have won three by-elections in the constituency, in 1898 and 1900 under a Tory/Liberal Unionist coalition, then in 1943 under Winston Churchill's Second World War coalition.
Latest Survation poll shows Tories on 42%, UKIP 27%, Lab 22% in #Newark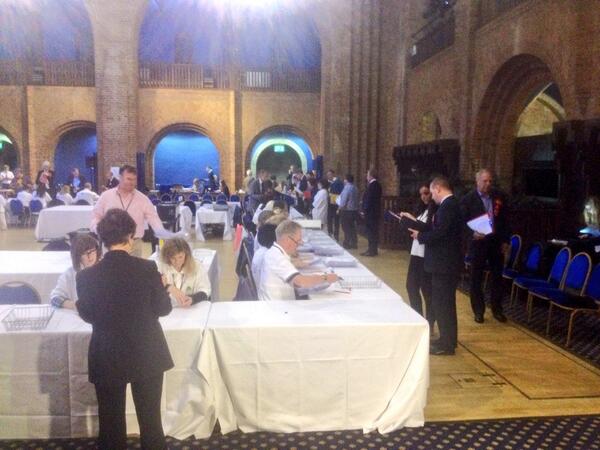 Polls have now closed in Newark as residents have been voting to decide who will replace Patrick Mercer.
The former Tory MP held the seat since 2001 but stood down this year after a cash for questions scandal.
Stay with us throughout the night as we bring you all the latest news from the counting.
You can also follow our Political Correspondent Paul Brand on Twitter for reaction.
Click here for the full list of the candidates who were running.
Advertisement
Labour has continued a winning streak dating back to the 1930s by winning the Rotherham by-election. Sarah Champion was elected as the town's newest MP, replacing veteran Denis MacShane who resigned over his Parliamentary expenses.
It was a good night for UKIP who's 2nd place finish left the party confident that it's only a matter of time before it gets its first MP in the commons.
Counting is well under way in Bradford following the election today for a new MP for Bradford West. Eight candidates competed to become the country's newest member of Parliament. It's been in Labour's hands for 37 years and Deputy Council leader Imran Hussain is favourite to continue that trend.
The result is expected in a few hours time.
Voters go to the polls to elect a new MP in Bradford West. A by-election's being held after Marsha Singh stepped down due to ill health.
Load more updates