Almost 200 police officers and staff are in Barnsley today, to tackle issues such as anti-social behaviour and criminal damage.
Read the full story ›
"I never thought I would write this headline but PokemonGo has helped fight crime in Doncaster."
– South Yorkshire Police
South Yorkshire Police have credited PokemonGo for fighting crime in Doncaster.
The force made two arrests after a call in from a group who were using the app in the Wheatley area.
"Tonight the team have been out in Doncaster when our control room took a call from a group of friends. These friends had been in the Wheatley area of Doncaster playing #PokemonGo, looking for those pesky little creatures on their app... they travelled down a side road into an industrial and saw something suspicious in a builder's yard. Dilemma... search for Pokemon or call the cops?

Thankfully these budding search heroes called 999 to report what they had seen...

South Yorkshire Police Operational Support to the scene just in the nick of time... the offenders were just leaving the yard carrying their stolen goods. They were stealing decking, clearly wanting to enjoy the summer sunshine in luxury.

They had nowhere to go and had their collars felt. Two arrested for a commercial burglary and are currently staring at the cell walls in custody. They will be interviewed later.

The group of friends have given their statements and we wish them well on their quest to find more #Pokemon things... yes I have no idea what a Pokemon is but I am sure someone will happily educate me!"
– South Yorkshire Police
Advertisement
Residents in Bedale are being invited to join North Yorkshire Police in the fight against rural crime.
The local Safer Neighbourhood Team operates a Mobile Watch scheme, which encourages residents using their own vehicles to keep an eye on rural areas, particularly after dark.
Watch members record any suspicious vehicles they come across, and pass the information to the police. If a more urgent response is required, immediate contact with the police can be made using a radio. All participants of the scheme must sign a Code of Conduct before joining, and undergo a short vetting process.
The Mobile Watch scheme currently has six active members, and we're incredibly grateful for the support and local knowledge that they provide. We are now looking for additional members so we can roll the Watch out even further.
– PCSO Bryan Tongue, Bedale Police
A Bradford man has been jailed over a plot to import 230 kilos of high purity heroin in a specially-adapted Jaguar car.
Read the full story ›
Lincolnshire police were called at around 4pm to Reedings Road, Barrowby, near Grantham yesterday to deal with an incident at a house on Reedings Road. It involved a 21-year-old local man.
"At present we are unable to release any further details for operational reasons. The general public are not in any danger. The area will be cordoned off until the situation is resolved. Further information will be released when possible."
– A Grantham police spokesman
Pontefract - Vehicle made off from a local officer and in doing so crashed into five other vehicles. Suspect arrested http://t.co/HbzNnxnpsT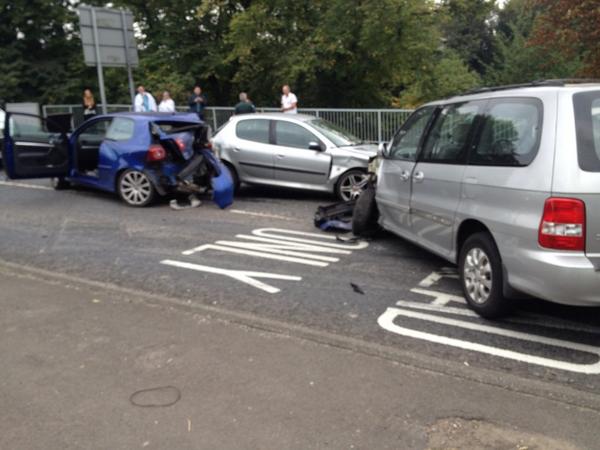 The A639 Front Street in Pontefract was closed northbound between the Halfpenny Lane junction and the B6134 Park Lane junction, because of this crash last night.
Advertisement
The father of missing York chef Claudia Lawrence will give a briefing today - the 2,000th day since she disappeared.
Peter Lawrence is expected to give an update on the search, the legislative progress in Parliament including the announcement this week of Ministry of Justice consultation on Guardianship and his family's reaction to the last few months following two arrests and subsequent re-bailings.
A man has been charged in connection with the death of another man who died following an assault in the Beeston area of Leeds on Saturday evening.
David Powell, 27, from Clovelly Grove, Beeston has been charged with the manslaughter of Gerard Adeshida and is due to appear at Leeds Magistrates Court this morning.
Mr Adeshida, aged 37, died in hospital after being assaulted on Lady Pit Lane around 6pm on Saturday.
Police in northern England are facing rising crime levels because it has been harder hit by the recession than the South, the Chief Constable of Humberside Police has said.
Justine Curran said evidence showed shoplifters were stealing essential items such as food due to the impact of the economic downturn.
She said the poorest areas of Humberside showed the biggest rises in crime, which backed up her theory.
She said the latest crime figures showed a North-South divide, with rising numbers in the North and falling or stable statistics for the South.
The Chief Constable said: "We have done intelligence interviews with criminals suggesting that acquisitive crime like shoplifting is moving towards a focus on the theft of essential goods like food.
"Statistics support the fact that upturns in crime are being experienced in the North while levels in the South are remaining static, if not falling.
"We are not looking for excuses, but it is important that we understand the drivers of crime and that is why we have looked into the possibility of the recession hitting harder in the North, leading to these increases.
"We certainly know that in our area the biggest rises in crime have been in higher deprivation areas."
A Home Office spokesman said: "Under this Government, overall crime is down by more than 10%, according to both the independent Crime Survey and police recorded crime.
"The evidence is clear - police reform is working and crime is falling.
West Yorkshire Police made almost fifty arrests as part of Operation Viper 4 - a four day crackdown on crime.
Forty-nine people were arrested in total as police across the county stepped up their efforts to counter crime over the bank holiday which usually sees a rise in offences.
In total over the four days of activity, 359 vehicles and 282 people were stopped with 32 vehicles seized, five stolen vehicles recovered and 49 people arrested.
Superintendent Pat Casserly, who led the operation, said:
"Our focused activity over the Bank Holiday weekend has resulted in a number of significant arrests; but Operation Viper is not just about getting people in custody but also preventing offences happening in the first place by putting the fear back on the criminals.
Load more updates