North Yorkshire Police made 19 arrests over the weekend as they continued their annual Christmas crackdown on drink and drug driving.
The total number of arrests for drink or drug driving offences since the beginning of December now stands at 71 - with 37 of those people charged to appear at court. During last year's Christmas drink and drug driving campaign which ran between December and January, officers made 118 arrests. The crackdown will continue into the New Year with targeted patrols on the roads across North Yorkshire.
The number of arrests over the weekend was staggering and quite frankly extremely disappointing. Despite repeated warnings about the dangers of drink and drug driving it is hard to believe that people still find it acceptable to get behind the wheel while intoxicated. I have said it many times before, the safe limit is zero. If you are going out intending to have a drink make sure you arrange some alternative transport to get home.
– Deputy Chief Constable Tim Madgwick, North Yorkshire Police
53 people have now been arrested , with 24 due in court, since this summer's campaign against drink and drug driving in North Yorkshire was launched last week.
The campaign's focus for this year is aimed at younger drivers and raising awareness of the dangers of driving the morning after a night out.
The campaign coincides with the 2014 FIFA World Cup, when large numbers of people are expected to visit pubs to watch the games. Anyone expecting to have a drink late at night should not only make sure they have plans to get home safely, but also ensure they are safe to drive the following morning.
Traffic Sergeant Andy Morton, of the Force's Roads Policing Group, who is leading this year's campaign said: "Anyone who is considering taking the risk of driving while under the influence of drink or drugs needs to know that we have officers on patrols across the county ready to catch them.
"We have a number of court dates set so that we can bring offenders to justice at the earliest opportunity."
Advertisement
West Yorkshire Police have tweeted another warning against drink driving, this time showing the result of an accident they suspect was caused by it.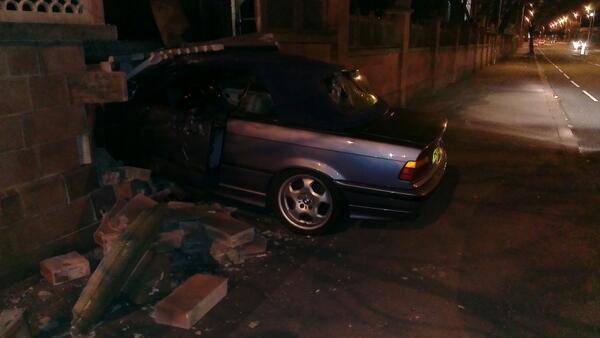 A man has been arrested after being found more than three times the drink driving limit while changing a tyre at Leeming Bar Services on the A1.
The man, aged 45, had been seen driving a white Toyota Prius erratically at around 8.40am today.
Officers found the man in the car park of the services and he provided a positive breath test of 110 millilitres of alcohol in 100 millilitres of breath.
He remains in police custody as inquiries continue.
West Yorkshire Police have released a hard hitting video (above) targeting drink drivers. Last year 2318 people were stopped for drink driving in West Yorkshire and seven people died in drink driving collisions.
In December, South Yorkshire Police targeted 2,907 drivers. 151 were either over the limit, wouldn't or couldn't complete the breath test. 503 followed a collision on the road, 9.5% of these were recorded as being over the drink drive limit or unable to provide a breath test.
Advertisement
A bus driver from York has been charged with drink driving after being arrested yesterday afternoon.
The 45-year-old man failed a roadside breath test after officers pulled over the single-decker bus he was driving on Field Lane in the Badger Hill area of York at around 12.50pm.
There were no passengers on the bus at the time of the incident.
The man is due to appear at York Magistrates' Court on Monday 4 February 2013.
100 drivers were arrested for drink or drug related offences in Lincolnshire in December.
Read the full story ›
100 drivers were arrested in December for drink and drug related offences. That is an average of 3 per day.
In the first 3 days of the campaign 8 people arrested for drink/drug related driving offences, on the very morning during the 'official' launch (4th Dec) the 9th driver was arrested.
By 12th December 36 people arrested had been arrested and by the 19th December that number had risen to 57.
North Yorkshire Police say that on Friday, they arrested the 100th drink-driving suspect since the annual crackdown began earlier this month. More than 3,200 motorists in the county have been breath-tested in December.
Load more updates