West Yorkshire Police have tweeted another warning against drink driving, this time showing the result of an accident they suspect was caused by it.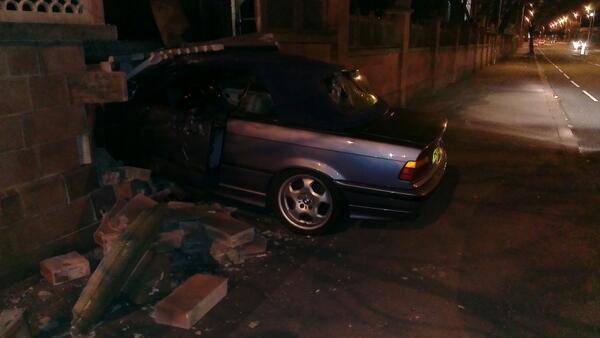 A man has been arrested after being found more than three times the drink driving limit while changing a tyre at Leeming Bar Services on the A1.
The man, aged 45, had been seen driving a white Toyota Prius erratically at around 8.40am today.
Officers found the man in the car park of the services and he provided a positive breath test of 110 millilitres of alcohol in 100 millilitres of breath.
He remains in police custody as inquiries continue.
Advertisement
West Yorkshire Police have released a hard hitting video (above) targeting drink drivers. Last year 2318 people were stopped for drink driving in West Yorkshire and seven people died in drink driving collisions.
In December, South Yorkshire Police targeted 2,907 drivers. 151 were either over the limit, wouldn't or couldn't complete the breath test. 503 followed a collision on the road, 9.5% of these were recorded as being over the drink drive limit or unable to provide a breath test.
A bus driver from York has been charged with drink driving after being arrested yesterday afternoon.
The 45-year-old man failed a roadside breath test after officers pulled over the single-decker bus he was driving on Field Lane in the Badger Hill area of York at around 12.50pm.
There were no passengers on the bus at the time of the incident.
The man is due to appear at York Magistrates' Court on Monday 4 February 2013.
100 drivers were arrested for drink or drug related offences in Lincolnshire in December.
Read the full story ›
Advertisement
100 drivers were arrested in December for drink and drug related offences. That is an average of 3 per day.
In the first 3 days of the campaign 8 people arrested for drink/drug related driving offences, on the very morning during the 'official' launch (4th Dec) the 9th driver was arrested.
By 12th December 36 people arrested had been arrested and by the 19th December that number had risen to 57.
North Yorkshire Police say that on Friday, they arrested the 100th drink-driving suspect since the annual crackdown began earlier this month. More than 3,200 motorists in the county have been breath-tested in December.
North Yorkshire Police's annual effort to put a stop to festive drink and drug drivers has resulted in almost 100 arrests.
Since the crackdown began on 1st December, officers have arrested 99 motorists on suspicion of getting behind the wheel while impaired by drink or drugs
Officers have conducted 3204 breath tests in the same period
It is concerning that we have made so many arrests since 1st December and it appears that some people just aren't getting the message.

It is pleasing though, that we are catching people who are prepared to take a risk and getting them off the roads before they can kill or seriously injure someone.
Between now and the new year, officers will be out in force on our roads and if you drink or take drugs and drive we will catch you and you face losing your licence.

People need to understand that drink driving is simply not acceptable and the police will keep making arrests for as long as motorists keep putting lives at risk through drink or drug driving."
– Traffic Sergeant Pete Stringer, North Yorkshire Police's Roads Policing Group
Load more updates