Speed limits are being halved on the East Coast Main Line south of Peterborough, to reduce the risk of steel rails buckling in the heat.
Read the full story ›
Sorry, this content isn't available on your device.
A number of trains on the East Coast Mainline are delayed by up to two hours or being cancelled due to damage to overhead electric wires between Retford and Newark North Gate.
Disruption is expected to continue until the end of the day.
Virgin Trains East Coast customers are being advised to avoid travelling today, the operator says tickets will be valid for travel tomorrow.
Sorry, this content isn't available on your device.
Advertisement
All lines reopened following damage to overhead wires between Retford and Doncaster. Disruption is expected to continue until 12:00
Read the full story ›
Virgin Trains have taken to Twitter to release pictures showing the 'extensive damage' to overhead wires between Retford and Doncaster.
The damage is causing major disruption between Grantham and Doncaster which is expected until at least the end of the service today.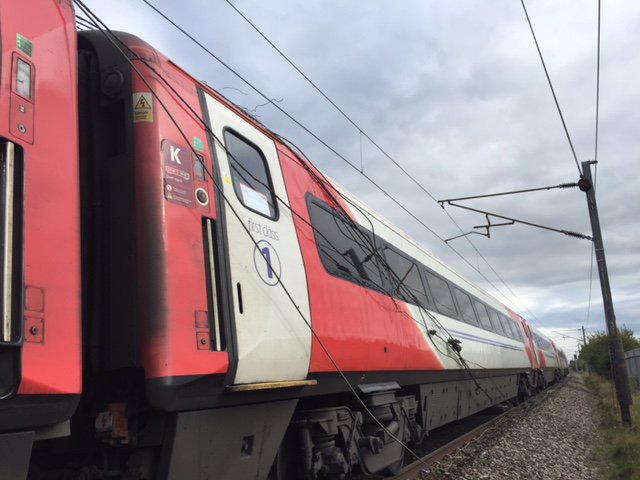 Rail bosses hope hundreds of new bullet-style carriages being worked on in Japan, will help ease congestion on the rail network.
ITV News had exclusive access to a full-size mock train, the likes of which will serve around 15 of our region's stations.
Jon Colley, from East Coast Trains, says there will be numerous benefits for passengers:
ITV News can exclusively reveal the final designs of a new generation of InterCity trains soon to take to the tracks in the region.
Read the full story ›
Advertisement
There will be a demonstration at Doncaster railway station today in support of the Keep East Coast Public campaign.
Today has been designated as a National Day of Action across the stations on East Coast Trains's route from London to Edinburgh, a number of which are in Yorkshire.
It is currently run by the government on a not-for-profit basis after private owners pulled out in 2009. But the bidding process for a new contract is now underway.
The government says its running of the franchise was always a temporary measure. Campaigners claim it has been successful, both financially and in terms of customer satisfaction, so should remain in public ownership.
The Government has published a shortlist of three bidders under plans to re-privatise the East Coast mainline - which runs from London through East Anglia, Yorkshire and the North East to Edinburgh - sparking a row over whether the rail franchise should remain publicly-run.
Some of the biggest transport firms, already running rail routes across the UK, including the First Group, Stagecoach, Virgin, Keolis and Eurostar, are on the list of preferred bidders for the 393-mile route.
Unions and other groups have been campaigning for months to halt re-privatisation of the franchise, which has been publicly-run since 2009. One union official accused the Government of "economic vandalism".
The three shortlisted biddes are East Coast Trains Ltd (First Group plc); Keolis/Eurostar East Coast Limited (Keolis (UK) Limited and Eurostar International Limited); and Inter City Railways Limited (Stagecoach Transport Holdings Limited and Virgin Holdings Limited).
The new franchise will start early next year.
Trains between Yorkshire and London on the East Coast Main Line have been suspended due to damaged overhead wires, North of Peterborough.
Network Rail are working to fix the problem, but commuters may face several hours of delay.
The nationalised railway company operating the East Coast main line , which runs through the Calendar region, has returned £208.7 million to taxpayers as revenues soared, fuelling the debate over plans to return it to private hands.
Directly Operated Railways (DOR), which took over the running of the key London-Scotland route four years ago, saw the figure increase by 6.6% in the year to the end of March.
Turnover increased 4.2% to £693.8 million while total sales were up by 4.2%, including ticket revenues, as well as catering and car parks.
The figures reignited the debate about the Government's intention to re-privatise the line - with a new franchise expected to start in February 2015.
Labour and rail unions have questioned the need for re-privatisation, arguing that DOR is returning a high level of money to the Department of Transport and receives a lower taxpayer subsidy than others.
Last week it was announced that Channel Tunnel high-speed company Eurostar was bidding to operate the route jointly with French firm Keolis. The successful bidder is expected to be announced in February 2015.
Load more updates