The lights will go out at Mosborough Rugby Club in South Yorkshire tonight to commemorate the centenary of the start of World War 1.
The unique night of remembrance, being staged by the Royal British Legion, is to remember the fallen heroes of the Great War.
Candles will be lit and then extinguished to symbolise those killed in action.
The Prime Minister has visited a memorial to his great, great uncle Captain Francis Mount, who died on the last day of the Battle of Loos in 1915.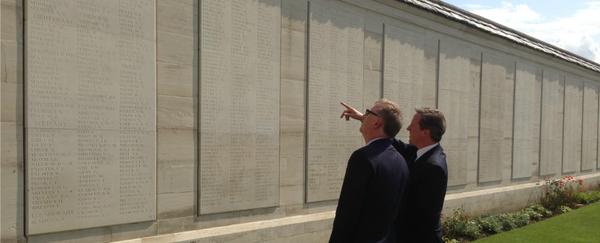 Almost 60,000 British servicemen are thought to have lost their lives during the two-and-a-half week battle.
Advertisement
The families of the fallen who are buried at a cemetery in Belgium have been invited to attend a special commemoration service. Prince William, Kate and Prince Harry will lead the event in the Saint Symphoiran cemetery in the city of Mons. David Wood reports.
David Cameron had five relatives killed during the First World War.
Captain John Geddes, a great, great uncle killed in April 1915, name on Menin Gate - which he found last year.
Second Lieutenant Alistair Geddes, died June 1915 - Royal Scots Fusiliers (also a great,great uncle).
Captain William Henry Cameron, died December 1914 - Highland Light Infantry (also great, great uncle).
Captain Francis Mount, died October 1915 - Royal Berkshire regiment (also a great, great uncle).
Francis Ellison Levita died October 1914 (first cousin).
The Prime Minister apparently researched much of this himself, we were told at a lobby briefing.
Events are taking place across the region to mark the start of Britain's involvement in the First World War. At 10 o'clock tonight many churches and cathedrals will take part in a Lights Out ceremony, where just a single candle will burn. Elsewhere people have been invited to pay their own personal respects to those who died. Rachel Townsend reports.
Advertisement
Five hundred fallen war heroes from Bramley near Leeds have finally been remembered with the unveiling of a World War 1 memorial plaque at the park. Hundreds of people gathered for the event which took place this morning.
Everyone across the UK is being invited to turn their lights off for an hour to mark 100 years since the start of the First World War.
Between 10pm and 11pm people are being encouraged to leave a single light or candle on to mark the moment when Briton declared war on Germany.
Events are being held across the region. At York Minister and Lincoln Cathedral there will a service followed by a candlelit vigil of prayer to commemorate the outbreak of the First World War.
The Lights Out campaign was inspired by a famous quote by the British Foreign Secretary, Sir Edward Grey in 1914.
""The lamps are going out all over Europe; we shall not see them lit again in our lifetime"
Sir Edward Grey, British Foreign Secretary, August 1914
David Cameron has paid tribute to the "extraordinary sacrifice" of the First World War generation as Britain commemorates the 100th anniversary of WW1.
PM: It is right to remember extraordinary sacrifice of a generation. We are indebted - their most enduring legacy is our liberty #WW1Aug4
Commemoration events are being held across the region to mark 100 years since the outbreak of World War 1. Remembrance services will happen at a number of churches as part of the Lights Out Across Europe event.
SKIPTON - Peace vigil led by the Grassington and District Peace Group and Skipton and Airton Quakers in the town market square from 11am and will then move to outside Skipton Town Hall from 2pm

BRAMLEY - 500 fallen war heroes from Bramley will finally be remembered with the unveiling of a new WW1 memorial at Bramley Park at 10:15am.

PONTEFRACT - Bells at St Giles' Church, Pontefract, will toll at 11am while there will be a pop-up museum from 10am to 4pm.

THIRSK - Memorial service in Thirsk. Including open air concert (British Legion), war poetry. 10am.

ROTHERHAM - Jesus Chapel in Rotherham Minster will be opened as a WW1 Memorial Chapel from where people can record their stories and quietly reflect on the past 100 years.

GAINSBOROUGH - Commemorative tree planting at John Coupland Hospital in Gainsborough to mark 100 years since the newly opened Hospital opened its door to injured servicemen returning from battlefields of Europe.
Load more updates