Calendar's Political Correspondent Paul Brand's latest blog features George Osborne's visit to a car clamp factory in Keighley.
Read the full story ›
George Osborne is hoping Chinese money could help transform infrastructure in Yorkshire's cities as part of his "Northern Powerhouse" plan to grow the economy in theregion.
The Chancellor on a trade trip to China has made a pitch for Chinese companies to invest in the HS2 high speed rail link between London - Sheffield and Leeds, as well as regeneration projects in the two Yorkshire cities. Accompanying the Chancellor are council leaders from the Northern Powerhouse cities including Sheffield and Leeds.
Advertisement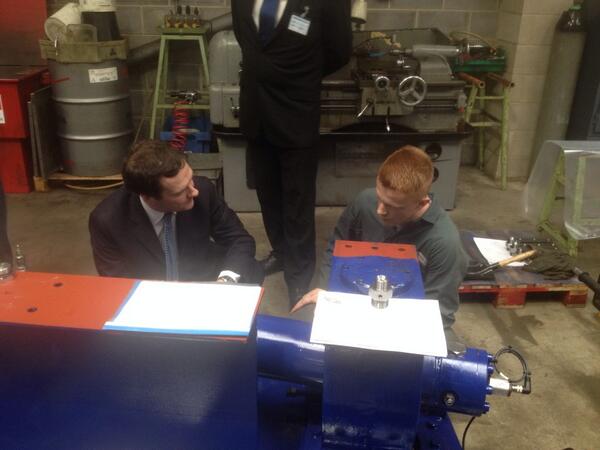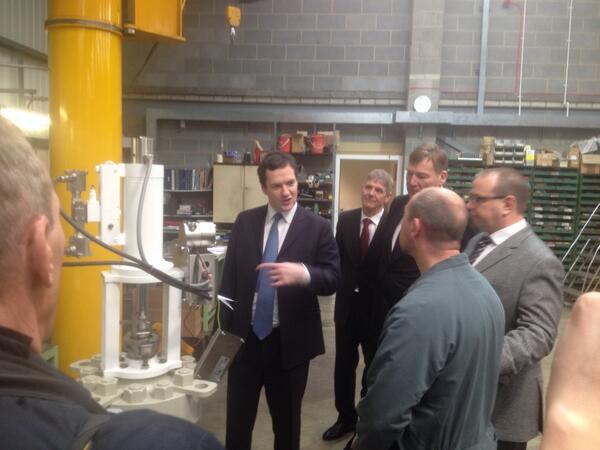 Bradford West MP George Galloway has announced his new wife is expecting their first child
The 59-year-old Respect party leader already has three children by his first and third wife, but it is his first child with his fourth wife, 29-year-old Gayatri Pertiwi.
He announced the news on Twitter, adding that they are happy the child will be a sibling for Lucy, Zein and Faris.
There has been a landmark victory for retired miners - who have been told by the Government they will have free coal for life.
Hundreds of former pitmen stood to lose their historic fuel allowance under a deal to save UK Coal and two thousand jobs.
But today the Chancellor George Osborne announced during a visit to Thoresby Colliery in North Nottinghamshire that their concessionary allowance will be guaranteed by the government. David Hirst reports.
Advertisement
The Chancellor of the Exchequer George Osborne has announced during a visit to Thoresby Colliery in North Nottinghamshire this afternoon that he would reverse the decision to cut the entitlement of former miners winter fuel allowance. This follows a sustained campaign by regional MPs.
On Monday Bassetlaw MP John Mann organised a protest outside UK Coal headquarters in Harworth near Doncaster. Last week he spoke out in Parliament against the treatment of former miners and their widows.
"I am delighted that the Government and UK Coal bosses have caved in to pressure and have finally been forced to do the decent thing. They knew that our next step was to take legal action, and I am glad that the legal fees that would have been incurred have been avoided.

The concessionary fuel allowance is a contractual obligation to be paid to former miners and in some cases their widows. It is not a benefit, but part of what these former miners are owed.

My constituents now need the fuel as soon as possible so that they can heat their homes this winter"
– John Mann MP
Hundreds of former pitmen stood to lose their historic fuel allowance under a deal to save UK Coal and two thousand jobs.
"This is a great victory, and a further example of how a strong local campaign can force the Government to listen and do the right thing."
– John Mann MP
Work and Pensions Secretary Iain Duncan Smith has said that housing benefit changes that have been introduced today are about "fairness".
In response to criticisms of the so-called 'bedroom tax', he said: "The reality is this is about getting our housing benefit back into order".
"This is about fairness. It's about fairness to those who pay vast sums of money in taxation to see that people living in subsidised accommodation who often don't use the bedrooms they've got, while others in overcrowded accommodation.... they can't get the accommodation they need.
"This is a nonsense problem that was created by the last government who didn't build enough housing and didn't manage the housing stock properly".
New rules on housing benefit come into effect today as the Government begins the biggest shake-up in the history of the welfare system.
Daybreak's Sue Jameson reports:
Chartered accountants Blick Rothenberg produced this table to show how tax-free income thresholds will change after today's Budget.
Under 65s can earn their first £10,000 tax-free by the start of the 2014 tax year.
By that point, people earning over £31,865 will enter the 40% higher rate tax band.
Load more updates