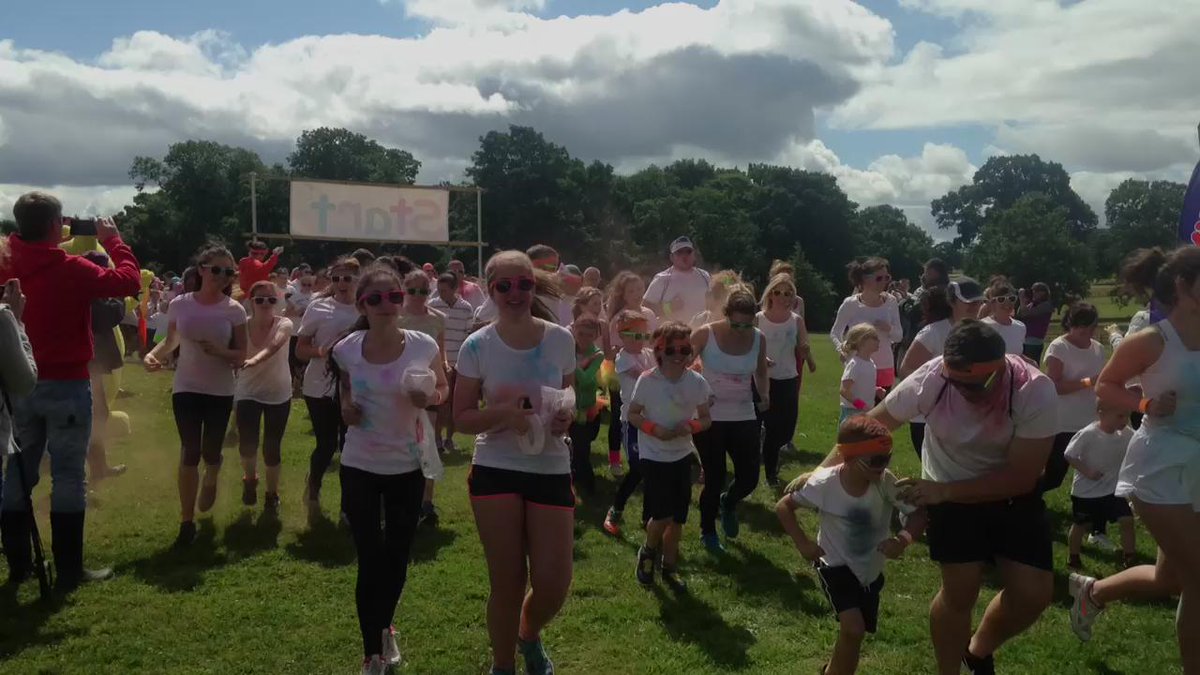 Forty one crews of fundraisers have been battling it out at the annual dragon boat race in Leeds, in aid of Martin House Children's Hospice in Boston Spa. And organisers say it has been a great success.
Advertisement
Hundreds of charity fundraisers have taken to the water today for a spectacular series of dragon boat races for Martin House Children's Hospice. Forty one crews raced the Chinese boats along the course at Waterloo Lake in Roundhay Park in Leeds.
The races have raised more than two hundred thousand pounds for the hospice over the last five years.
The festive season got off to a flying start this morning at the third annual Santa on the Run event raising funds for Martin House Children's Hospice.
The family event began 8.30am at Stockeld Park, Wetherby, with more than 350 Santas taking part.
"We are really excited to be holding our third Santa Run at Stockeld Park.

"Lots of people from across the local area signed up to support us and in doing so are helping us to raise the £4.9 million that we will need in 2014 to provide care and support to the children and their families that need us across Yorkshire. Thanks so much to everyone."
– Events Manager at Martin House Caroline Hudson said
With just over a week to go to the big day, Father Christmas agreed to take time out of his hectic schedule to spread some festive cheer at Martin House hospice in West Yorkshire.
As Rudolf and the rest of the reindeer were saving their energy for Christmas Eve, it was down to Leeds Bradford airport to get him there. This report contains flash photography,
Father Christmas has swopped Rudolph and his sleigh for a helicopter to fly in to Martin House Children's Hospice in Boston Spa and take the youngsters and their siblings sacks full of presents.
Advertisement
As the festive season gets underway, more than three hundred and fifty charity fundraisers braved the cold this morning and dressed as Santa for a special fun run in aid of Martin House Hospice.
The challenge was to run five times around the enchanted forest at Stockeld Christmas Adventure. The event, in it's third year, aims to raise funds towards the five million pounds needed annually to keep the hospice running.
Organisers say they also hope to increase awareness of the facility amongst the residents of Wetherby.
Memorabilia from this year's Leeds Festival is being auctioned for charity. Signed set lists and drumsticks from the likes of The Cure, Kasabian, The Cribs and the Foo Fighters are being sold in aid of Martin House Hospice.
The unwanted tents and tonnes of rubbish left over from the last weekend's Leeds Festival are being collected, sorted and recycled and given to a Childrens Charity in the Philippines.
Senior officers at West Yorkshire Police have praised music fans attending this year's Leeds Festival.
Throughout the weekend, 32 people were arrested for offences including theft and drugs. In total 87 crimes were recorded. Extra patrols were mounted in villages near the festival at Bramham.
On Saturday night, these patrols arrested three men and a woman from Essex, and seized a haul of mobile phones which are believed to have been stolen from people within the festival. Two people have been charged and held in custody, with the remaining two released on bail pending further enquiries.
"The atmosphere throughout the weekend has been fantastic. It felt like a relaxed party. It was obvious everyone was excited about the live bands and enjoying the entertainment in a safe venue."
– Chief Superintendent Andy Battle, West Yorkshire Police.
Load more updates