Former deputy prime minister Nick Clegg is returning to front-line politics as Lib Dem spokesman on the EU.
The Sheffield Hallam MP, who used to be an MEP insists that turmoil in the Labour Party means no one is holding the Government to account on Brexit.
Mr Clegg, who quit as Lib Dem leader after the party's near wipe-out in the 2015 general election, expressed alarm at widespread confusion regarding the implications of Brexit.
"With no meaningful opposition from the Labour Party, no exit plan from the Government, Whitehall unprepared for the Brexit negotiations, and above all, Theresa May's refusal to seek a mandate from the people for what is in effect a new government, there is a real risk that she and her Brexit ministers won't be subject to the scrutiny and accountability which voters deserve."
– Nick Clegg MP
Tim Farron will officially announce his candidacy to replace Sheffield Hallam MP Nick Clegg as Leader of the Liberal Democrats when he visits Otley today.
The local Leeds North West MP Greg Mullholland will be the Westmorland and Lonsdale MP's campaign co-ordinator.
Farron served four years as President of the Liberal Democrats, until December 2014, and is hugely popular among party grassroots.
"That over 10,000 people have joined the party since polling day shows we still have huge appeal among voters.

"I have every confidence that we as a party can rebuild after a difficult general election - I want to be at the forefront of that, and that's why I am running to be Leader of the Liberal Democrats.

"I am greatly looking forward to visiting Otley to announce my candidacy. It's a great example of an area where people see us as the party with the right priorities and are ready to back us.

"That was clear to see in local residents re-electing Greg Mulholland for a third straight term, and overwhelmingly voting Liberal Democrats to run the local town council. Yes, we had a difficult general election result, but we are determined to rebuild and places like Otley show how we can do that."
– Tim Farron MP
"I am delighted to be backing Tim Farron to be the next leader of the Liberal Democrats. We need to re-establish a strong identity for the party and reconnect and re-engage with the public.

"Tim has a clear vision for how the party can be energised to do just that and I want to be part of that vision and making it happen.

"I am very pleased that Tim agreed to come to Otley to launch his leadership campaign. Otley is a proud liberal town, with strong civic pride and a wonderful community spirit.

"It is great that after the remarkable Liberal Democrat victory in the Otley Town Council elections, Tim is launching the Liberal Democrat fightback – and we want Otley to be an example of how a strong liberal team can deliver for people.

"Tim has the ability to connect with people from all different backgrounds, in all different parts of this country and he is the right person to lead the liberal revival this country needs. "
– Greg Mullholland MP
Advertisement
Nick Clegg has announced his resignation as leader of the Liberal Democrats.
His party suffered huge losses across the country, winning only eight seats, in a disastrous night for his leadership; a night where he also lost the position of Deputy Prime Minister following the end of the coalition with the Conservative Party:
It is simply been heartbreaking to see so many friends and colleagues who have served their constituents so diligently, over so many years, abruptly lose their seats because of forces entirely beyond their control.

I always expected this election to be exceptionally difficult for the Liberal Democrats given the heavy responsibilities we have had to bear in government in the most challenging of circumstances.

But clearly the results have been immeasurably more crushing and unkind than I could ever have feared. For that, of course, I must take responsibility.
– Nick Clegg MP
Deputy Prime Minister Nick Clegg says he is "confident but not complacent" about winning his parliamentary seat at the general election next week.
He was speaking to our reporter Paul Brand: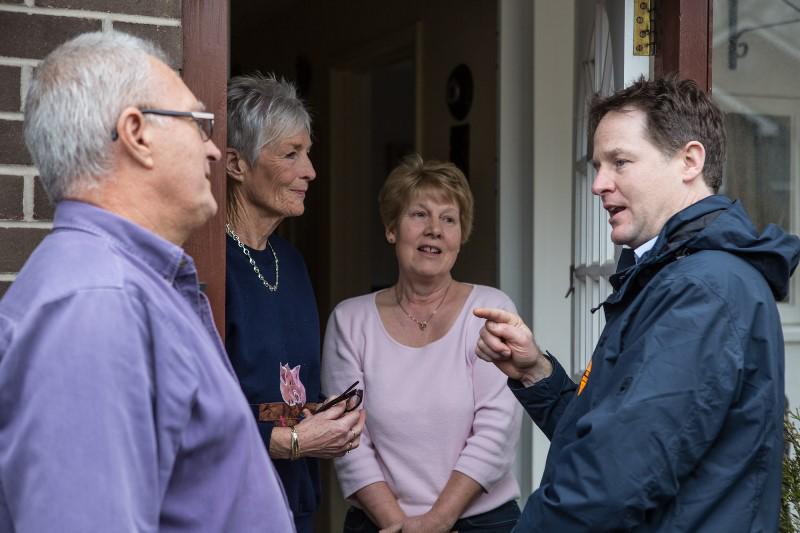 Senior Liberal Democrats are once again pledging their loyalty to Nick Clegg tonight, as a botched coup to oust him as leader continues to cause embarrassment.
The Sheffield Hallam MP said he 'didn't believe for a second' that the Business Secretary Vince Cable had been plotting against him.
The Liberal Democrat peer Lord Oakeshott resigned on Wednesday after leaking a poll showing Nick Clegg could lose his seat, claiming Vince Cable knew about the research.
Our Political Correspondent Paul Brand reports:
Advertisement
It is the Liberal Democrat Spring Conference in York this weekend and its leader - Sheffield MP & Deputy Prime Minister Nick Clegg - says he is relishing a head-to-head with UKIP's Nigel Farage.
As Mr Farage's party vies to take on all parties at the forthcoming European Elections the conference is likely to focus on Europe and Tax - and the Lib Dem leader insisted there is still plenty on offer from the party to voters in our part of the world.
Claire Ashforth was there to meet him.
Claims have emerged that South Yorkshire is missing out on millions of pounds of European Union funding - because the cash is being diverted to Scotland instead.
The Deputy Prime Minister and Sheffield MP Nick Clegg today denied Labour claims that he's been 'asleep at the wheel' by allowing a 50 percent cut in EU money. He says funding will actually rise this year.
But his opponents say he's fiddling the figures, with cash being shifted to other regions. Our Political Correspondent Paul Brand reports on the row.
Nick Clegg has accused Labour of 'shocking hypocrisy' for claiming that the government has cut EU funding for South Yorkshire.
The Deputy Prime Minister insisted that spending would go up this year, from £20m to £23m. But the funding is actually dished out in lumps of six years, and in 2007-2013 it was £350m, with most of that spent at the beginning of the period, which is why spending was so low last year.
In 2014-2020 it will only be £178m - a 50% cut on the previous round. Labour say Nick Clegg - a Sheffield MP himself - has been 'asleep at the wheel', allowing a huge cut to South Yorkshire while richer regions have been given more money.
Click below to watch Calendar's political correspondent Paul Brand quizzing Clegg over the cuts:
Liberal Democrats have accused Prime Minister David Cameron of scuppering plans to allow voters to get rid of MPs who misbehave - a plan Sheffield Hallam MP, Nick Clegg was keen to push through.
The coalition agreement of 2010 included a promise of early legislation to introduce a "power of recall" allowing voters to force their MP to face a by-election by raising a petition of 10% of constituents.
But the Lib Dems said that Mr Cameron has now blocked a bill to create a recall power from inclusion in the final Queen's Speech of the Parliament.
If no bill is included in the Speech, expected in May, there is virtually no chance of it becoming law before the UK goes to the polls for next year's general election.
The coalition agreement sealed by Mr Cameron and Lib Dem Deputy Prime Minister Nick Clegg in the wake of the inconclusive 2010 election included a promise on recall in response to widespread voter discontent about the House of Commons' expenses scandal.
The agreement stated: "We will bring forward early legislation to introduce a power of recall, allowing voters to force a by-election where an MP is found to have engaged in serious wrong-doing and having had a petition calling for a by-election signed by 10% of his or her constituents."
Load more updates