One Direction fans were left red-faced after Sheffield Council issued over a hundred fines for parking illegally during their tour at the Motorpoint Arena.
Drivers struggling to park at the Arena resorted to parking their cars in Valley Centretainment and Meadowhall retail park.
There were 106 motorists with a number of cars parked illegally during the tour on 29, 30 and 31 October.
Sheffield Council handed out fines which cost motorists £35. If this isn't paid within the 14 day period this rises to £70. It is estimated that the council would have made up to £3,500.
Unfortunately, drivers often park illegally on footpaths and similar areas around the arena and Meadowhall retail park areas when there are arena events.
– Sheffield Council spokesman
One Direction speak about their upcoming break, former bandmate Zayn Malik and plans for the future.
Read the full story ›
Advertisement
One Direction are taking over Twitter this weekend in a bid to find their biggest fans
Read the full story ›
One Direction have held onto their position at the top of Britain's Under-30s Rich List. Bradford's Zayn Malik secures eighth place.
Read the full story ›
One Direction star Louis Tomlinson has hit out at Doncaster Rovers for sacking manager Paul Dickov.
Dickov was fired after leading Donny to just one win in their opening six League One games of the season.
He started work at the Keepmoat Stadium in 2013 following the club's promotion to the Championship, but couldn't stop them going straight back down.
Fan Louis Tomlinson wrote on Twitter: "Still getting over the fact my beloved Donny Rovers sacked Paul Dickov! Silly silly decision! Unfair to judge him with the poor budget given!"
Still getting over the fact my beloved Donny Rovers sacked Paul Dickov!Silly silly decision! Unfair to judge him with the poor budget given!
Perrie Edwards said she is "heartbroken" after splitting from her former One Direction fiance Zayn Malik who is from Bradford.
The Little Mix star thanked her family, friends and fans for helping her through what she described as "a hard time".
While not referring directly to having broken up with Malik, Edwards posted two tweets online to tell of her heartbreak.
The pop star duo, both 22, got engaged in 2013 but had never publicly announced a wedding date.
Reports that they had called time on their relationship emerged yesterday.
Advertisement
One Direction's Louis Tomlinson has confirmed he's going to be a dad.
Speaking on Good Morning America today, the star from Doncaster said it is a 'very exciting time', confirming for the first time that he is expecting his first child, with stylist Briana Jungwirth.
He appeared alongside his bandmates, who acknowledged that life is 'different' since former member Zayn Malik decided to leave the group, but that things are still going 'great.'
Louis Tomlinson is reportedly expecting a child with a Los Angeles-based stylist following a brief relationship. According to reports in both the People Magazine and The Sun, the 23-year-old One Direction star from Doncaster is set to become a parent with his close friend Briana Jungwirth.
A mutual friend of the pair insists that while Louis and the stylist aren't in a relationship, the singer will be a 'hands-on dad' when their baby arrives early next year.
Meanwhile a publicist representing the singer has refused to comment on the newspaper claims that he is to become a father. Asked by ITV News to respond to the claims, a representative said: "No comment". The band are currently touring the United States and are due to play in Seattle tomorrow. If true, it would make Tomlinson the first member of the band to become a father.
Former 1D star Zayn Malik seems to have fallen out with collaborator Naughty Boy after calling him "a fat joke" on social media.
Read the full story ›
One Direction singer Louis Tomlinson says his thoughts are with 17-year-old Leah Washington from Barnsley, who had to have her left leg amputated after last week's crash on the Smiler ride at Alton Towers.
Leah is a big 1D fan and had been due to see them at Capital's Summertime Ball at Wembley Stadium last Saturday.
Her friend, Sara Stuart took to twitter to try and get the band to visit her in hospital as she continues to recover from surgery. And Louis Tomlinson, who is from nearby Doncaster tweeted back.
@leahwashy Thinking about you Leah & hoping you are home in South Yorkshire soon Xx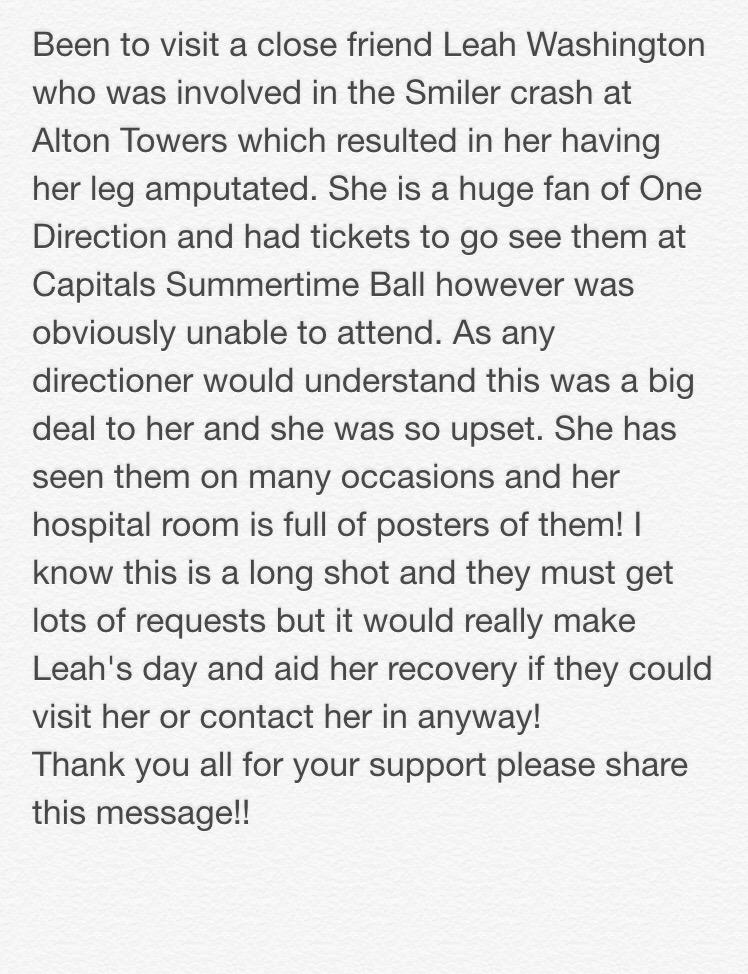 Load more updates