The Red Arrows aerobatic team has been given formal approval to perform in public this year.
Read the full story ›
Nearly 100 personnel based at RAF Waddington and RAF Scampton have marched through Lincoln together for the first time.
Read the full story ›
Advertisement
Lincolnshire is once again set to host its own air show after an agreement was reached to switch the event to RAF Scampton from 2017.
Read the full story ›
The Red Arrows have issued a warning to photographers after training at RAF Scampton had to be stopped amid safety concerns.
The display team said people taking photos on the runway directly under the aircraft's flight paths during takeoff and landing were endangering themselves and others last Friday.
hey said they welcomed people watching them train but not to take unnecessary risks.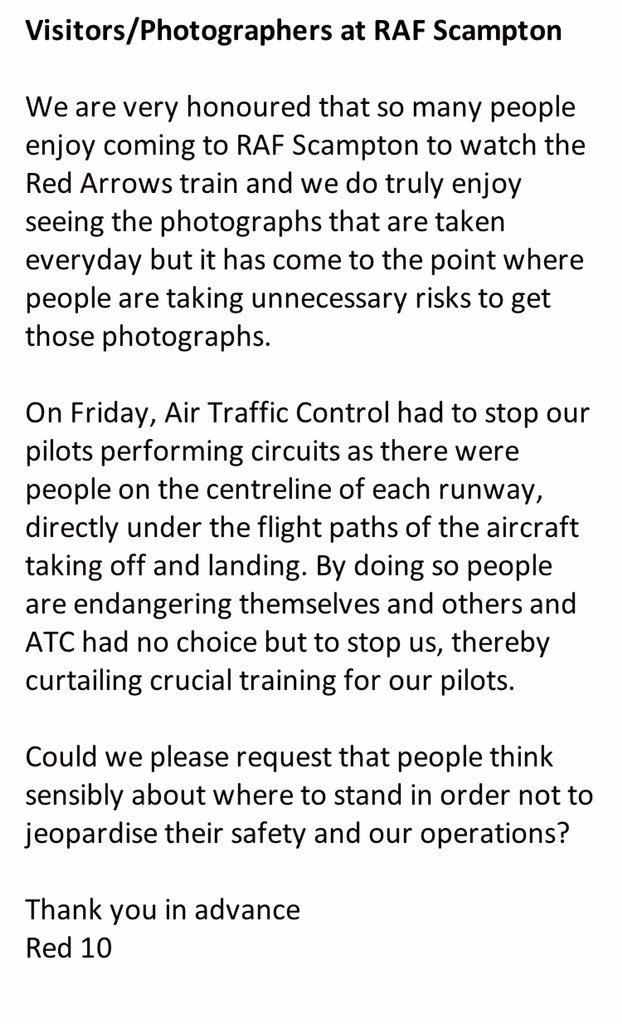 The Red Arrows who are based at RAF Scampton in Lincolnshire have unveiled a white-knuckle ride named in their honour.
The Red Arrows Skyforce at Blackpool's Pleasure Beach is 72ft high and cost £2million.
Advertisement
Hi-tech companies including Rolls-Royce, Aston Martin and Mercedes are joining forces with the Red Arrows and The Education Business Partnership (EBP) to inspire the next generation of engineers and scientists.
The firms will showcase their work to more than 300 children at RAF Scampton, which is the Lincolnshire home of the world-renowned Royal Air Force Aerobatic Team.
The special day is part of celebrations marking the Red Arrows' 50th display season in 2014 and will focus on the importance of studying science, technology, engineering and maths – the so-called STEM subjects.
Also in attendance tomorrow will be physicist Professor Brian Cox, maths expert Carol Vorderman, The Gadget Show host Jason Bradbury and Wing Commander Andy Green, who is the holder of the world land speed record.
The pupils will also get to watch a practice display by the Red Arrows.
Plans to turn the hangers at RAF Scampton into a Red Arrows tourist attraction have been revealed.
Those behind the multimillion pound plan say it could attract around 200,000 visitors a year, while securing the future of the base and providing a draw for the wider region.
Exhibitions would focus on the aerobatics team, aviation in the First World War and Cold War, Lincolnshire's aviation engineering heritage and the Dambusters raid.
Council bosses are currently in talks with the Ministry of Defence and RAF about the proposals, which they say could create over 100 jobs. If successful, they plan to open the park in 2018 to coincide with the RAF's 100th birthday.
Members of the famous Dambusters squadron have been back to their former base in Lincolnshire at RAF Scampton to mark 70 years since the famous raids in Germany.
Current members are taking part in a gruelling running challenge to raise awareness of disability in the UK, before they're deployed to Afghanistan in a few weeks' time as Grace Melody-Gardner has been finding out.
Cleaners, chefs, drivers and other civilian workers at RAF stations will go on strike today in a row over pay.
Members of the GMB and Unite unions at eight sites, including Cranwell, Scampton and Kirton-in-Lindsey in Lincolnshire, will walk out for 24 hours, with further stoppages expected.
The unions are in dispute with contractor ISS after saying they had been offered a pay rise of 8p an hour, and only 2p for those on the national minimum wage.
Other bases affected by the strike are Valley in Angelsey, Cosford in Shropshire, Llanwrst in Conwy and Fairbourne in Gwynedd.
Sian McClarence, GMB regional officer, said: "Members are so incensed by the contempt that ISS have shown to them that I don't doubt there will be further action until they come back to the table and have some meaningful negotiation with us."
Unite national officer Mike McCartney said: "ISS seem more intent on strike-breaking than dispute resolution."
Load more updates