Welcome to Yorkshire has announced that Chief Executive Sir Gary Verity DL has resigned on health grounds with immediate effect.
Read the full story ›
Over 100 memories of the Tour de France weekend have been recorded at a special anniversary event held at Leeds Town Hall.
The project was set up by the charity Sporting Memories Network.
Advertisement
It's been a year since hundreds of thousands of people lined the streets of Yorkshire to watch the world famous cycling race the Tour de France. To mark the anniversary a charity is using some of the amazing memories created over that weekend to help people with dementia as Sarah Clark reports.
It is exactly a year since Yorkshire hosted Le Grand Départ of the Tour de France. The first anniversary is being marked with a celebration at Leeds Town Hall. Tour makers are recording stories of the event for The Sporting Memories network. The charity uses sporting memories to help improve the wellbeing of people with dementia. During the Tour de France, they ran dementia-friendly spectator hubs around the region.
A stone monument to commemorate Sheffield's part in last year's Grand Depart has been unveiled.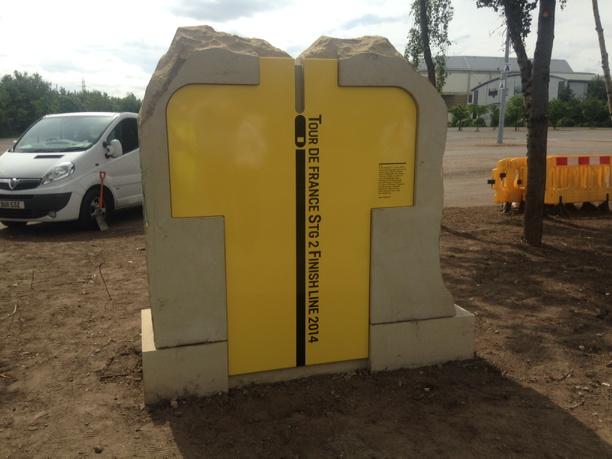 Day two of the race finished in the city and is thought to have generated around £10 million for the local economy.
It was the biggest cycling event Yorkshire has ever seen and its legacy is continuing to be seen almost a year on from the Tour de France.
It brought cycling to millions of people around the world and now a new scheme has been launched in Leeds to encourage children to get on their bikes.
Sally Simpson has the story:
Advertisement
A knighthood should be considered for Gary Verity, the tourism chief who helped bring the Tour de France to Yorkshire, the Culture Secretary has suggested.
Yorkshire hosted the first two stages of the 2014 tour.
Tory Cabinet member Sajid Javid insisted the event has been a "great thing for Yorkshire", as he was pressed to back a campaign to give a knighthood to Gary Verity, chief executive of Welcome To Yorkshire.
Speaking in the Commons, Tory backbencher Philip Davies (Shipley) told Mr Javid: "After the great success of the Tour de France coming to Yorkshire last year, which gave an estimated £100 million boost to the Yorkshire economy, are you as excited as everybody else in Yorkshire is about the route next week being declared for the Tour de Yorkshire - the new international cycling race which is being introduced?
"And would you like to join me in congratulating Gary Verity for the role he's played in organising this, as well as bringing the Tour de France to Yorkshire, and support my campaign for him to receive a knighthood in the next honour's list?"
The Culture Secretary replied: "I agree very much with you. I remember visiting the Tour myself and being hugely impressed by the turnout, participation by people of all ages in terms of spectator sport and it's been a great thing for Yorkshire. I think the new initiative is very welcome. The comments you've made about Gary Verity, I very much agree with you in terms of what he achieved for Yorkshire and it should be looked at."
Last summer's Tour de France brought an extra £12.5 million to Calderdale, according to figures released by the council. Hotels and B&Bs were among those to benefit, with visitors spending nearly £3 million on accommodation.
I'm delighted by these findings, which show the clear benefits that participation in the Tour de France brought to Calderdale. This can be measured both in terms of the immediate impact on our local economy and, in the longer term, the legacy.

We know there are keen cyclists who will want to tackle the challenges of the route themselves this summer. There are also spectators and viewers who will want to explore our beautiful landscapes and quirky towns, bringing lasting benefits for our tourism industry.
– Cllr Stephen Baines, Calderdale Council
Bunting and banners were a key feature of this year's Tour de France in Yorkshire and now Craven District Council will auction off some of the items that were on display in Skipton. All the proceeds will go to charity.
Mark Cavendish will return to the track next month to ride in the Ghent Six Day races.
The 29-year-old Omega Pharma-QuickStep rider is bidding to recover peak condition after requiring shoulder surgery following a crash on stage one of the Tour de France in Harrogate.
Happy I'll be returning to @zesdaagsegent in November! Honoured to finally partner track legend, my good friend & teammate @iljokeisse.
The Ghent Six Day, which takes place from November 18 to 23, is a series of races taking place in front of a passionate Belgian crowd.
Cavendish will compete alongside Iljo Keisse, his Omega Pharma-QuickStep team-mate.
Load more updates