A video has emerged of two former Wakefield Wildcats players following a crash earlier this year.
It appears to show the driver Tim Smith, seen in the video wearing a black t-shirt, and passenger Kevin Locke moments after the incident which happened in Brough in September.
Smith, 30, was arrested and later banned from driving for two years for failing to provide a specimen.
The Australian was dismissed by the Wildcats for gross misconduct and Locke was also released by the club following the incident.
Wakefield have announced the retention of Wales prop Anthony Walker, who has signed a two-year deal.
Walker made eight appearances after joining the Wildcats from St Helens in June and is delighted to extend his stay at least until the end of 2017.
"I really enjoyed my time, especially working under Brian Smith who is an excellent coach. I'm looking forward to coming back in pre-season and work extremely hard."
Smith said: "We will see a slightly different Anthony Walker in 2016. His tremendous footwork in attack will be enhanced from his tough workouts in his personal programme throughout the off-season. He is one of many contenders for a spot in our forward pack."
Advertisement
Wakefield have re-signed former Canberra centre Bill Tupou for 2016 after he made a big impact in the club's successful battle against relegation.
The 25-year-old was one of 10 new signings made by coach Brian Smith ahead of the Super 8s Qualifiers and impressed in his nine appearances, including the £1million shoot-out with Bradford that secured the Wildcats' spot in Super League for 2016.
Smith said: "Bill Tupou settled quickly into our team mid-season, largely based on his powerhouse running of the ball. With more time together with his team-mates in preparation, we are likely to have an even bigger and stronger series of performances from Bill."
Tupou, who began his career with New Zealand Warriors, said: "I'm very happy to have signed for a year here at Wakefield. It is a great time to be at the club."
Wakefield have continued re-building by taking on scrum-half Liam Finn from Super League neighbours Castleford.
The 31-year-old Ireland captain is joining the Wildcats on a two-year deal as the replacement for Australian Tim Smith, who was sacked earlier this month for gross misconduct.
Finn, who had a brief spell at Wakefield at the start of his professional career in 2004, is the fourth signing made by coach Brian Smith following the acquisition of Anthony England, Ben Shulver and Sean Morris. "I want to come back and put a few wrongs right from the last time I was here as it didn't really work out for me when I was younger," Finn said.
"I'm looking forward to working with an experienced coach like Brian. It will be interesting to see what he does differently to other coaches.
"I'm hoping that my role as half-back will add some organisation and control into the side and will hopefully get the best out of the team moving forward.
Finn also had a brief spell in Super League with his home-town club Halifa, before going on to play at Championship level with Dewsbury and Featherstone and gained a new lease of life when he followed coach Daryl Powell to Castleford two years ago.
He made 46 Super League appearances for the Tigers and helped them reach the Challenge Cup final at Wembley in 2014 but did not feature in their last four matches of the 2015 season.
Powell said: "Liam Finn has been a superb player for the Tigers over the past two years and has been a solid influence on the development of the team.
"He is a high quality bloke who is a pleasure to work with. I wish him all the best in his future career."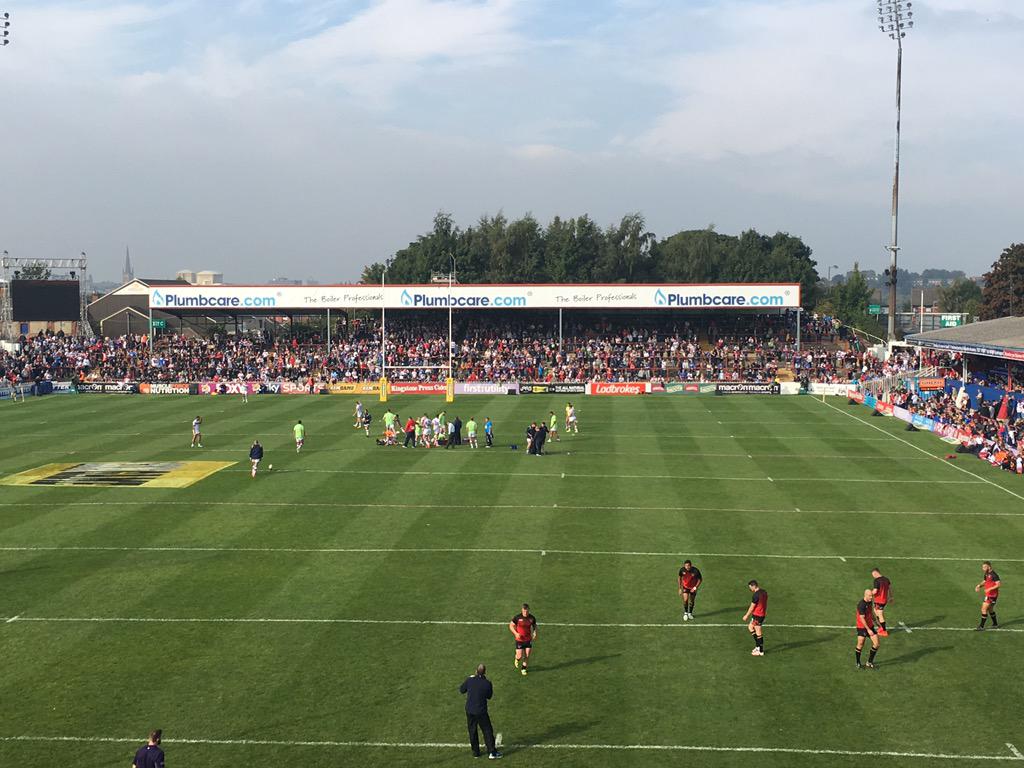 HERE come the two sides! It's time for the £1MGAME - with a Super League spot up for grabs... http://t.co/KFSN4Zq6Un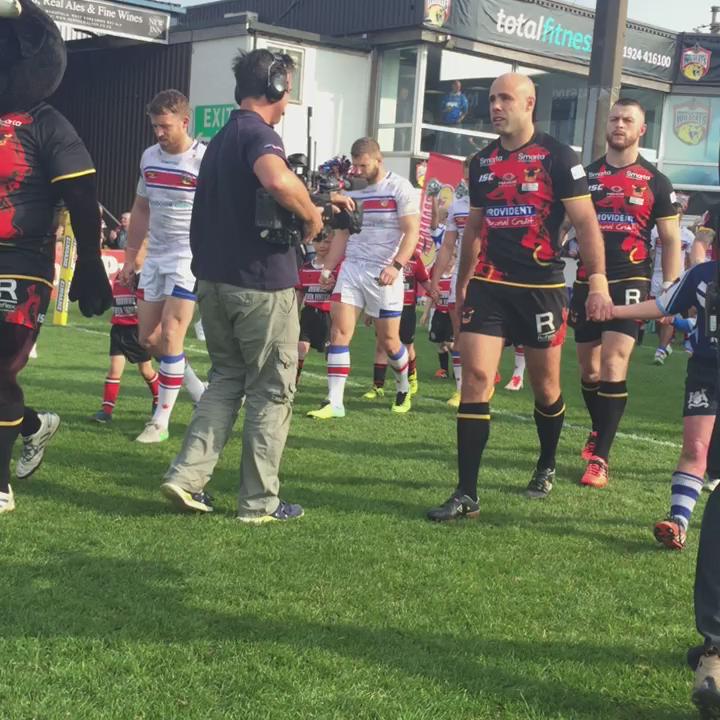 Wakefield's Belle Vue will be the venue for whats been billed as the Million Pound match - the difference in financial terms between playing in the Championship and the Super League - and sees 2 traditional West Yorkshire sides go head to head.
Bradford Bulls are hoping to bounce back to the top flight after a year in the second tier, whereas Wakefield are looking to avoid dropping down a division.
To add to the drama the game pits Bulls head coach James Lowes against the man who signed him from Bradford back in the 1990's Brian Smith - now in charge at Trinity:
Advertisement
Wakefield have sacked Australian scrum-half Tim Smith, chairman Michael Carter has confirmed.
The 30-year-old former Wigan and Salford player, who had two months left on his contract, has been dismissed for gross misconduct.
The move follows Smith's appearance at Beverley Magistrates Court on Wednesday when he was banned from driving for 28 months and fined £900 after admitting failing to provide a specimen following a car crash in Hull last month. He was also fined £600 for careless driving.
"A letter was last night sent to him and his lawyer saying we were dismissing him for gross misconduct and bringing the club into disrepute," Carter told Smith, who previously played in the NRL for Parramatta and Cronulla, was in his second spell with the Wildcats after rejoining them just over 12 months ago from Salford.
He had been suspended by the club pending an investigation into the car crash but failed to attend a hearing after submitting a sick note citing anxiety.
The latest development comes just 48 hours after Wakefield confirmed the departure of former New Zealand full-back Kevin Locke, who was also involved in the car crash, and 48 hours before one of the biggest games in the club's history, Saturday's £1million sudden-death clash with Bradford.
Smith is thought to be on his way back to Australia and facing an uncertain future in the game.
Wakefield have lifted the suspension on two of the four players stood down a week ago pending the outcome of internal investigations.
Read the full story ›
Wakefield Wildcats have confirmed Simon Grix will be joining the club on loan from Warrington Wolves.
The loose forward will join the club with immediate effect ahead of the Super 8s campaign.
Grix, has yet to play this season as he continues his recovery having suffered a frature to his leg during a game against St Helens at the end of the 2014 campaign.
Wakefield are considering a ground share with Dewsbury next season, Rams chairman Mark Sawyer has revealed.
The Wildcats announced a month ago that they had issued a six-month notice to ground owners Bank of Ireland to leave Belle Vue, which has been their home for 120 years, because the rent was "unsustainable".
The club had hoped to move to a new 12,000 community stadium as part of a 100-acre business park just off the M62, but those plans have stalled and Wakefield chairman Michael Carter has ruled out sharing Castleford's proposed new ground.
It was thought the Wildcats were considering Doncaster's Keepmoat Stadium as an option while Sawyer announced on his club's website that the Championship outfit have entered in to discussions with Wakefield over a possible ground-share at The Tetley's Stadium in 2016.
The Wildcats are considering possible avenues for a playing venue for next season and they have ear-marked The Tetley's Stadium as a serious option. We are looking at this very seriously, in constant and current liaison with Wakefield, and further announcements will be made should there be any developments in the weeks ahead.
– Mark Sawyer, Dewsbury Rams chairman
Carter has maintained that his club would be willing to stay at Belle Vue if the rent can be renegotiated.
Load more updates