Isabelle wrote a letter in her bedroom, addressed to Thomsz Niedziela, telling him "you nearly killed my mummy".
Read the full story ›
Police forces are warning motorists who are celebrating this evening, that they could still be over the drink-drive limit tomorrow
Read the full story ›
Advertisement
West Midlands Police have arrested three people on suspicion of driving under the influence in the last 24 hours as part of their drink drive campaign.
The force caught one hundred and seventy six people driving over the limit as part of their Christmas crackdown and say they are determined to get dangerous drivers off the region's streets.
Twenty per cent more drink drivers have been caught in Northamptonshire this Christmas than at the same point last year.
The force launched its latest crackdown at the beginning of December and so far 69 people have been arrested for being over the alcohol limit.
At this time last year, just 58 people had been caught.
PC Chris Gray said the figures were worrying.
"It's bad enough to find one person who is willing to get behind the wheel of a car after drinking alcohol, but to have more than we did this time last year is very disappointing."
– PC Chris Gray, Essex Police.
Of the 69 people arrested so far this year, all but six were men. Those found guilty of drink driving face up to six months in prison, a fine, or a driving ban of at least one year.
Warwickshire and West Mercia Police have launched a campaign to raise awareness of the issues around drink driving during the Christmas period.
The consequences of getting behind the wheel after consuming alcohol are being highlighted with adverts in licensed premises across the region.
It is hoped the campaign will make people think about the outcomes of drink driving.
Over the past three years 187 people have been killed or seriously injured in Warwickshire and West Mercia following collisions where drink or drugs were recorded as a contributory factor.
Advertisement
Leicestershire Police is launching its Christmas drink driving campaign today.
Officers will be on the streets making checks at random locations.
Last December a total of 108 drivers were arrested during the campaign.
Cracking down on those who drink and then drive is a year-round commitment for Leicestershire Police.

However, we are very aware the festive season can present opportunities where people are tempted to drive after drinking.

We would advise drivers to plan ahead by leaving the car at home, sharing a taxi or taking public transport or alternatively nominating a designated driver who will avoid drinking alcohol.
– Graham Compton, Leicestershire
Leicestershire Police is starting its anti-drink drive campaign for the summer today.
Officer patrols and checks will be carried out across Leicestershire and Rutland.
76 people tested positive during last summer's campaign.
A driver has been breath tested nearly five times over the drink drive limit after being pulled over on the M5 at 11.00am.
Officers M5 4a dealing with rtc, drink drive limit is 35, there is no excuse for this at 1100hrs....off to custody http://t.co/nDgWG6pHJk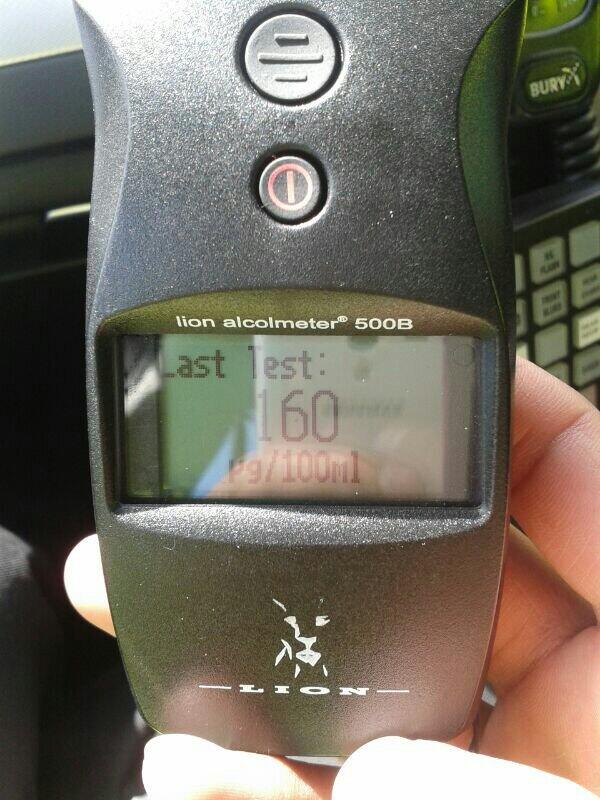 The Central Motorway Police Group posted this tweet showing the reading from the breathalyser used.
The legal limit is 35 micrograms of alcohol per litre of breath - the driver caught this morning posted a reading of 160. The CMPG condemned the driver, remarking that there is 'no excuse' to be behind the wheel after consuming that amount of alcohol.
Load more updates