A number of Brexit Day parties are taking place tonight - and some are recalling 1973 prices to help bring in the new era.
Read the full story ›
Our Political Reporter Gareth Owen writes that we are now in a "transition period" designed to smooth our path to departure.
Read the full story ›
Advertisement
ITV News visits the rural county in the wake of the EU referendum result and finds increasing frustration with Britain's political leaders.
Read the full story ›
ITV News travelled on a bus in the multicultural city to find out what people voted and why and discovered some concerns about the future.
Read the full story ›
The Chancellor George Osborne has said the UK economy is "about as strong as it could be", as he looked to calm market fears following Brexit.
Speaking as financial trading started on Monday, Mr Osborne said the Leave vote in last week's EU referendum was "not the outcome I wanted" but said he "will do everything" he can to "make it work for Britain".
He added that "there will be an adjustment in our economy because of the decision that the British people have taken" but made no indication that there would be an emergency budget.
No sign of the emergency budget that the Chancellor said would be immediately necessary in the event of a Leave vote.
"I respect that decision and we're going to get on and deliver on that decision. But the impact on the economy will have an article on our public finances," he said.
His comments came after the pound suffered fresh losses during early trading on Asian markets on Monday morning.
Addressing the question of the free movement of labour following withdrawal from the EU, the chancellor said Britain is an "open and tolerant country" and he "will fight to keep it so".
Weight of people trying to sign caused government petition to website to crash as Europhiles try to force a rerun of the EU vote.
Read the full story ›
Advertisement
Matt Rooney from Nottingham is on holiday in Greece. When he arrived at reception this morning wanting to exchange British currency for Euros he was greeted with a sign saying they weren't able to because they don't have an "official exchange rate from the central bank".
He tweeted this picture - his tweet has been retweeted 9,400 times.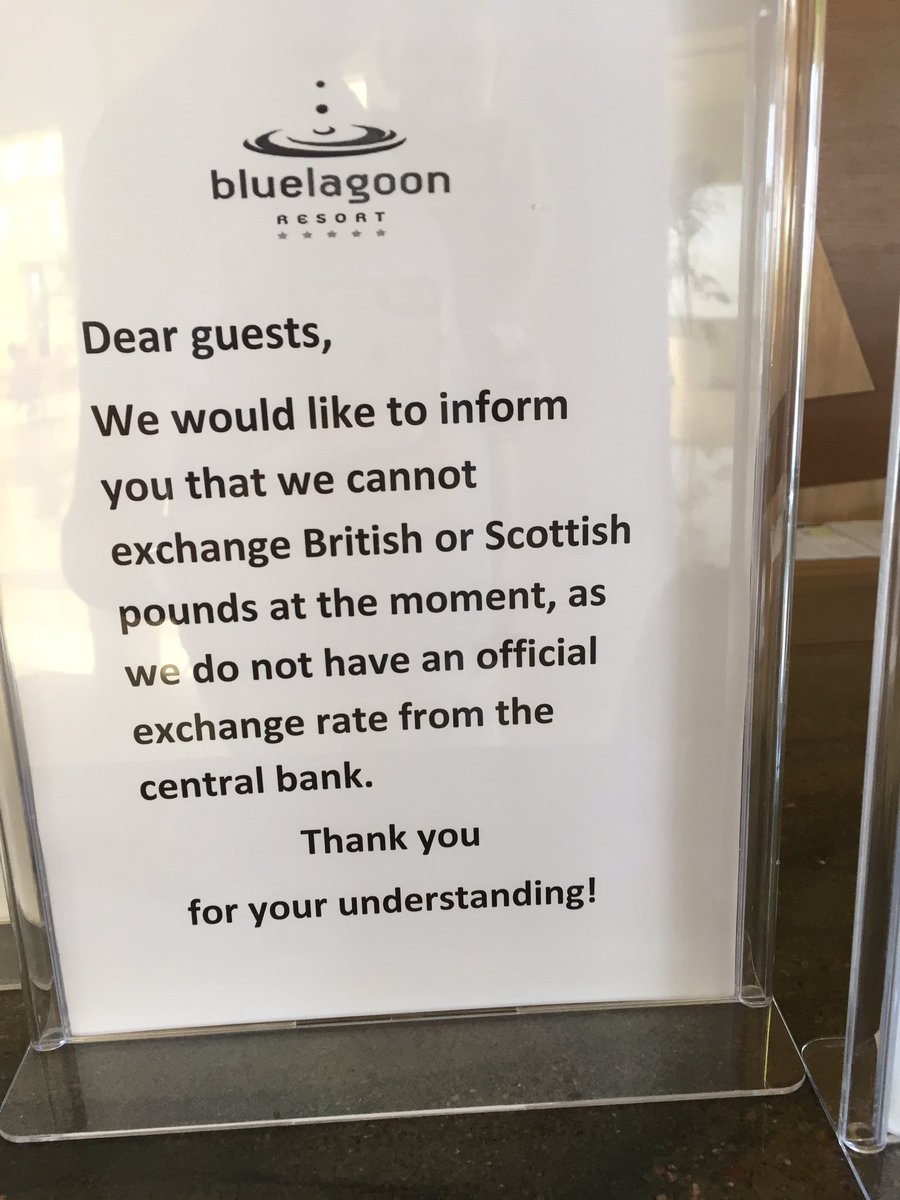 The problem, which happened after the EU Referendum result was announced, has now been resolved.
Hear more from him on our programme at 6pm.
The PCC for the West Midlands claims that protecting the public from criminals will be "more difficult" after the UK voted to leave the EU.
Read the full story ›
David Cameron has announced he is to resign as prime minister by October. We look at who could replace him.
Read the full story ›
ITV News Central presenter Bob Warman gives his thoughts on the differences between the 1975 Europe vote, and today's historic decision.
Read the full story ›
Load more updates