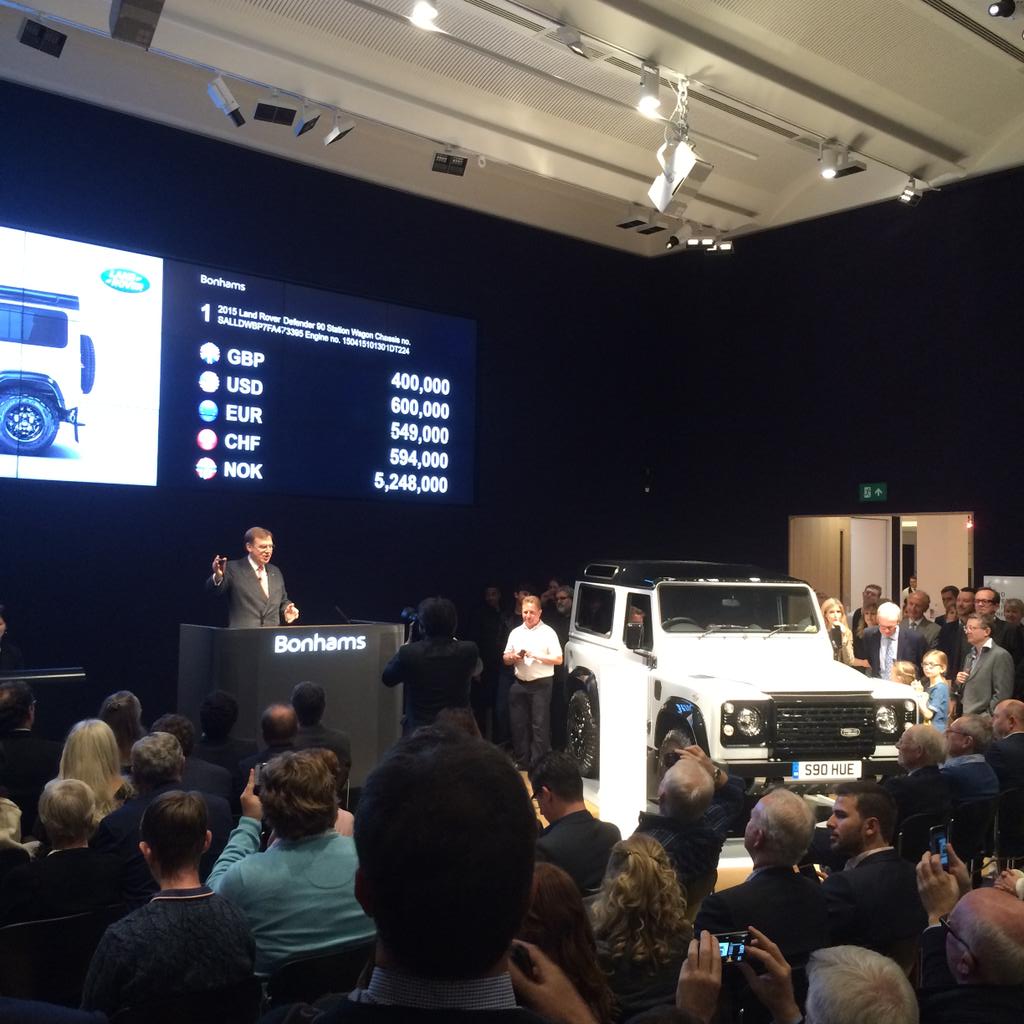 The two millionth Land Rover Defender to come off the production line at the luxury car maker's Solihull plant has sold for £400,000 at auction.
The famous 4x4 was first build at the manufacturers Solihull plant in 1948, and has retained elements of its original design ever since.
The car was sold at auction house Bonhams in London, with funds raised being donated to the International Federation of Red Cross and Red Crescent Societies and the Born Free Foundation.
Motoring enthusiasts will be heading to the UK's largest motoring event, the Classic Motor Show, at the NEC in Birmingham from today.
Read the full story ›
Advertisement
Leicester has seen one of the biggest increases in traffic congestion, according to a new survey by TomTom.
It has found average journeys in the UK last year took longer than in 2012. The firm also claims building new roads or widening existing ones are not effective in tackling congestion.
A Black Country car parts manufacturer has secured contracts worth £7million from BMW and Renault, which could lead to the creation of up to 80 jobs.
Cab Automotive, based in Tipton, produces interiors for cars including seats, arm rests and dashboard consoles.
Tens of thousands of people are expected to visit the Caravan and Camping show in Birmingham today.
Read the full story ›
West Midlands based car manufacturer, Jaguar Land Rover, said today it is going to build a new factory in Brazil.
Read the full story ›
Advertisement
Plans to improve traffic in the Midlands will be announced today by the government as part of a £25billion national infrastructure investment.
The funds will go towards making the A50 in Staffordshire safer, and cut traffic back-log around Uttoxeter.
The Government says work on the road will start no later than 2016. and the funding will come from the insurance industry.
Chief Secretary to the Treasury Danny Alexander said the £25 billion investment from insurance companies into British infrastructure projects was a "massive vote of confidence".
Speaking at the construction site of National Grid's London Power Tunnels, Mr Alexander said the investment was "more evidence we are rebuilding Britain."
Simon Cowell has said he still favours Jaguars, as the new F Type Coupe is launched at the Los Angeles Motorshow.
He explained how his father had an E-Type, and he looks forward to seeing the next generation of that in action.
The new Jaguar F-Type Coupe has been unveiled at the Los Angeles Motorshow. This video shows the power of the new car, and the sound of the engine.
The car is built at the Jaguar Land Rover plant in Castle Bromwich, Birmingham.
Load more updates