A Downing St spokesman has clarified that the new Financial Secretary, Nicky Morgan, will report directly to David Cameron on women's issues, rather than to the new Culture Secretary, Sajid Javid.
The role of minister for women and equalities has been split, with Ms Morgan taking on the women's brief and Mr Javid handling equalities.
She will report directly to the Prime Minister on women's issues. She will have an office as Minister for Women, supported by DCMS staff. But with regard to her responsibilities for women, she will report to the Prime Minister.

Sajid Javid will have the ministerial lead on equalities issues and Nicky Morgan will have the lead on women's issues.
– Prime Minister's spokesman
The Department for Culture, Media and Sport has tweeted a picture of the new secretary of state, Sajid Javid, along with the department's Permanent Secretary, Sue Owen.
Mr Javid, who was previously Financial Secretary to the Treasury, will also become Equalities minister.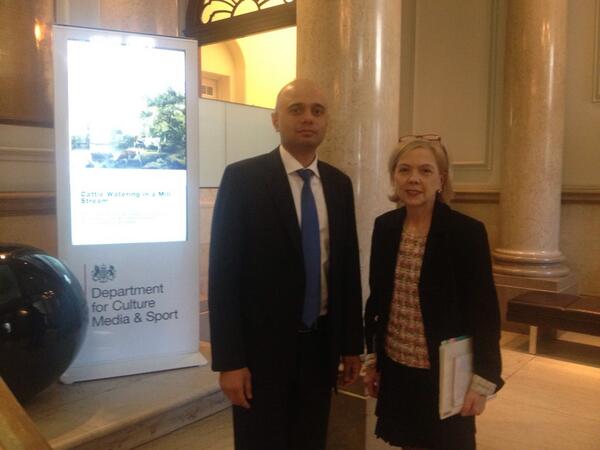 Advertisement
Northamptonshire MP Andrea Leadsom has been made a junior Treasury minister following the resignation of the Culture Secretary Maria Miller.
Andrea Leadsom has been the Conservative MP for South Northamptonshire since May 2010.
She is now the Economic Secretary to the Treasury replacing Nicky Morgan who is now Financial Secretary to the Treasury, a job vacated by Sajid Javid who was promoted to the Cabinet as the new Culture Secretary.
Nicky Morgan ministerial responsibility for women has been criticised in light of her opposition last year to the legalisation of gay marriage.
Ms Morgan voted against the measure last year, and Benjamin Cohen, publisher of gay current affairs site PinkNews, said of her appointment: "It is unfortunate that the new Minister for Women opposes the rights of some women, lesbians, to have the right to marry.
"I hope that in her new role, Nicky Morgan will represent all women regardless of the gender of the person they love."
The son of a Pakistani immigrant, the newly-appointed Culture Secretary has been tipped by some as a future Conservative leader.
Read the full story ›
Advertisement
Nicky Morgan, the MP for Loughborough and currently Economic Secretary to the Treasury has been appointed Financial Secretary to the Treasury and Minister for Women, the Prime Minister has said on Twitter:
Nicky Morgan MP is the new Financial Secretary to the Treasury. She'll also be Minister for Women and will attend Cabinet in that role.
Sajid Javid, the MP for Bromsgrove and current financial secretary to the Treasury has been appointed as the new Culture Secretary following Maria Miller's resignation, the prime minister has said:
Sajid Javid MP is the new Secretary of State for Culture, Media, Sport and Equalities.
Former Central News presenter and Barrister Anna Soubry the MP for Broxtowe has been appointed as Health Minister in the Cabinet reshuffle today.
A list of the Midlands' MPs that have moved positions in today's Cabinet reshuffle .
Read the full story ›
Load more updates