Tottenham Hotspur 4-0 Stoke City
Tottenham Hotspur 4-1 Stoke City
Advertisement
Stoke City manager Mark Hughes says that Saido Berahino will play against his former club West Bromwich Albion tomorrow.
The striker signed from the Baggies for £12 million having played only five times for the club this season. Berahino scored 36 goals in 121 appearances for the West Brom.
There are a total of 10 strikers who have scored 100 or more Premier League goals, scoring for our clubs in the process.
Read the full story ›
Peter Crouch spoke of his joy at joining some of his heroes in the "prestigious club" of players to have scored 100 Premier League goals after the Stoke striker reached the landmark in Wednesday's draw with Everton.
He is the 26th player to get to 100 Premier League goals, adding his name to a list that features the likes of Alan Shearer and Thierry Henry.
Crouch told Stoke City Player: "It is a great moment for me personally.
"It is quite a prestigious club - some heroes of mine and some players I have looked up to in the past. It is great to be among them."
He added of his celebration: "I was under so much pressure to pull out the robot - to be honest, it was a little bit rusty! I think I'll put that one away now!"
He signed a new deal with Stoke in January that runs through to the summer of 2018.
Stoke City's Peter Crouch has scored his 100th goal in the Premier League in their game at home against Everton.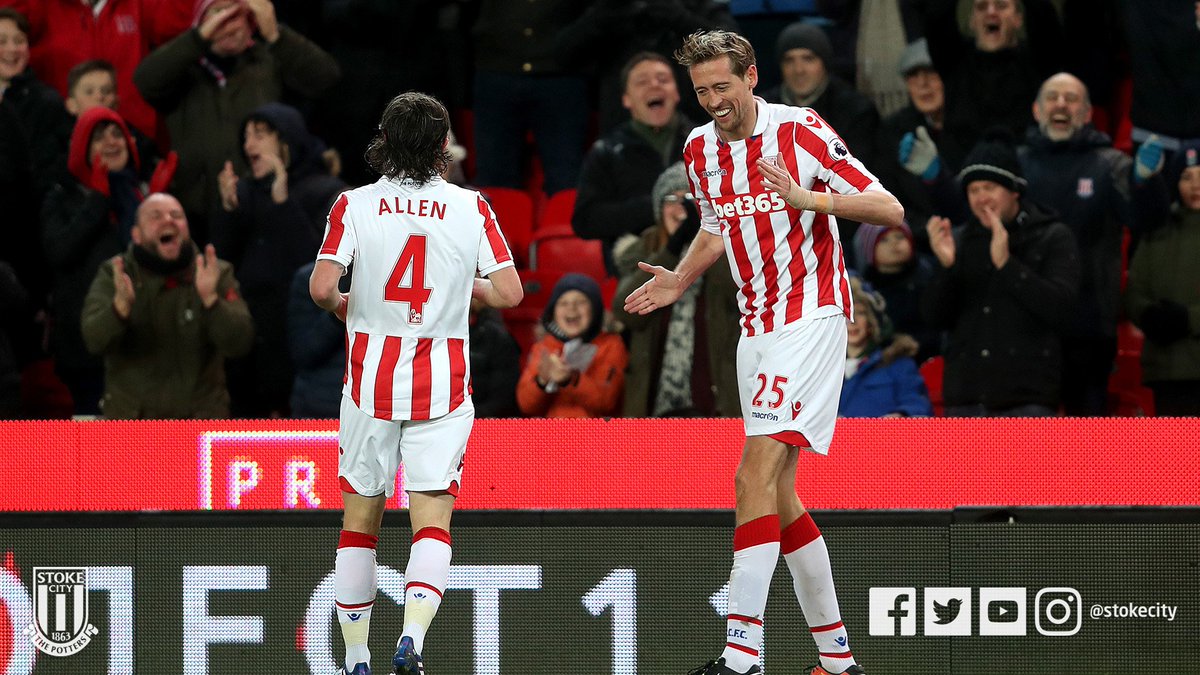 Advertisement
Stoke City have signed West Bromwich Albion striker Saido Berahino for £12 million on a five and a half year deal.
The 23-year-old has signed a contract after the club this evening but the fee could rise to £15 million based on the player and club success.
Berahino is the Potters' second signing of the January transfer window.
He's unavailable for their game against Manchester United this weekend but he is expected to be in the crowd for the sell-out game.
West Bromwich Albion has confirmed that the club has agreed a deal with Stoke City for striker Saido Berahino.
As a result, Albion have given Stoke permission to open talks with Berahino about a potential move to the Bet365 Stadium.
The club say there will be no further comment on this today.
Stoke City boss Mark Hughes is not hopeful of concluding a deal for West Brom striker Saido Berahino in this window.
Read the full story ›
It's half time at the Bet365 stadium where Stoke are currently ahead of visitors Watford in the Premier league.
Load more updates