The £350 million Trafford Park line will open on Sunday 22 March. The new line will add a further six tram stops, bringing the total to 99.
Read the full story ›
Advertisement
There are severe delays to services on the Eccles Line of the Manchester Metrolink between Eccles and Piccadilly Gardens due to a broken down tram at Cornbrook.
Horse tram services on the Isle of Man have been scrapped just months before their 140th anniversary.
Douglas Council says a plan to fund the scheme with a 30 year loan was not financially viable. The tramway horses will be sent to new homes while the rolling stock will be offered to the island's museums.
Cllr David Christian, Leader of Douglas Borough Council
Police investigating the derailment of a tram in Chorlton have released an image of four people they want to speak to.
The group, which included two women and three men, threw stones through the windows of a stationary tram at St Werburgh's metrolink station around 11.30 pm on Friday 3rd July.
Passengers on the tram had to lie down on the floor to take cover as a number of the windows smashed. Noone was injured.
All of the passengers were moved onto a second tram and the damaged vehicle was moved out of the station towards Didsbury.
The second tram then moved off from the station, but as it passed through the junction to head towards Manchester airport, it became derailed.
An investigation is being carried out to establish if the derailment is definitively linked to the attack on the tram a short time earlier.
Police have issued descriptions of the five suspects.
One man is described as tanned, having short dark hair that is longer on top, and was wearing a long-sleeved jacket, a white t-shirt, grey bottoms and a small black bag around his neck.
The second is described as black with short dark hair, and wearing a green t-shirt, dark bottoms and a small black bag around his neck.
The third is described as white, with dark hair, and wearing a blue top and dark blue shorts.
One woman is described as white with long brown hair, and wearing a dark blue sleeveless top and blue bottoms.
The second is white with blond hair, wearing a dark top and light blue jeans.
"We are working closely with the Metrolink Operators to investigate exactly what has happened here and identify those responsible.

"We have released a CCTV still of a group we want to speak to and are asking for anyone who recognises these people, or who may have witnessed the attack but has not yet spoken to police, to get in touch."
– Detective Constable Mark Ledger
Anyone with information is asked to contact police at West Didsbury police station on 0161 856 4973 or contact the Crimestoppers, anonymously, on 0800 555 111.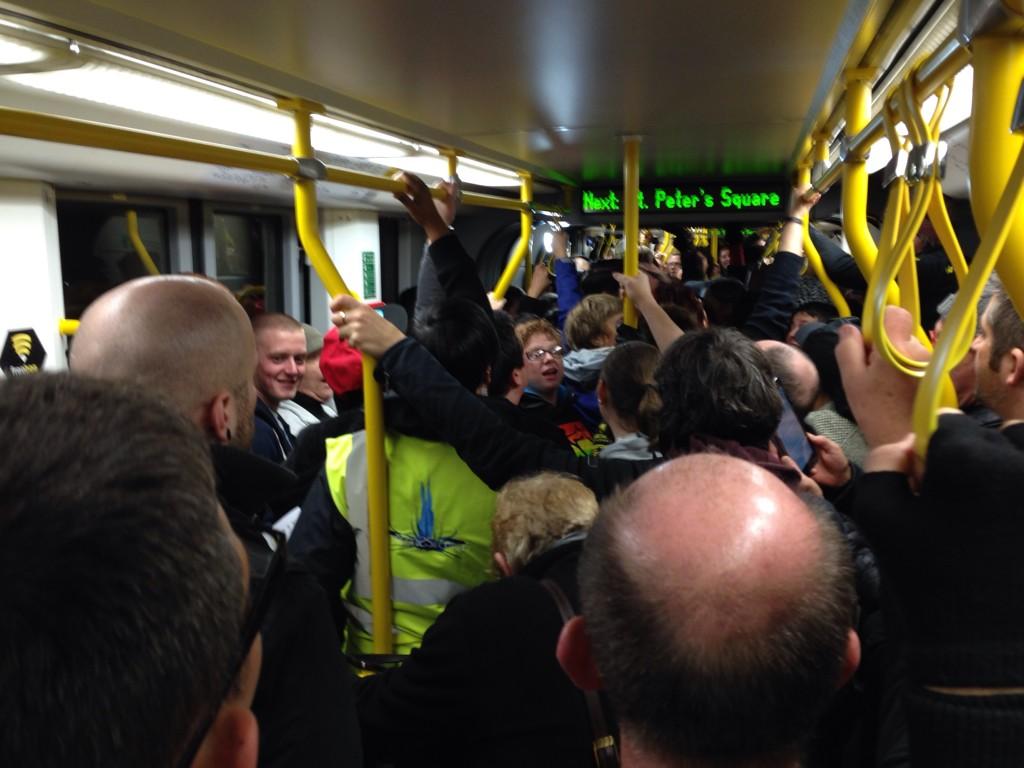 Hundreds of people turned out for a mass sing-along in Manchester against homophobia after two gay men were attacked on a tram - for singing.
Manchester Lesbian and Gay Chorus, (MLGC), started out on the trams last night but the song poured out onto the streets after huge numbers turned out. The sing-a-long came after two men, Jean Claude Manseau and Jake Heaton were attacked a fortnight ago.
The night culminated in with a mass gathering in Piccadilly Gardens.
Advertisement
A man who died after being hit by a Metrolink tram in central Manchester has been identified as 48-year Dave Ball from Whitefield.
It happened at the junction of Market Street and High Street at 6.15pm.
Load more updates