A police chief hit back at a Twitter user who criticised two of his officers for taking a coffee break during a busy shift on social media.
Read the full story ›
Kym Marsh has criticised a person for setting up a fake Twitter account in the name of her six-year-old daughter.
The Coronation Street actress also said that the page on the social networking site was using pictures of her youngest child Polly.
With kids ever more engaged in social media and life online, it can be difficult to set barriers, and keep them safe.
Our correspondent Ashely Derricott has been speaking to internet safety expert Henry Platten, of eCadets, about the challenges of keeping children safe online.
For information on how to stay safe when online have a look at these useful websites:
Advertisement
Police pulled over a baby racer whose parents said she'd had a "couple of bottles" before hitting the road.
Read the full story ›
Sean O'Brien became an internet sensation after twitter users started a campaign to track him down after photos of him being humiliated on a dance floor were posted online.
Pictures of him dancing were captioned "Spotted this specimen trying to dance the other week. He stopped when he saw us laughing."
Anyone know this man or who posted this? There's a huge group of ladies in LA who would like to do something special http://t.co/DGbu3AXOrB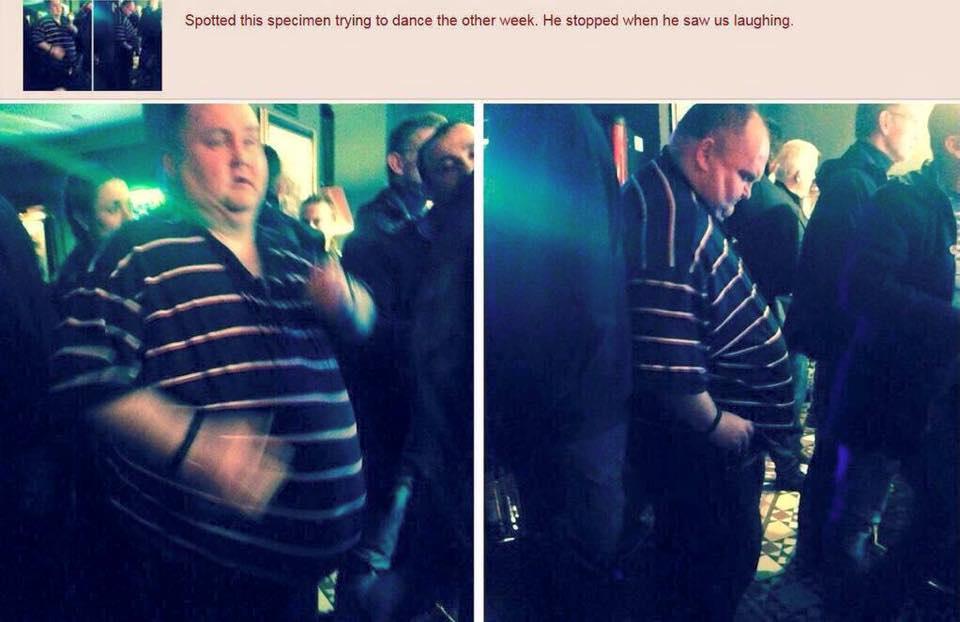 The picture provoked a Twitter outrage and soon a campaign was launched to find him and bring him to a private VIP Dance Party in California.
Celebrities including Pharrell Williams and singer Ellie Goulding have shown their support for the campaign and even Moby says he would DJ the event.
Sean accepted the invitation by creating his own twitter account on which he revealed he was in fact an Everton FC fan.
The Liverpool Echo reports that Sean is a former pupil at St Gregory's Primary School and Maricourt Catholic High School in Maghull who now lives in London.
Supporters have now raised more than $30,000 to fund "the dance party of a lifetime", which will benefit an anti-bullying campaign.
Manchester City's manager Manuel Pellegrini says the matter should be dealt with correctly and he doesn't believe it will directly affect the player's performance.
At this stage we have received complaints about two separate tweets of a racist nature aimed at Yaya Toure and now we are informing the police.

Yaya Toure has been on Twitter for a matter of hours and he has already received abuse of an appalling nature.

We are disturbed by the fact that someone can be treated this way.

It makes footballers start to question why they should use these platforms.

We will offer Yaya Toure our full support.
– A Kick it Out spokesperson told the Press Association
On Monday evening Toure favourited a tweet from one City fan - @111Lesley111 - who offered her support to the former Barcelona player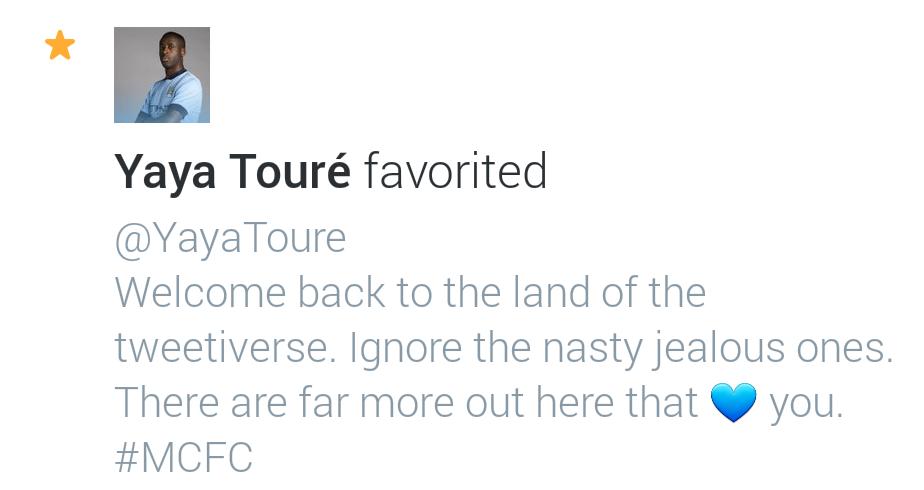 This is not the first time Toure has been the target of racist abuse.
Last season he was subjected to racist chanting during City's Champions League game at CSKA Moscow.
"I'm not just disappointed, I'm furious," Toure said after City's 2-1 win in Russia.
"It was unbelievable and very sad."
CSKA denied Toure had been abused, but UEFA disagreed and ordered the Russian club to close part of their ground for their next Champions League match.
Advertisement
The police have been called to investigate claims Yaya Toure was racially abused within hours of reactivating his Twitter account. The Manchester City midfielder, rejoined following City's derby day victory over United.
He wrote: "Great to be back on twitter after a good win yesterday. Now my focus is on the next game... Happy Monday everyone!!" Within hours of posting the message, the 31-year-old received abusive and racist messages from other Twitter accounts.
It prompted fury on the social networking website which was spotted by Toure, who favourited three tweets which supported him and called for action.
Posters complained to both GMP and the Metropolitan Police on Twitter. A spokesman for GMP said it was aware of the message and would be looking into the matter further.
Toure quit Twitter during earlier this year, saying he wanted to concentrate on the World Cup.
Greater Manchester Police is giving members of the public a glimpse behind the scenes of the force today. For the next 24 hours they will tweeting all the calls received as well as providing an insight into some of the most challenging work. It takes place exactly four years after the very first GMP Twitter Day.
The 24 hours will see:
Details of all 3,000+ calls being tweeted as they happen
The GMP Facebook account will be 'taken over' by officers providing details of how cases are investigated
Video updates from officers working in complex areas such as public protection and negotiators
Two community reporters will provide updates from custody and a response patrol
Updates throughout the day from the 101 local police Twitter and Facebook accounts
"Since we held our first Twitter day in 2010 the force has shrunk by 1,400 officers and it has become more of a challenge to maintain the service to the public.

"Four years ago, people were surprised by the range of incidents we have to deal with and these have not changed. More of our work is about protecting vulnerable people, targeting those who abuse them and dealing with the consequences of entrenched social problems.

"We have a tremendous workforce that every day shows great dedication, patience and compassion. Our staff have great concern about the consequences of further reductions that we will face over coming years. We will need greater support from the public and continued changes to the way we work to get through this."
– Chief Constable Sir Peter Fahy
To follow what happens during the 24 hours people should check out the Twitter accounts @gmpday14_1, @gmpday14_2, @gmpday14_3 and @gmpday14_4 that will be used for the calls. Further details will be circulated on the force main Twitter account @gmpolice and Facebook GtrManchesterPolice, and if you are not on social media you can find it on the website www.gmp.police.uk
But simply follow the hashtag #gmp24 to see the activity unfold.
Three Twitter users with very similar names to football stars have come together to talk about the abuse they receive online.
Read the full story ›
Salford police send out a tweet asking who has drugs and hasn't been caught - and get hundreds of responses
Read the full story ›
Load more updates