Ukip MEP for the North West and former leader Paul Nuttall has become the latest leading figure in the party to announce his resignation.
It's in protest at the decision to appoint controversial figure Tommy Robinson as an adviser.
Mr Nuttall said he made the decision after 'much soul-searching' and says he'll will continue to serve the North West in the European Parliament until his term expires.
Paul Nuttall said he spent three hours giving a witness statement to the criminal investigation into the Hillsborough disaster.
Read the full story ›
Advertisement
Ukip has claimed "cock-up rather than conspiracy" after it tweeted a photo said to show campaigners in Stoke when they were actually in Bolton.
The party's Twitter account pictured its "people's army" gathered in a car park with "Vote Ukip" placards, adding they were in the West Midlands city to aid leader Paul Nuttall's bid to become MP for Stoke-on-Trent Central.
But other Twitter users insisted the location was more than 50 miles away near the Macron Stadium, home to Bolton Wanderers and the venue for Ukip's spring conference on Friday.
Ukip said the error was caused following a mix-up with its digital team, with a spokesman stating the photo was taken before activists set off to Stoke.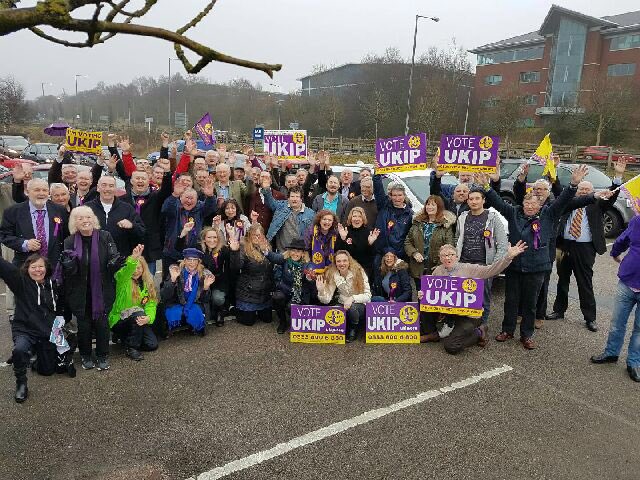 UKIP's party's leader Paul Nuttall has faced fresh questions about claims made on his website.
He's hoping to take the Stoke-on-Trent Central seat from Labour in Thursday's by-election.
But he faced further claims about inaccuracies on his website after a training charity denied an assertion on his website that he had been on its board.
His website, which has been taken down for "scheduled maintenance" after it emerged that claims he lost "close personal friends" in the Hillsborough disaster were false, suggested that he was joining the board of the North West Training Council (NWTC).
A press release from September 2009 said the North West England MEP was invited to the post after accepting an invitation to visit the NWTC.
"They are doing a first-class job and I am thrilled at the honour of being a board member," Mr Nuttall said.
But the organisation's chief executive, Paul Musa, said Mr Nuttall had never served on the board.
He told the Guardian: "Mr Nuttall was never invited to become a board member of NWTC as this would need to be a directive of the NWTC board, who he never met."
A Ukip spokesman said he was "rather surprised that this has just cropped up" and insisted the press release was put out with NWTC's knowledge.
"If it had not been accurate, don't you think it would have been complained about at the time?" the spokesman said.
Paul Nuttall's website has been taken offline days after criticism for posts which wrongly claimed he lost close friends at Hillsborough
Read the full story ›
Ukip leader Paul Nuttall has said he is very sorry over a false claim that he had lost close personal friends in the Hillsborough disaster.
Read the full story ›
Advertisement
North West MEP and former deputy leader Paul Nuttall has been announced as the new UKIP leader. He received 62.6% of the vote.
Nuttall: The party has resembled a jigsaw fallen on the floor. This is a new beginning, factions working together. #UKIPLeadership
The favourite to be UKIP's next leader has told Granada Reports his party can replace Labour in the North by being the patriotic voice of working people.
North West MEP Paul Nuttall is originally from Bootle, and is standing against the party's former Deputy Chairman Suzanne Evans and ex-soldier John Rees-Evans.
The race to be UKIP's new leader is hotting up, with the North West's Paul Nuttall currently the favourite.
He argues he's the unity candidate, and can be the patriotic voice for working class voters in this region.
Joe Pike, our Political Correspondent spoke to him today.
Load more updates