A 44 year-old man has been arrested on suspicion of making threats to kill.
Officers from Merseyside Police executed a warrant in Paisley, Scotland, this morning, Friday 15 July, and arrested the man.
He will be questioned by Merseyside detectives today.
The arrest comes after an email was sent to the account of Wallasey MP Angela Eagle.
As Owen Smith launches his Labour leadership bid, Angela Eagle has launched her "Keep it Comradely" pledge.
The Wallasey MP told waiting reporters:
This is my clean campaign pledge, I'm going to sign it today and I hope that all of the other candidates in the leadership election, and their supporters, party members up and down the country, will sign up to that pledge.
– Angela Eagle
Advertisement
Angela Eagle says she welcomes Owen Smith into the Labour leadership contest.
Speaking to ITV News this morning the Wallasey MP said she wants to have a debate on the direction of the Labour Party's future.
Jeremy Corbyn calls for calm after Wallasey MP's constituency window has a brick thrown through it
Read the full story ›
Police are investigating reports that a brick was thrown through a window at Angela Eagle's Wallasey constituency office last night.
Granada Report's Liverpool correspondent Andy Bonner is Tweeting from the scene:
We were called to premises in Manor Road, Wallasey, today, Tuesday 12 July, following reports of criminal damage.

It is believed that between 5pm last night (Monday) and 9am today, damage was caused to the front ground floor window of an office.

The incident was reported to Merseyside Police at 9.55am today.

An investigation into the incident is ongoing.
– Merseyside Police
The overnight attack comes after she launched her leadership challenge to Jeremy Corbyn yesterday, amid fears that he cannot successfully unite the party and win a general election.
Following the incident, Wallasey MP, Angela Eagle, has released a statement on her Facebook page.
The safety of my staff and constituents is paramount. Following the attack on my Wallasey office I have now called the Police
– Angela Eagle
Local Wirral councillor Bernie Mooney - a supporter of the MP - told the Liverpool Echo that she had just learned of the attack and was not sure of the damage.
All I've been told is they have put the windows through. I just got the message and I'm going there now.
– Bernie Mooney, Wirral Councillor
Ms Eagle may face moves by local party members to de-select her after the Wallasey Constituency Labour Party (CLP) had urged her to support Mr Corbyn.
This is the awkward moment Angela Eagle is deserted by major broadcaster's top political reporters at the end of her launch for the Labour leadership.
The toe-curling video shows the Wallasey MP throw it open for questions only to be met by an awkward silence as ITV's Robert Peston and BBC correspondents rushed out of the launch amid reports of Andrea Leadsom pulling out of the Conservative leadership race.
Advertisement
Angela Eagle has formally launched her bid to oust Jeremy Corbyn as leader of the Labour Party.
Read the full story ›
Angela Eagle is launching her bid for the Labour leadership contest.
Sorry, this content isn't available on your device.
A source close to Wallasey MP Angela Eagle has said she would challenge Jeremy Corbyn's leadership "when the time is right".
It comes after her constituency Labour party said on its website they had passed a motion of support for Mr Corbyn 'with an overwhelming majority',
"Last night at our branch meeting Wallasey branch Labour Party passed, with an overwhelming majority, a motion of support for Jeremy Corbyn as Leader of the Labour Party .

"As such we wish to send our message of support to our Leader Jeremy Corbyn at this time as we work together on the larger issues effecting our society.
– wallaseybranchlabourparty.com
Mr Corbyn has resisted calls to step down as Labour leader after MPs voted by 172-40 that they had no confidence in him.
After the mass resignation of the bulk of Mr Corbyn's front bench team, the former shadow business secretary was understood to be considering a formal challenge to his position.
"Angela has made her position 100% clear but she will challenge when there is absolutely nothing left to fight for," the source said.
"There will be a challenge unless he goes."
On Mr Corbyn and activists such as Momentum who support him, the source said: "When people get weaker, they shout louder."
The MP for Wallasey Angela Eagle has resigned as shadow business secretary saying that the Labour Party needs a "leader who can unite rather than divide".
With deep regret, and after nine months of trying to make it work, I have today resigned from the Shadow Cabinet https://t.co/tX7SPDyTIZ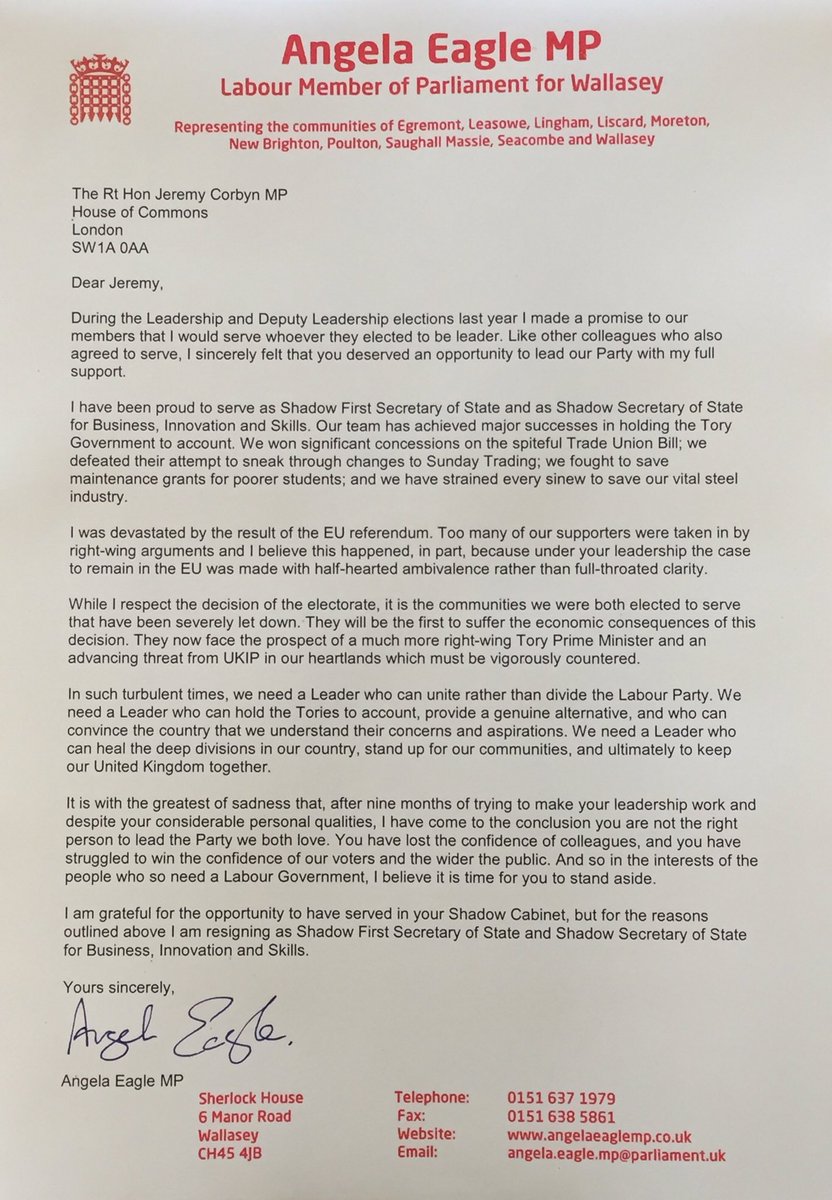 Load more updates