Journalists and camera crews have arrived in Stockport ahead of Wayne Rooney's court appearance.
The Everton striker, 31, is due to appear at Stockport Magistrates' Court this morning to face the charge.
He was stopped while driving a black Volkswagen Beetle in Wilmslow, Cheshire, at 2am on September 1.
Rooney was arrested by Cheshire Police after officers pulled him over on Altrincham Road and was released on bail later that day.
Wayne Rooney will walk out at Old Trafford on Sunday for the first time since his summer move to Everton.
His former manager Jose Mourinho says he'll be welcomed as a legend.
His current boss Ronald Koeman says he wants more from him after the Blues defeat in Europe last night.
David Chisnall reports.
Advertisement
The woman at the centre of Wayne Rooney's drink-drive arrest has claimed she's done nothing wrong.
Her timing for speaking out couldn't be worse as
Rooney needs to be concentrating on his football. He's playing for Everton tonight in their Europa League clash in Italy. Laura Simpson appeared on the This Morning sofa to give her side of the story. Victoria Grimes has this report.
Wayne Rooney has reportedly been arrested on suspicion of drink-driving.
The Everton striker was allegedly stopped by police in Cheshire on Thursday evening.
The England all-time record scorer last week announced his international retirement. He recently moved back to his boyhood club from Manchester United.
Cheshire Police declined to comment.
So Happy!!! ..... Never denied the news, but I was always protecting it!! Had scan & all checks are fine.....Baby number 4 is on its way. 
Coleen Rooney has revealed she is pregnant with her fourth child.
The star, who is married to footballer Wayne Rooney, shared the news with her 1.25 million Twitter followers and said she has undergone scans and checks.
She wrote: "So Happy!!! ..... Never denied the news, but I was always protecting it!!
"Had scan & all checks are fine... Baby number 4 is on its way."
England football team captain Wayne retweeted the message from his own account.
Coleen and Wayne, both 31, have been married since 2008 after being in a relationship since their teens.
They are parents to three sons - Kai, eight, Klay, four, and Kit, who was born in January last year.
Coleen, who has previously released clothing lines for Littlewoods and an exercise DVD, has spoken about wishing to have a girl.
In a recent interview with New magazine, she was quoted as saying: "I can imagine having a girl. I've got a massive family, so I'm around girls as well as having boys myself.
"I'm not desperate but a girl would be nice as part of the family. It's not something I'd be upset about or well on."
The couple already have three sons, Kai, seven, Klay, four, and Kit, 18 months.
Fans were quick to congratulate the couple.
@coleenroo Congratulations to you both xxx ❤❤❤
Wayne Rooney's representative has reportedly held talks with Everton over a move from Manchester United on a free transfer.
Read the full story ›
Advertisement
Wayne Rooney has announced he is staying at Manchester United in a statement released on Thursday.
Read the full story ›
Coleen Rooney says photos of her late sister Rosie, who died in 2013, were stolen from her brother's car.
Read the full story ›
Sir Bobby Charlton says Wayne Rooney is "a true great for club and country" after the striker broke his Manchester United all-time goalscoring record.
Rooney's injury time equaliser against Stoke was his 250th for United, breaking Charlton's 44-year-old record.
"I would be lying to say that I'm not disappointed to have lost the record," Charlton, who's 79, told the United website.
"However, I can honestly say that I'm delighted for Wayne. He deserves his place in the history books."
"He is a true great for club and country, and it is fitting that he is now the highest goalscorer for both United and England."
Rooney tweeted this thanks to Sir Bobby Charlton for his kind words in the dressing room and said it was a 'huge honour' to become the club's leading goalscorer.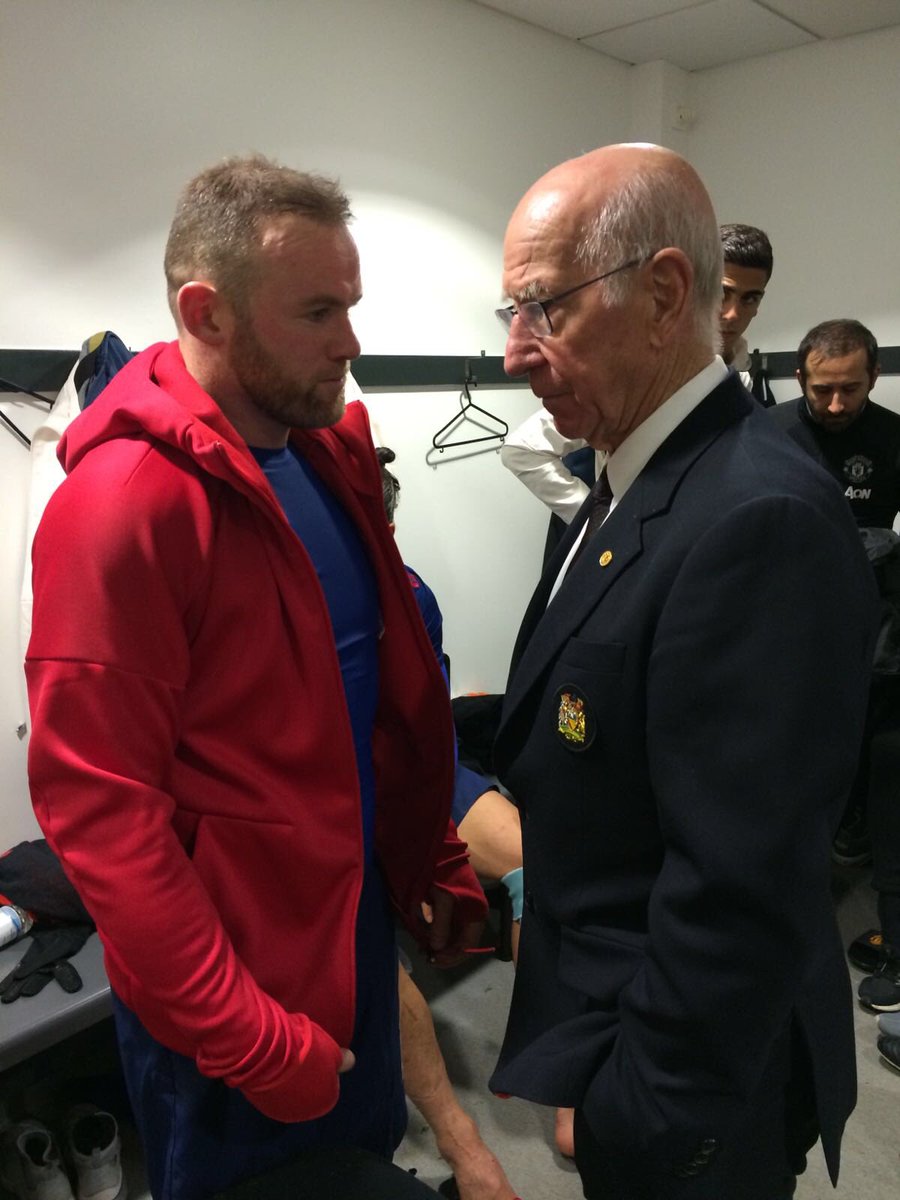 A man will be sentenced later for trying to burgle Wayne Rooney's house while he played in his testimonial match last August.
24 year old Robert McNamara from Scarborough has admitted trying to break in to the Manchester United and England star's home in Cheshire, while his family watched the game.
Load more updates