England's victorious U-17 World Cup squad landed back in the UK today to enjoy their newfound fame.
We caught up with Liverpool's Rhian Brewster and Manchester City's Phil Foden.
A student from Altrincham was one bookmaker's only correct score winner from last night's World Cup game between Brazil and Germany.
Paul Wheatley, a 22-year-old music student, made an 80p wager at 300/1 that Germany would be ahead by five goals to nil at half time.
The wager returned Paul, who studies at the Royal Northern College of Music, £240.80.
Bookmaker William Hill said not one of their other 120,000 correct score bets came close to matching Paul's.
Paul, who plays double bass, was not even watching last night's game - instead he was enjoying a movie with his girlfriend.
He said: "I was following the match on the FIFA app on my phone and after the third goal went in, we left the film and turned over to the footy.
"After the fifth goal was scored in the 30th minute, we were subjected to the tensest quarter of an hour ever."
When asked why he chose Germany, Paul said that not only has he rated them throughout the whole tournament but his mother is German and he was born, and spent seven years, in Dusseldorf.
Paul added: "There was no logic behind my selection, I just like to place small wagers at long odds in the hope that I will win big."
Paul is now planning on putting his windfall towards driving lessons and a year studying in Germany next year.
"To highlight exactly how extraordinary this achievement is, we had exactly 121,026 bets placed on correct scores and Paul was the only one who came out with a profit," said William Hill spokesman Joe Crilly.
Advertisement
MATCH Services has released a statement following the arrest of one of their directors in Rio de Janeiro in an investigation into illegal ticket sales.
'Ray Whelan has been released from police custody and will assist the police with further enquiries.
MATCH have complete faith that the facts will establish that he has not violated any laws.MATCH will continue to fully support all police investigations, which we firmly believe will fully exonerate Ray.
In the meantime, Ray Whelan, as well as the rest of the MATCH personnel will continue to work on our operational areas of responsibility in order to deliver a successful 2014 FIFA World Cup Brazil.'
FIFA has re-iterated that Luis Suarez will not be allowed to train during his four-month ban for biting despite reports to the contrary.
FIFA's disciplinary chief Claudio Sulser has said the Liverpool striker would be allowed to have a medical ahead of any transfer but the world governing body has stressed he cannot train with a team.
A FIFA spokeswoman told Press Association Sport: "As said at various occasions he is not allowed to participate in any football activity during the ban period and as such is also not allowed to train with the team during the ban."
Uruguay striker Suarez has appealed against the four-month ban imposed for biting Italy's Giorgio Chiellini.
Liverpool remain in talks with Barcelona over the transfer of Suarez, and Sulser on Friday told a news conference that the player would be allowed to have a medical ahead of a transfer.
Sulser said: "The player cannot have any activity related to football, but a medical examination for a transfer yes - the sanction is not linked to transfer rights."
Italian player Giorgio Chiellini has tweeted Luis Suarez 'it's all forgotten' after the footballer made a grovelling public apology for biting him during their opposing team's World Cup game.
.@luis16suarez It's all forgotten. I hope FIFA will reduce your suspension.
Luis Suarez has issued a statement on Twitter, apologising to Giorgio Chiellini and the "entire football family" for his bite on the Italy defender and promising "there will never again be another incident" like it.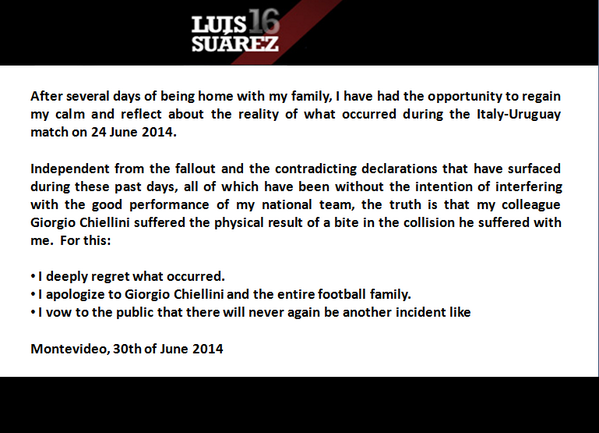 Advertisement
Sportswear giant adidas says its 'reviewing all marketing activity involving Luis Suarez'.
The Liverpool striker has been banned from all football for four months after being found guilty of biting for the third time.
Suarez's boot deal with adidas could be in jeopardy after the sportswear manufacturer announced on Thursday that it would consider its partnership with the 27-year-old, who has returned to Uruguay after his World Cup accreditation was withdrawn.
His contract with 888poker was terminated on Friday.
Diego Maradona has attacked Fifa's ban on Uruguay and Liverpool striker Luis Suarez as "criminal" and said world football's governing body might as well handcuff the striker and lock him up in Guantanamo prison.
Maradona, who made to comments during his soccer commentary programme broadcast on Venezuela's Telesur and Argentine public television on Thursday night, asked: "Who did Suarez kill?"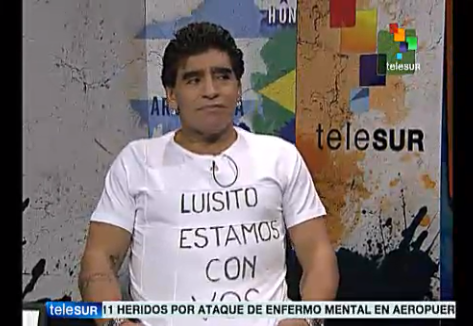 The Argentine footballing legend added: "This is football, this is contact.
"They may as well handcuff him and bring him to Guantanamo directly.
"If he made a mistake, fine, they should punish him, but they shouldn't exaggerate, they shouldn't be moralistic."
Maradona, who like Suarez rose to fame from a poor background, fervently defended Suarez throughout the programme and unveiled a T-shirt with the words "We're with you Luisito" scrawled on the front.
Italian defender and victim of Luis Suarez's latest bite Giorgio Chiellini has spoken for the first time since FIFA confirmed it's ban on Thursday. The Liverpool striker was handed a four-month suspension from all football and fined 100,000 Swiss Francs:
"Now inside me there's no feelings of joy, revenge or anger against Suarez for an incident that happened on the pitch and that's done. There only remain the anger and the disappointment about the match," reads a statement from Chiellini on his own website.
"At the moment my only thought is for Luis and his family, because they will face a very difficult period.
"I have always considered unequivocal the disciplinary interventions by the competent bodies, but at the same time I believe that the proposed formula is excessive.
"I sincerely hope that he will be allowed, at least, to stay close to his team mates during the games because such a ban is really alienating for a player."
One of Luis Suarez's sponsors has dropped its relationship with the Liverpool striker.
An 888poker statement said: "888poker signed Luis Suarez following a fantastic season for which his achievements were widely recognized.
Regrettably, following his actions during Uruguay's World Cup match against Italy on Tuesday, 888poker has decided to terminate its relationship with Luis Suarez with immediate effect."
Load more updates