Police said they are "extremely concerned" for the welfare of a "vulnerable" mother and her two children who have gone missing in Bexley.
Read the full story ›
Advertisement
A group of vandals torched a children's play area in south London on Tuesday night.
Flames began leaping from the the climbing frame at Abbey Play Park in Bexley at around 7:30pm.
People living nearby condemned the actions of the 'mindless parasites', saying their actions would leave hundreds of children heartbroken.
@mpsthamesmead Mindless parasites, my kids along with hundreds of others will be heartbroken. Someone somewhere knows the people responsible
@mpsthamesmead My kids are devastated, just shown them the pics, 'I hope they burn in hell', what are we meant to do during summer hols? ??
This is a senseless and selfish act that will affect the local community. Do not protect those involved in this. Tell us.
– PC Molnar
Anyone with information can contact PC Molnar on 0208 721 2049 or email Thamesmead.snt@met.police.uk or call CrimeStoppers anonymously on 0800 555 111.
London Fire Brigade pulled out all the stops to rescue a horse that fell into a ditch a day before the Grand National.
Firefighters said the horse, called Cody, was distressed by the accident but didn't seem to have any injuries.
They were called just before 1.30pm this afternoon to Anderson Way in Belvedere, and it took an hour and a half to pull Cody out, who by then was covered head to hoof in mud.
Cody is now back with his owners and being checked over by a vet - but definitely won't be joining in the race tomorrow.
Police are at the River Cray in Crayford after a man's body was found floating in the river.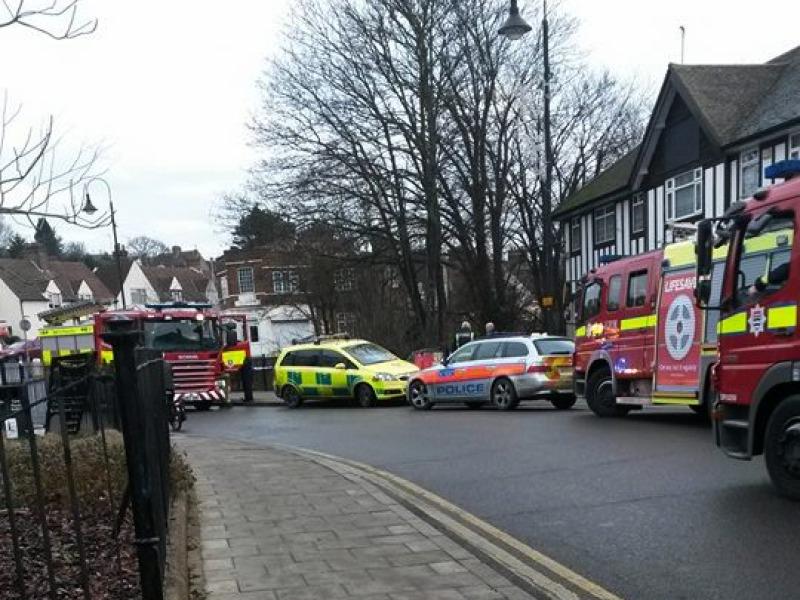 Officers were called just before 11am after a passer by spotted the body. Fire and ambulance crews were also dispatched to the scene. The man is believed to be in his 70s.
Police are still investigating the cause of death but the incident is not currently being treated as suspicious.
Advertisement
A man's been stabbed to death in Bexley.
Police say they were called at 14:12 to "reports of a large group of males congregating in Wolvercote Road".
When they arrived, they found a 25-year-old man suffering from a stab wound.
London Ambulance Service and London's Air Ambulance were called but the man was pronounced dead at the scene.
Police believe they know the identity of the victim although formal identification has not yet taken place.
The parents of a teenager who died on a trekking trip have criticised the company which organised the trip.
Read the full story ›
Plans for a new Crossrail station at Abbey Wood in south London have just been approved.
Bexley and Greenwich councils gave the go-ahead for the new, two-level station which opens in 2017. The station will be built above two new dedicated Crossrail tracks and those used by North Kent services.
The existing station will be demolished, with a temporary station opened to cover services in the meantime.
Crossrail claim that when the new station opens, the journey from Abbey Wood to Canary Wharf and to Bond Street should be around 20 minutes quicker. Passengers travelling to Heathrow airport should be able to cut about 40 minutes off their journey.
Police say they are growing increasingly concerned for a 15-year-old girl from Bexley who has not been seen since Friday 4 October. 15-year-old Melissa Attard was last seen shortly before 5pm in the High Holborn area.
Melissa is approximately 5' 4" tall and of medium build. She has brown eyes and long dark brown hair. She was last seen wearing a black jacket with fur around the collar, dark leggings and black boots. She is known to visit the Plumsted, Brixton, Croydon, Charlton and Lewisham areas.
Anyone with information should call on Melissa's whereabouts is asked to call Bexley Police's Missing Persons Unit on 101.
Load more updates