Mervyn Westfield has accepted an apology from Danish Kaneria for the spot-fixing scandal which ended his cricket career.
Read the full story ›
Advertisement
Andrew Strauss stopped short of announcing 34-year-old Pietersen will never add to his 104 Test caps for his adopted country, but made clear that the working relationship between the two of them is central to the decision that has been made.
As Pietersen's Test captain in 2012, Strauss discovered the record-breaking batsman had sent "provocative" texts about him to opposition players from their native South Africa.
Strauss told Sky Sports News:
The first thing to say is now's the time for some really honest and open conversation about Kevin Pietersen.

No one has ever doubted Kevin Pietersen's ability as a player. He has been a phenomenal player for England over a long period of time.

His record stacks up to anyone in England cricket, and he should be very proud of that. But over months and years, the trust between himself and the ECB has eroded.
– Andrew Strauss speaking to Sky Sports News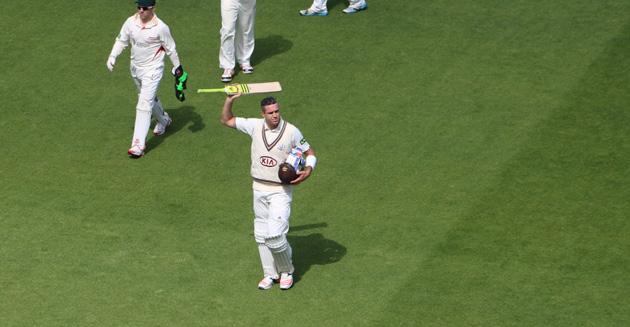 Kevin Pietersen made an unbeaten 355 for Surrey against Leicestershire at the Oval, with Surrey bowled out for 557.
Ironically, the England exile's heroics coincide with new director of cricket for England, Andrew Strauss, explaining why Pietersen does not form part of his future plans.
The England and Wales Cricket Board's new director of cricket Andrew Strauss has cited a "massive trust issue" as the reason for effectively ending Kevin Pietersen's international career.
Strauss played alongside Pietersen throughout his England career and ahead of being unveiled in his new role at Lord's today, confirmed that Pietersen does not form part of any future plans.
Speaking to Sky Sports, Strauss said:
"Over a period of months and years, the trust between himself and the ECB has eroded. There's a massive trust issue between Kevin and I."
Piers Morgan has branded new ECB director Andrew Strauss a "vindictive moron" after it was reported he will snub Kevin Pietersen
Read the full story ›
Advertisement
Middlesex batsman Ryan Higgins might have feared a duck when he came to the crease against Sussex, but he can't have predicted a seagull would cause him problems.
When he connected with a shot in the Twenty20 clash at Hove on Friday, everyone thought it would fly for six.
But it struck a seagull instead and landed just yards away on the ground. The seagull was, apparently, unharmed and the batsmen made just two runs.
For the first time since 1987, spectators will be allowed to watch the match from the outfield in front of the Grand Stand.
Entry requirements for the Ground's Victorian Pavilion - usually reserved for MCC Members - will also be relaxed, with 500 tickets for general members of the public.
Former England internationals John Emburey, Paul Nixon, Matthew Maynard and Dean Headley will be giving masterclass sessions in the MCC Academy during the afternoon.
And bat-makers Hunts County will be hosting a bat and ball making workshop on the Nursery Ground, where spectators will be able to try their hand at putting together their own cricket bats and balls.
MCC Head of Cricket and captain for the match, John Stephenson, said:
We're delighted that Brian is going to be playing in this match, and it will be a special treat for all those attending to see him bat again. It is fitting that the 200th anniversary of a ground steeped in so much cricket history is going to be graced by one of the greatest batsman to ever play the game. Brian's inclusion adds to what is already going to be a very exciting day with so much entertainment on and off the field, and it would be great to see as many people as possible coming to celebrate the bicentenary of the Home of Cricket.
MCC v Hertfordshire was the first ever match played at the current Lord's Ground on June 22nd 1814.
The Marylebone Cricket Club had previously been based in the Eyre Estate of St John's Wood, but decided to move after plans emerged for the Regent's Canal to be built straight through it.
Load more updates