"Our deepest condolences go out to the family of the worker who has been tragically killed today.

Crossrail's contractor BFK has some serious questions to answer.

Unite is particularly concerned about health and safety at the site because this is not the first serious incident.

In December 2012, a worker sustained horrific burns when he cut through a cable.

We now expect BFK to meet with Unite as a matter of urgency.

The contractor must explain how it intends to do everything in its power to ensure that a tragic incident like this does not happen again."
– Guy Langston, Unite regional officer
"We expect the coalition Government to pay special attention to this tragic incident.

Since the Government took power, there have been constant attacks on safety laws and regulations.

The Government should be strengthening health and safety laws, not weakening them."
– Gail Cartmail, Unite assistant general secretary
A construction worker has been killed at one of the Crossrail construction sites in central London.
Firefighters tried to rescue the 43-year-old after he sustained head injuries 32ft down a tunnel in Holborn earlier today.
"Sadly, at approximately 5am this morning a contractor working at our site in Fisher Street, London was fatally injured.

"Our first and foremost thoughts are with the family and friends affected by this. The next of kin are being informed.

"We are establishing the facts and a full investigation into the incident has commenced."
– Crossrail spokesman
Advertisement
Central London- A40 Holborn Viaduct (EC1A) is blocked in both directions at the jct of Newgate St following collision. Expect delays.
The family of a taxi driver who was killed when masonry fell on her car say her death only sank in when they saw her car on the TV news
Read the full story ›
The family of a taxi driver who died when part of a building collapsed onto her car says they "owe it to her" to find out what happened that night. 49-year-old Julie Sillitoe died when storms and high winds hit central London on 14 February.
Speaking to ITV News, her husband Steve Sillitoe said: "we don't live in a third world country, and buildings don't just collapse."
The family of a woman who died when part of a building collapsed onto the car she was driving have spoken of their grief a week on from the incident.
Julie Sillitoe, 49, of north London, died after building masonry fell on top of her car in Holborn. The mother-of-three worked as a mini cab driver.
Her family said in a statement: "We would like to thank the emergency services for their prompt response following the tragic events of Friday, 14 February.
"Our family would also like to offer thanks to the Metropolitan Police Service for their continued support. We as a family are still very much grieving, but take some comfort from the hundreds of kind messages from friends and public.
"Our thoughts are also with the passengers of the vehicle, we wish them a speedy recovery and they are in our thoughts and prayers."
Advertisement
A woman who was killed when a building collapsed on her car in central London was today named by police as Julie Sillitoe, 49, a minicab driver from north London.
A woman who was killed when a building collapsed on her car in central London was a minicab driver, police said.
The 49-year-old was pronounced dead at the scene, opposite Holborn Underground station.Her passengers, a 25-year-old man and a 24-year-old woman, are being treated in hospital.
Next of kin have been informed but formal identification has yet to take place.
The male passenger, who was trapped in the car, suffered leg injuries. The female passenger managed to free herself from the rear of the vehicle. Their injuries are not life-threatening, police said.
A fourth person, believed to be a male passer-by, was also injured and taken to hospital, London Ambulance Service (LAS) said.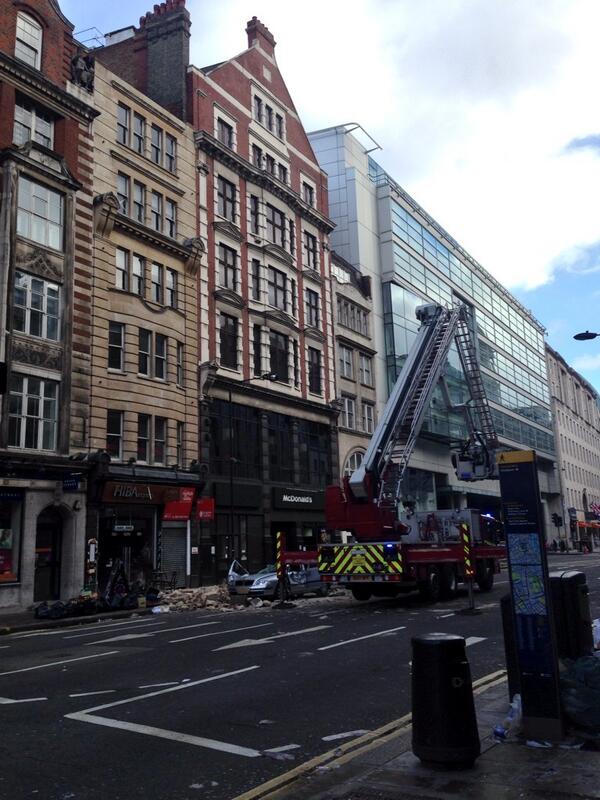 Pictures of the building before and after storms reveal how much of the facade fell on a car in High Holborn in Lodon.
A woman was killed and three others were injured when masonry collapsed. Around 10 people were evacuated from nearby buildings.
Load more updates