Two men have been charged in connection with a string of armed robberies across the south-east of England.
Read the full story ›
Firefighters from Islington and Holloway are batting a blaze in Essex Road, London Fire Brigade say.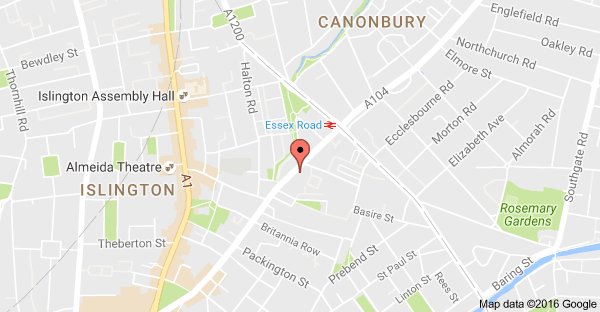 Advertisement
The watchdog in charge of monitoring prisons says it is concerned for the welfare of vulnerable women once Holloway closes later this year.
Read the full story ›
A suspected mugger has died shortly after being detained by members of the public and handed over to police.
Officers were called to the scene in Holloway Road at 10:45pm on Thursday 8th October.
The man, in his 30s, was handcuffed by police, but not placed under arrest and was identified as being unwell.
He was taken to hospital where he died in the early hours of Friday morning.
Officers from the Homicide and Major Crime Command are now carrying out an investigation into the man's death.
The incident has been referred to the Independent Police Complaints Commission.
A woman killed close to Arsenal's football ground died of shot gun wounds, a post-mortem examination found. The victim was found at a house in Loraine Road in Holloway just after nine thirty yesterday morning. A 38-year-old man has been arrested on suspicion of murder and remains in custody. It is believed the arrested man and the woman knew each other.
Two women from London who are accused of trying to send money to fund alleged Islamic terrorists fighting in Syria have appeared in court.
Nabal Masaad, from Holloway, was arrested at Heathrow Airport last week, whilst Amal El-Wahabi was arrested at her home in Willesden later.
Both were remanded in custody and will appear next at the Old Bailey on January 31st.
Advertisement
A stranger who attacked a defenseless girl with a samurai sword in Holloway has been found guilty of attempted murder.
26-year-old Ahla Timofei from north west London was absent from Woolwich Crown Court after the judge imposed an order which means he will spend the rest of his life in a secure mental unit.
On Christmas Eve last year, police were called to Holloway Road where a woman was being attacked. A large bag containing a crossbow, samurai swords, hunting knives and gas masks was seized by police.
A restaurant favoured by Arsenal football fans has said to have been attacked by rival Italian supporters before this evening's Champions League clash.
Piebury Corner near the Emirates Stadium in north London has had to close after dozens of thugs tore through the building smashing windows, breaking chairs and swinging belts.
Witness Emily Gould, who works at the eatery, said around 50 customers were inside the premises, on Holloway Road, when a 30-strong mob of rival supporters stormed the building prior to kick-off.
I think they were Italian men with Napoli colours and scarves tied around their faces.

They were shouting something in Italian, chanting and causing trouble down the street.

Then then came in to the shop. I was terrified. They started swinging belts around.

The customers were very frightened.
A 15-year-old boy and two men appeared at the Old Bailey today accused of murdering a man stabbed 25 times in a gang attack.
Read the full story ›
A 14 year-old boy is one of three people who have been charged with the murder of Andrew Jaipaul in Holloway in June last year. He along with 20 year-old Tommy McInerny and 18 year-old Jojo Mafwa will appear before magistrates tomorrow.
Load more updates