The Government's HS2 compensation scheme has been attacked by people living along the route who claim their homes and lives have been blighted.
Thousands of west London residents living above a tunnel where trains will travel at 225 mph have been told they will receive nothing.
Campaigner Lottie Jones of Ruislip Anti HS2 said her home was now impossible to sell.
"I think it's grossly unfair we are being discriminated against in urban areas as opposed to rural areas. There should be no difference in how the blight is recognised above tunnels," she added.
"Just because we've got tunnelling here doesn't mean we won't be disrupted and our lives won't be affected by HS2.
"Our houses are very much blighted and have been for three-and-a-half years, decreasing in value and they're nigh on impossible to sell."
Simon Harris, Political Correspondent
West Ruislip Station is the dividing line between urban deals and more generous rural payments under the HS2 compensation scheme.
Advertisement
The Government has confirmed a controversial urban-rural split in the amount of compensation available for homeowners near the route of HS2.
Read the full story ›
Owners of £1m countryside homes set to receive £100k cash lump sum if they don't want to sell. @itvlondon
Inner city home owners evicted by compulsory purchase will get a maximum £47k on top of sale price. @itvlondon
ITV London's Political Correspondent Simon Harris tweeted:
Government confirms urban-rural split for HS2 compensation deals. @itvlondon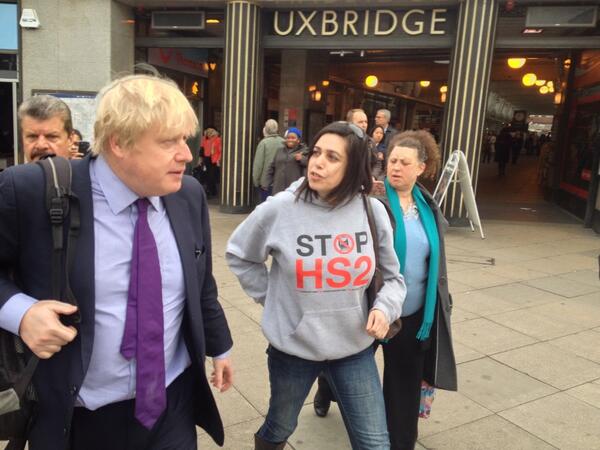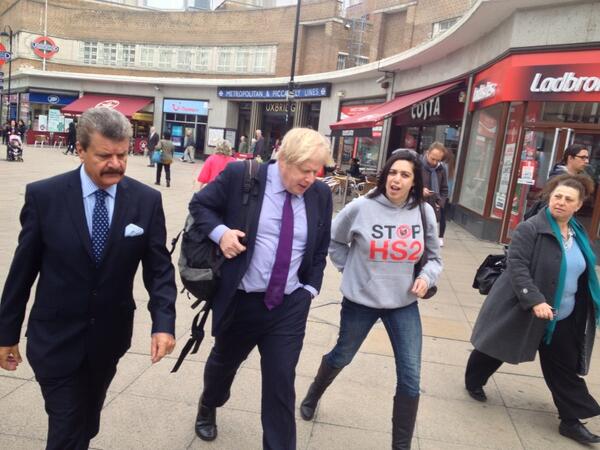 Advertisement
MPS on the Transport Committee will today hear an update on the high speed rail service. David Higgins, Chair of the HS2 ltd and Lord Deighton, Commercial Secretary to the Treasury of the HS2 Growth task force will give separate reports,
Yesterday the Government announced plans to scrap the proposal to link the High Speed two rail route with the Channel tunnel train line at St Pancreas. This was after David Higgins questioned the possibility of the route in his report to the Government released last week.
David Higgins also asked in his report for the building on the Northern section of the high speend rail project to be accelerated. The Transport Secretary Patrick McLoughlin has asked the H2S task force to look into what is achievable in this sector.
Proposed changes to the HS2 high speed rail link amount to "putting lipstick on a pig", a Tory former Cabinet minister has said.
Cheryl Gillan, a long-standing HS2 critic, said proposals being considered by Transport Secretary Patrick McLoughlin to finish phase two of the #50 billion project earlier and remove the London link to HS1 were inadequate.
Chancellor George Osborne has welcomed Sir David Higgins' recommendations for HS2, but warned there will be "no increases" in spending on the £50 billion poject.
Mr Osborne described the high-speed project as "essential to the future of this country".
However, he cautioned: "We must be conscious of the price, and there will be no increases to the overall spending envelope set for HS2 at the last spending review."
Earlier today, Shadow Transport Secretary Mary Creagh said there would be no "blank cheque" for the project.
Ms Creagh told BBC Radio 4's The World At One that Labour would be supporting the hybrid bill due to come before parliament but argued that the project had "suffered from mismanagement".
Plans to speed up the development of HS2 and extend it to the north more quickly have been backed by the government.
Asked whether the coalition would take action to accelerate the passage of the HS2 Bill through Parliament, Prime Minister David Cameron's official spokesman said: "We want it to proceed as quickly as it can, but it is obviously a very lengthy Bill."
Earlier today, Transport Secretary Patrick McLoughlin said Sir David Higgins' proposals for HS2 had the "strong support" of the government.
The government has also scrapped a proposed £700m scheme to link HS2 with the existing HS1 route to Brussels.
The government will instead look at other ways of linking HS2 with the continent.
Load more updates