The Red Arrows will fly over Pride in London for the first time at this year's parade.
The Ministry of Defence said the decision is a show of support for the lesbian, gay, bisexual and transgender community and LGBT Armed Forces personnel.
The MOD says it wants to celebrate the work done in recent years to improve diversity and inclusion across defence. This year the Royal Navy was named one of UK's top 10 LGBT-friendly employers, according to Stonewall, while the British Army also retained its place in Stonewall's top 50 list.
The Red Arrows are honoured to feature as a part of this year's Pride in London. The flypast will illustrate the team's role representing both the United Kingdom and also the dedicated, skilled and talented people drawn from all backgrounds serving across our Armed Forces. Hopefully all those attending Pride in London will be inspired by the flypast and enjoy the occasion
– Royal Air Force Squadron Leader, David Montenegro
The Arrows will perform a traditional red, white and blue flypast above the Pride parade, which takes place on June 25th. Around 200 armed forces personnel are also expected to march in the parade.
Advertisement
An estimated 300,000 people have descended on the capital for the country's largest celebration of LGBT culture.
Read the full story ›
Eurovision's bearded lady Conchita Wurst headlined the Pride in London festival in Trafalgar Square last night. It's estimated 300,000 people turned out, despite the rain, at the country's largest celebration of lesbian, gay, bisexual and transgender culture.
Thousands of people have braved the rain to take part in the 2014 Pride of London parade. The parade kicked off on Baker street and will end with a concert tonight at Trafalgar Square where Eurovision winner Conchita Wurst will perform.
This year's theme is 'Freedom to', with organisers campaigning for lesbian, gay, bisexual and transgender Londoners to be able to be themselves authentically everywhere.
Community organisations, campaigners, charities, students and even some celebrities including Sir Ian McKellan took part.
Singer Kylie Minogue passes on her best wishes to those taking part in today's London Pride parade.
Advertisement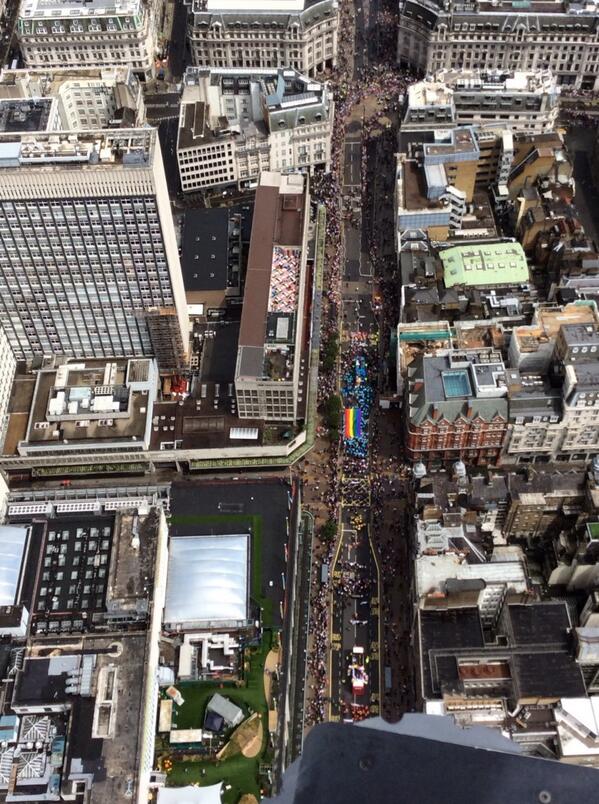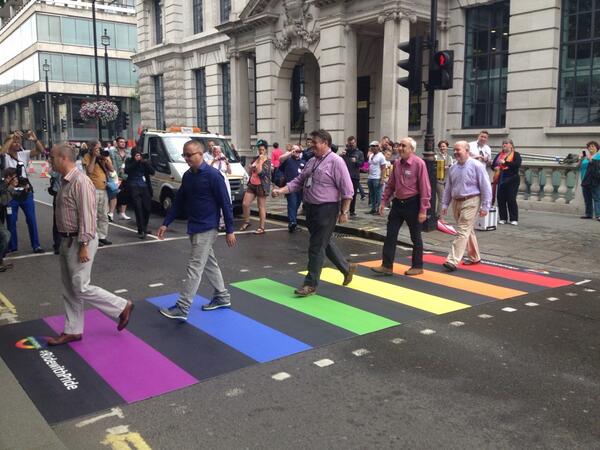 London will get its first ever rainbow zebra crossing to mark today's Pride events. The crossing will be in place for today only at the junction of Pall Mall East and Suffolk Street. It's similar to ones that have appeared in Sydney and Tel Aviv.
To mark Pride week, 75 Boris bikes have also be rebranded with Ride with Pride logos.
Baker St to Whitehall London Pride Parade. Dont forget to plan your journey. Buses will divert and curtail until 1900 http://t.co/Mq7WJX5rvB
Load more updates