The RNLI and Met's marine unit have rescued a man who jumped in to the Thames to save a dog.
Read the full story ›
London's Tower RNLI crew rescued three people including a young girl after they were trapped by the rising tide.
Read the full story ›
Advertisement
RNLI lifeboat crews in the capital have saved 420 lives since they began operating on the River Thames.
Its national fundraising campaign 'Mayday' kick's off in the capital today with fundraisers collecting at stations throughout the capital.
The RNLI have released video of two young rowers being rescued from the River Thames after their boat capsized. The youngsters managed to climb aboard their coach's boat, only to find the engine had failed.
The incident happened on Thursday, luckily no one required medical attention.
t was important that we were able to use the speed of the lifeboat to reach the young rowers quickly, as they were soaked through and getting colder by the minute in the strong easterly wind.'
– Glen Monroe, Chiswick RNLI
An RNLI crew attended the scene of a restaurant boat being dragged under the water near Richmond early this morning.
Read the full story ›
New figures show that lifeboat crews in London were the busiest in Britain in 2014. We look back at some of their most dramatic rescues.
Read the full story ›
Advertisement
A have-a-go hero plunged into the River Thames this morning to help a man, who moments earlier, jumped from a bridge. An RNLI crew was called to the London Eye where rescuers found two men in the water at around 7am. One had jumped from the pedestrian footpath alongside Charing Cross rail bridge.
Ben Corr, a 36 year old statistician, had been running to work on the South Bank when he was flagged down by a woman. He said:
"The lady was quite shaken up – she was pointing to a man in the river and said she'd just seen him jump from the bridge. She was clutching a life ring but wanted some help in throwing it out to him.
"I did try but he was quite far out and the ring missed him. He was just flailing in the water. At first I held back because I know the emergency services always advise the public not to enter the water in times like that, in case they get into danger as well.
"But after a moment I decided I had to – so I climbed down onto the foreshore, entered the river, and swam across to him."
RNLI rescue crews pulled a man from the River Thames on Wednesday evening after he was spotted clinging to a rubbish barge.
Read the full story ›
A stunning image of London's red morning sky has been captured by London's lifeboat service.
A lifeboat helmsman took the image at the end of his night shift, Tower RNLI said.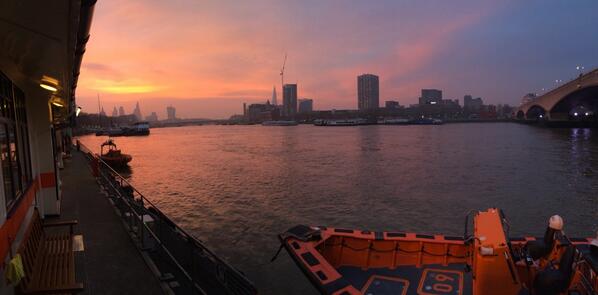 Load more updates