Saracens going for back to back doubles: European Rugby Champions Cup final this weekend
Read the full story ›
Fans will have the chance today to meet players from the Wasps Rugby Club at Paternoster Square. They will also be able to test the speed of their rugby pass, with a fastest pass machine set up on the Square. The event kicks off at 1:30pm.
Advertisement
Pamphlets were handed out at last week's freshers' fair at London School of Economics referring to women as 'mingers' and 'crumpets'.
Read the full story ›
A parent has been banned from the touchline for two years after tripping up an under-16s rugby player at a cup final.
The punishment from the Rugby Football Union comes after the Hertfordshire Shield game between Watford's Fullerians and Royston last month.
The father - who has not been named - was seen on camera tripping the player up.
According to the BBC Fullerians originally banned him for six matches and put him on probation. But the final punishment was handed out by the Hertfordshire RFU, who said:
"The person involved has been banned from standing on the touchline for two years. One year of the ban is suspended so he can return to watch games in a year, depending on good behaviour."
City Hall has been transformed into a giant rugby ball to mark the 500-day countdown until next year's World Cup in England.
Tickets for all 48 matches at the tournament are due to go on sale from September 12-29 2014.
Rugby World Cup limited chairman Bernard Lapasset said preparations were on track to deliver an "unforgettable and special" record-breaking event.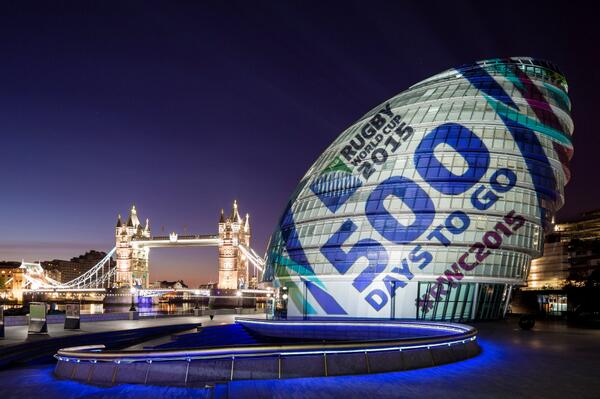 London Wasps face third placed Leicester in this weekend's Aviva Premiership fixtures as they fight to hold on to seventh place and keep their hopes of European rugby next season alive.
Dai Young's side could still qualify for next year's European Rugby Champions Cup if they remain seventh in the table. They would face a play off with a Top 14 French side to secure a place in the all new European tournament.
Advertisement
London's Saracens will look to extend their twopoint lead at the top of the Aviva Premiership in their home fixture againstLeicester later on today.
SteveBorthwick will captain the side from lock with Owen Farrell guiding proceedingsfrom fly half.
While England international David Strettle is missing from the match day squad, Chris Ashton will look to build on an impressive performance against Italian side Zebre last week as he starts on the wing..
The 'All Schools Programme' was launched last year with the aim of showing rugby union is a game that everybody can play and that it is not just for elite schools - like Eton College where Prince Harry went.
More than 100 secondary schools joined the project in 2012/13, and 100 more have signed up for 2013/14. Overall, the RFU hopes 750 schools will benefit from the scheme.
Speaking at Twickenham, Prince Harry said: "There are so many good things about rugby. You've got to make rugby cool. I bet you can if you get your proper kit and put that up at school, you'll get more kids wanting to play."
Former England star Jason Robinson joked with Harry that he could make it into the England squad for the forthcoming World Cup in 2015, saying: "We're looking for a winger or a full-back."
Jason Robinson also gave Prince Harry a pair of his boots. He told him: "I can't guarantee they'll get you into the England team, but you'll be quick."
One of the schools Harry helped coach today was the Rokeby School in Newham, east London.
Prince Harry joked he was already "past it" during his coaching session at Twickenham today. He was training with schoolchildren alongside former England star Jason Robinson, who said:
I'll be looking to see what you've got.
I think I'm a bit past it already.
Load more updates